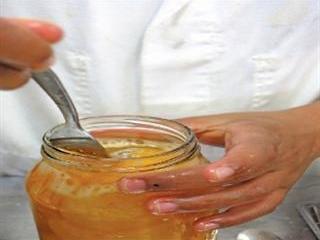 'Intaba' means mountain, which makes it a well-suited name for a small jam and canning factory sitting atop the Piket-Bo-Berg. Here a staff of 20 makes jams, chutneys and canned fruit in a remarkably hands-on operation. It is common, for example, for factory staff to head out into the orchards and pick the fruit carefully themselves, making sure that they choose the best. This attention to detail has helped to secure coveted contracts with both Woolworths and Melissa's, as well as lucrative export markets in Europe and the UK.
Starting out
Henry Leslie, the force behind Intaba Jams, explains that the factory started as a direct result of local unemployment."There were many people unemployed outside of the fruit picking season from November to April. So in 2000, farmers and the local community approached me to do a feasibility study into a factory. I'm a production engineer by trade, so was able to ascertain that there was enough labour, a good supply of fruit and adequate infrastructure to support a start-up jam factory or fruit-drying facility." After a discussion with the community, Henry helped to conduct interviews and 30 unemployed people were selected to be part of the new Intaba Jam company.
"A women's organisation – Izandla, a Code 21 company which was a branch of the Cape Women's Forum – gave us a R300 000 grant to set up the business," recalls Henry. "Nine people, including myself, were then selected as shareholders of the new company and Izandla sent us for training at the department of agriculture, where we were trained to make jam." The grant paid for training, the purchase of an old school building that was turned into the factory, and equipment.Intaba registered as a company in 2001 and started production in the same year.
"The first lines we made were peach jam and peach chutney," remembers Leslie. "In the beginning, we thought producing 200 bottles a day was excellent. Now we do up to 2 000 without trouble." Four years later, Intaba received funding from the Western Cape government, which helped to secure better equipment. Henkel also gave the company an interest-free loan for R200 000. While some of the monies were repaid, the rest of it was a donation. "These grants were the solution for us, because we couldn't offer any security to banks for a loan," explains Henry.
Despite this assistance, these early days were not easy. "For a long time, I sat collecting the orders by day, and staff – all of them shareholders – came in at weekends to make the jam. Then I'd go out and sell the jam at markets and shows," he recalls. It was one of these shows that led to a breakthrough for the fledgling company. "We attracted the attention of the CSIR, who ended up giving us a grant that made a substantial difference," explains Henry. "With this money, we were able to buy larger cooking pots that allowed us to fulfil bigger orders. And that was the real beginning for us."
Changed lives
Of the nine original shareholders, four still work in the factory. One of these is Elouise Josephs, who says that Intaba has dramatically improved her circumstances. Before joining, she was a seasonal farm worker in the orchards on Piket-Bo-Berg; now she has an integral role in the running of the factory. "My life has changed completely since I joined Intaba," she explains. "I now have a better and more stable income, and I learned business and leadership skills so I've been able to help make decisions here.
"My family has also benefited. I think my children now understand that they can do better for themselves. My 13-year-old son says he wants to be a mechanical engineer. I don't think he would have had this idea if he didn't see me being successful at Intaba." Jacques van Wyk, assistant production manager at Intaba, echoes these sentiments: "For school leavers in this community, Intaba means a much better job than working as fruit pickers in the orchards. And for me personally, working here has given me confidence and skills."
Tipping point
The company's second breakthrough was to land a contract with Woolworths. "We weren't profitable in the beginning, but when Woolworths came on board in 2004 we showed our first small profit," explains Henry. "And the large cooking pots meant that we could fulfil the orders. It remains our biggest buyer and supporter and we appreciate the fact that it is extremely strict on quality. "More recently, we also began making canned fruit – peaches, pears and guavas – for Melissa's."
Quality
Leslie tastes samples of all fruit that comes in from the orchards and is obsessive about quality. "It's an absolute myth that second-rate fruit can make good jam," he insists. "Our jam fruit is the same quality as consumers buy for the table, except that we buy directly from the co-op. We never use damaged fruit because of bacteria and generally only buy enough fruit to use during a single day. And we never keep fruit over a weekend because freshness is vital for high quality." The essentials of making jam, chutneys or canned fruit are universal and relatively simple – fresh fruit is peeled, cooked, bottled, pasteurised, labelled and dispatched.
Added quality comes from careful checks at every step. At Intaba, if there is the slightest doubt over quality, the batch is dumped. Even the placing of canned fruit in the bottles is done to a set pattern to ensure that the fruit does not float and that slight shrinkage after pasteurisation is allowed for. "It's all about consistency," explains Leslie. "We test the sugar content of our fruit and adjust accordingly. Sometimes, with a batch of sweet fruit, we may use as little as 40% of the sugar specified in the recipe, but we work to a formula so that every batch tastes the same. We also test the pH of the fruit. Even our pots are calibrated daily to ensure consistency, and we monitor the cooking time precisely."
A tasting panel sits every morning to taste all the products made the previous day. "We analyse the appearance, taste, smell and texture of the products and taste it as is, not on bread," says Leslie. "Top quality is essential for our market. Woolworths, for example, audits us annually, with a 48-hour warning."
While Intaba makes about 20 different lines at any one time, the company has manufactured more than 40 products over the years. The most unusual of these include tomato and basil jam, aloe marmalade, date jam, prickly pear jam and sour fig jelly.
"Some of these lines come from our think tank," says Leslie. "We look at different and creative things to do with fruit – such as our black fig chutney or strawberry and rose jam. It takes time and effort to get a product right, and we do it over and over again until it is."
Local and international markets
Eighty percent of Intaba's sales are local and the rest are exported. Despite its success, the company has been hit by the economic climate and steeply rising input costs – in particular the increasing cost of fuel, electricity and sugar – and profits have shrunk. Currently, Intaba exports jams – Karoo apricot, Citrusdal orange marmalade and ripe fig – to the UK and Europe, but canned fruit is not exported as the company cannot compete with the big producers.
Health and trade requirements
Due to the demands of the market, the company has to abide by strict health regulations. "Our suppliers must be registered, and they must have records and be traceable right down to the chemicals they use," explains Leslie. "We are also busy with HACCP accreditation, which Woolworths requires, and have been awarded SABS 049 accreditation as well as accreditation from the local health inspector." On-site health requirements include locking factory doors to prevent non-staff entering the facility, hairnets and special shoes for staff, and disinfection of visitors' shoe soles. Workers with cuts on their hands must wear blue rubber gloves.
Additional requirements for the export market include highly specific labelling, packing and weighing. Allergens and ingredients have to be indicated clearly. "Pasteurisation is not a health requirement but acts as double insurance," adds Leslie.
New product development
"New products certainly aren't dreamed up in the shower," he jokes. "We listen to the radio, surf the internet and are constantly on the lookout for new ideas. We also do benchmarking; we go out and buy competitors' jams, then taste and analyse them to see if they are better than ours. If we think they are, then we try to improve our product further."
In the pipeline are diabetic jams. "A certain plant" will replace the sugar, while the jams, as with all Intaba products, will be chemical- and preservative-free. Plans are also being considered to open a second factory in another region, provided exports continue to expand. "It will operate with the same recipes and on similar management principles, and maintain exactly the same level of quality," says Leslie.
Visit www.intaba.weebly.com