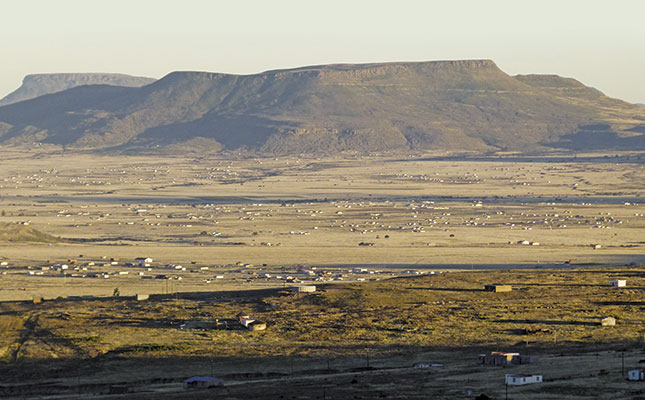 When Christo du Toit took over Border Seed Distributors (BSD) from his father, Charl, 12 years ago, he realised there
was a need to supply maize more effectively to homestead garden producers in the former Transkei. One of their main difficulties, he explains, was to purchase just enough maize seed, together with herbicides and pesticides, for garden plots of up to 1ha as they could not afford to overspend on inputs.
READ:City girl takes on Simmentaler and sheep farming
Then Monsanto South Africa, of which BSD is an agent, began marketing Monsanto Roundup Ready maize seed in small quantities – enough for 0,25ha – and Christo had the idea to market the seed along with the appropriate chemicals in a plastic bucket. The latter would allow the farmer to mix the herbicide and pesticide in water. And so Christo's 'maize bucket system'  was born.
By the 2013/2014 season, the success of the system had convinced small-scale producers across the former Transkei to purchase 156 maize buckets, resulting in an average yield of 6,8t/ ha. Growers bought 187 buckets for the current 2014/2015 season and a similar yield is expected.
Each bucket consists of a 2kg packet of Roundup Ready maize seed (yellow or white), 1l of Roundup PowerMax herbicide, 100ml Avi-Sipermetrin EC, safety gloves, goggles, a 50ml measuring cup and an instruction sheet in the form of a waterproof sticker on the bucket.
The value of a partnership
In the past decade, global maize yields have been revolutionised and today yields of up to 20t/ ha under irrigation have been achieved in South Africa. Supplying leading-edge cultivars, including Roundup Ready (RR) varieties, to household producers will have a significant impact on their yields. "We looked at the potential of the entire Transkei,'' he says. "If you take each person in the Transkei who has a garden plot where he plants maize and veggies, there's huge potential.''
In 2012, Christo decided to sell the bucket system idea to Monsanto and agricultural chemical distributor Wenkem, and after a few meetings in Johannesburg, both companies agreed to get involved. He also distributes products for Wenkem.
From the outset, it was decided that the bucket be well-branded and contain detailed instructions for farmers to ensure effective production. The instructions are written in two languages, English and Xhosa, and are supported by diagrams. When the 2012/2013 season arrived, Christo, armed with newly-arrived buckets, started a marketing campaign by planting demonstration plots.
He also attended information days in conjunction with the Eastern Cape Department of Rural Development and Agrarian Reform (ECDRDAR) and various local government structures in the Alfred Nzo, Chris Hani and Amathole District municipal areas.
During the following season, almost 160 buckets were sold to homestead producers from Matatiele in the north of the former Transkei to Butterworth in the south. For producers who had switched to the bucket system, dryland yield in Mount Fletcher jumped from an average 2,3t/ha in 2013 to 6t/ha in 2014. Further south in Qamata, record yields of 10,7t/ha and 11,2t/ha were achieved under irrigation.
"It's like chalk and cheese,'' says Christo about the difference between traditionally-grown maize and the RR maize crops grown using the bucket system.
The target market
Nokwanda Dyantyi (57) from the Qamata region has only praise for the maize bucket system.
"These buckets work very well," she enthuses.
"I reaped an average 10,7t/ ha of beautiful clean maize. With these buckets, you don't struggle at all.''
Nokwanda says that besides the record yield she achieved, she was highly impressed with the fact that she had to do little or no weeding in her yellow and white maize plot. The link between weed management and yield is known by every homestead producer only too well, according to Siyabonga Ntozini from the ECDRDAR.
"One of the major challenges with our farmers [in the former Transkei] has been weed management,'' he explains. "It has been a major suppressor of yield across the region but with the introduction of Roundup, the challenge of weed management has subsided and people are gaining more returns in terms of yield."
The buckets are also subsidised by Monsanto and Wenkem. Each costs R376 incl. VAT and has enough maize seed for 0,25ha. To plant a hectare will therefore cost about R1 500, provided that land preparation was done using draught animals and planting and spraying was carried out by hand. "It's an inexpensive way for them to achieve a decent yield,'' explains Christo. "Everything is plain and simple.''
Harry Matebese, an agronomist and salesman at BSD, will be marketing the buckets in the former Transkei.
The Future of the system
According to Siyabonga, the maize bucket system has a bright future in the former Transkei if government policies continue to support small-scale growers. ''The department doesn't focus only on those with bigger lands but there are also projects focusing on those with backyard gardens. It's as if the buckets are tailor-made for that," he says.
In addition to engaging in regional governmental structures, Christo is also keen to market the buckets through the retail environment. At the moment, for example, he is in negotiation with the Boxer and Spargs supermarket groups to market it through their hardware divisions. Their buy-in will allow the buckets to be distributed efficiently across the region.
Neded: a new generation of growers
Notwithstanding the potential offered by the maize bucket system, sustainable, long-term production will depend on hardworking elderly homeowners such as Nokwanda being replaced by a new generation of eager homestead garden maize producers, says Harry Matebese, an agronomist and salesman at BSD.
"My main worry is that in the future, we'll run short of people who have a passion for agriculture because the old people are going,'' he says. "Youngsters don't care about agriculture. The government needs to motivate the younger generation to go back to agriculture and try and create opportunities.''
Other sources include www.nytimes.com.
Phone Christo du Toit on 084 452 6629.
This article was originally published in the 21 August 2015 issue of Farmer's Weekly.