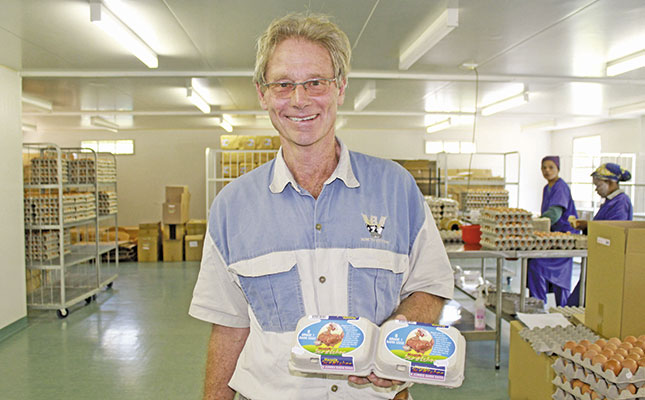 Rodney Smith and his wife Mary-Ann have been living on Drumnadrochit Farm near Balgowan in the KwaZulu-Natal Midlands since 1973. The Smiths farm Hy-Line Brown chickens and have between 30 000 and 45 000 pullets on their floor at any one time; these are taken in as day-old chicks and sold at 18 weeks. They also have 13 000 to 15 000 layers that produce 12 000 barn and free-range eggs daily, sold under their 'Maggie Scratcher' brand to Spar outlets, privately owned supermarkets, hotels and restaurants.
READ:Don't dump fresh produce!
Like many businesses, theirs was facing the challenge of having to 'adapt or die'. "We were packing eggs in a building previously used to rear pullets. It was efficient and we hadn't received any complaints about quality, but it wasn't ideal. We knew that if we didn't get the packhouse Hazard Analysis and Critical Control Points (HACCP)-compliant, we risked losing our place in the upper-end of the egg market," Rodney explains.
A quick answer
This presented them with a dilemma. Upgrading the existing packhouse would incapacitate his egg business during construction, and building a new packhouse from scratch would be a costly and drawn-out process. Rodney decided on a third option: erecting a prefabricated packhouse. "The main advantage of the prefab was the speed at which we could put something on the ground. You also don't have to jump through hoops to get municipal planning approval because a prefab building is regarded as a temporary structure," he says.
The prefab project was undertaken by Dave Strong of M Projects, with input from food auditor Paul De Passos of Q-Systems. "Paul had knowledge of the HACCP standards we had to meet, I knew what I wanted, and Dave knew what was possible," explains Rodney. While this was the first egg packhouse that M Projects had undertaken, the company was well-versed in designing and building clinics, hospitals, schools, and residential units.
"We used the same hygiene specifications which the department of health use for clinics and hospitals," explains Dave. "The building is easy to clean because all the surfaces, even the ceilings, are constructed with Chromadek. A high-density polyurethane inner panel was used between the walls, which is flame-retardant, bug-free and mould resistant. Nothing can grow on it and it's poisonous to insects. The floor is covered in heavy industrial vinyl and joins were welded to form an impenetrable seal."
In addition, welded cornices cover the area where the wall and floor meets, making it easy to mop and prevent any contamination. The changing rooms are housed in a separate link unit attached to the open-plan packhouse. "Staff sterilise their feet before entering and change into clean overalls in one of the links before washing their hands and entering the facility," explains Rodney. "The movement of staff and items within the packhouse is strictly controlled to prevent contamination of the clean environment in the packhouse."
There is no shortage of basins and wall-mounted sterilisers to keep hands clean, and Dave sourced stainless steel equipment for Rodney. Overalls and cleaning materials are colour-coded to ensure they are used correctly.  The packhouse was built in modular format in M Project's factory in Prospecton and transported by road. "We put together six units of 3,4m² by 11,5m² each. The entire packhouse is 282m², excluding an attached loading area of 11,5m² x 4m²," says Dave.
While it would be possible to construct a similar structure in five days, the project was delayed by rain and teething problems.
"It took six weeks from start to finish. But it's still quicker than building in brick and mortar, which would take six to eight months and would entail a lot more mess," says Dave. Speed of construction is just one advantage of prefab over brick and mortar. Others are cost: about R5 800/m² compared with R9 500/m², and the fact that it is effectively maintenance-free. "The lifespan of these buildings is about 40 years and all you have to do is wash it down once a year," adds Dave.
Biosecurity measures
Because the Smiths' 35ha farm is fairly isolated from other poultry farms, they have experienced few problems with disease. But the risk of disease has escalated over the years. "Diseases have become much more virulent," says Rodney. "Newcastle disease, for example, was something we never used to hear about. Now we hear about it all the time, along with other health issues such as mycoplasma infections, infectious bronchitis (IB), IB variants and Gumboro disease."
In 1996, he began introducing biosecurity measures over and above the HACCP requirements to preserve the health of his stock. These included barring the farm entrance with a 2,4m high security gate, at which all visitors and staff sterilise their vehicles and feet before entering. The poultry area is ring-fenced with security fencing, a surveillance system, compartmentalisation and disinfectant points, and the packhouse is ring-fenced within this zone.
Rodney's work on HACCP and biosecurity is continually evolving. "We're a long way down the line but things still need to be finished off, such as finding footwear that's HACCP-compliant, suitable and affordable. You can only do so much at a time. It's a matter of working our way through the list. Our consulting vet, Pete Johnson, is a food auditor. After each visit, we go one or two steps further. In farming, you have to be adaptable and move with the markets," he says.
Tough times
The egg industry is, however, experiencing difficult times."No one is making money. There's an overproduction of eggs and feed costs have gone up tremendously. From November 2013 to January 2014, the price of soya oil cake went up by R1 200/t. During the last season, maize increased from about R2 200 to R3 500/t. There's strong competition among a few of the big egg producers, which is pushing prices down somewhat, but eggs are retailing at prices below the cost of production," says Rodney.
He does not regret his investment in the packhouse, though.
"We produce eggs that attract a premium price. We needed to retain our upper market position or risk fighting it out in the informal market, where price is king and quality isn't paramount. The bank manager isn't that happy with the packhouse, though!"
Phone Maggie Scratcher on 033 234 4295 or email [email protected].
This article was originally published in the 14 March 2014 issue of Farmer's Weekly.