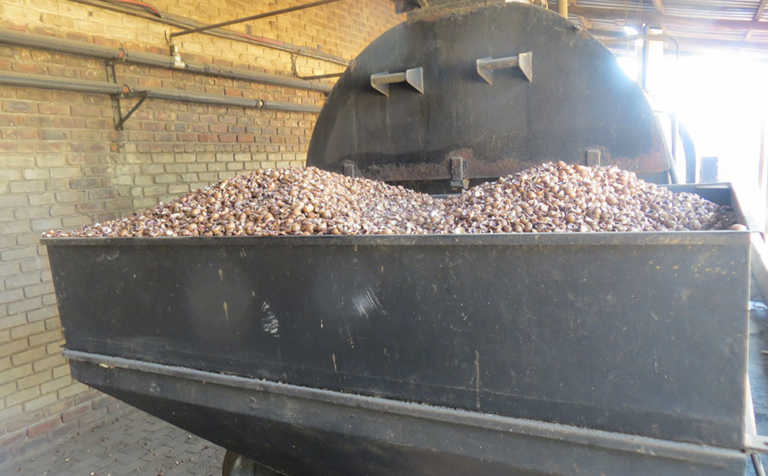 Green and Gold Nuts, a South African-based company, is the world's largest, single marketer of macadamia nuts. It exports to the US, Europe, Australia, China, and other countries.
At the same time, South Africa is the biggest producer of macadamia nuts. The number of trees planted here increased from one million in 1996 to 6,5 million, over an area of 21 500ha, in 2016.
The global macadamia industry remains remarkably small, however, with these nuts comprising only 1,5% of total tree nut volume.
"The potential for growth in the industry is therefore significant, with South Africa standing to gain the most from any expansion," says Green and Gold Nuts marketing manager, Alex Whyte.
"We need to commit to considerable capital expenditure at processing level and collaborate, possibly through a levy, on the development of new markets. Specifically, we should look at the food ingredient sector."
Because of their taste and texture, macadamias are an ideal ingredient in food preparation.
"We could easily emulate the almond industry, in which 80% of the product is sold as an ingredient and only 20% as snack foods."
The macadamia industry has benefitted from the recent increase in the number of people shifting from a diet high in carbohydrates to one high in 'good' fats.
"We're proactively introducing macadamias as snacks to markets where they're not yet consumed," adds Alex.
"It's now recognised that fat plays an essential role in keeping the body healthy. Plant sources of fat are healthier than animal sources because they're high in polyunsaturated and monounsaturated fats. Nuts are particularly rich in them."
The modern choice
Nuts fit comfortably into today's lifestyles, where there's a shortage of time, but an increase in disposable income.
"In 1950, the average European household was spending 25% of its income on food, most of it in the form of staples," explains Alex.
"Now, because people are earning more, the cost of food constitutes only 8% of what they spend. They can therefore afford more expensive types of food such as nuts."
Currently, industry growth is being driven by China, where the fast-growing middle class has become one of the world's most avid consumers of tree nuts.
Indeed, says Alex, China is the SA macadamia nut industry's single biggest market, importing 50% of the country's output.
Dealing with this market, however, has proved to be a challenge. Due to widespread corruption, which China's government is trying to stamp out, Green and Gold Nuts sees most of its product being sold on the 'grey market' – that is, through distribution channels that are legal but unintended by the original manufacturer.
"So, our largest market doesn't adhere to trade policies. This is unacceptable and unsustainable," says Alex.
At the same time, Australia, the world's other main producer of macadamias, has negotiated far lower import duties with China.
"Even if we adhere to trade policies with Chinese off-takers, we'll be at a disadvantage. And China is beginning to grow and export macadamias itself, in competition with us."
To position the industry more effectively to meet these challenges, Alex would like to see all stakeholders contribute a levy based on hectares grown.
This money would be used for the industry's basic operations, for research into the health benefits of macadamias, and for marketing initiatives.
The trend towards healthy eating and fat-based diets has helped to triple the growth of the global tree nut industry over the past 15 years, says Alex.
Despite this, the industry has "no macadamia-specific research material with which to attract health-conscious consumers to our product".
Need to increase markets
In contrast to the almond industry described earlier, 80% of macadamias are sold as snack food. In South Africa, the industry currently produces 13 000t of macadamia nut kernels, most of which is processed locally and exported as snack food to markets in the US, Europe, and China.
However, many farmers have planted new trees and output is expected to double by 2020.
The additional yield could lead to excess supply in the short term, with a resultant drop in prices if the industry did not take action now to broaden its markets, warns Alex.
"The industry will also need to provide world-class guarantees of food safety in order to maintain its current market share, let alone break into the quality- and safety-sensitive ingredient sector. We have to invest in our own facilities and the industry," he urges.
Food manufacturers
Green and Gold Nuts had a stand at Food Ingredients (FI) Europe 2015, the world's largest food ingredient expo, held at the beginning of December in Paris. The event attracted some 1 400 exhibitors and close to 30 000 visitors from 119 countries.
"FI Europe is an ideal way to reach a vast new set of customers in just a few days. Our presence opened a door for South African macadamia producers and processors into a market that could change our industry forever," says Alex.
FI Europe placed particular emphasis on natural and organic ingredients, with several stands dedicated to such products.
"Consumers are becoming extremely health and environmentally aware," he says.
This, and the trend towards natural, organic products, represent a window of opportunity for SA macadamia producers and processors to make significant inroads into the food manufacturing market.
"To achieve this, however, we must be able to guarantee supply. Food manufacturers won't invest in us if we don't invest in ourselves," he cautions.
"For starters, this means investing in processing equipment that will ensure 100% food safety of our nuts. The machinery is expensive but crucial for us to be taken seriously by the major food manufacturers."
Jill Whyte, CEO of Green Farms Nut Company, a co-founding owner of Green and Gold Nuts, echoes the need to understand the world macadamia markets and be as flexible as possible.
"When we started out 25 years ago as the only privately owned macadamia processor and marketer in South Africa, we decided that we'd base our success on that of the farmers who supplied us. This meant we had to deliver the best possible prices coupled with the best service to ensure that the top producers would return to us every year."
To do that, she explains, they created a marketing plan based on comprehensive intelligence of global markets that enabled them to identify customers who would be prepared to pay a premium for a superior product.
In other words, the company "focused on building markets for the farmers who supplied us. In the process, we built markets for the entire industry.
At the same time, by ensuring we had a balanced portfolio of markets on multiple continents and weren't reliant on one or two countries, we spread our risk and that of our suppliers.
This also made us very agile – we can adjust the volumes we sell to any given market based on what our research shows us the buying trends there are likely to be."
For the 2015 season, the company paid a bumper bonus of 22,3%, amounting to R106 million in total. These prices were achieved in a year in which the Chinese market for macadamias tumbled, trimming approximately 10% off US dollar prices.
"While we're in this evolutionary phase, we're in an ideal position to build a secure, stable, profitable industry that can ride market movements," says Jill.
"We need to plan now for the long term. High-risk decisions focused on short-term profits puts every farmer at risk.
"The rules are the same in every industry: make sure that the people you choose to sell to will still be around in 25 years' time, and that they can always pay you the best prices."
Phone Alex Whyte on 072 031 1838, or visit greenandgoldnuts.com.