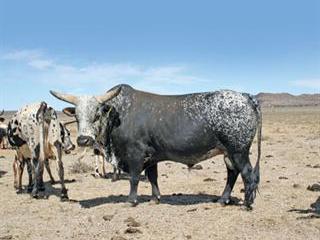 Many farming enterprises are mixed operations. But there are surely few with the sheer variety of Oufontein – or where the farmer's family is so wholeheartedly involved in the activities. Andy Duthie is a descendant of the legendary founder of Knysna, George Rex, and married Sheryl in 1997. With his family's deep roots in the Southern Cape, the couple had many good reasons to spend the rest of their lives there.
Not least of these was Woodbourne, the Duthie family's extensive campsite and chalet resort in Knysna. But in 2002, they decided that the time had come to leave Knysna for the Great Karoo. "Our decision dates back to when my mother, Jean-Mary, bred Arab horses in Knysna. From the age of 10 I would accompany my father, Jack, to Graaff-Reinet, where our mares were covered by the stallions of Tim and Marie Murray on Roodebloem farm. I got to love the Karoo and have always wanted to farm here," Andy recalls.
It didn't take long before he found the farm of his dreams – the 7 500ha Oufontein near Richmond – and bought it for the then exceptionally high price of R350/ha. "People were shocked at the cost because no one could envisage where the land price would head. Today, the same land is worth R2 000/ ha," Andy remarks. In 2004, the Duthies finally left the resort in Andy's brother's hands and moved to Oufontein.
Many interests
Like her mother-in-law, Sheryl has an abiding passion for horses. She worked as stable physiotherapist to champion trainer Tony Millard, son of the legendary Terence Millard. Tony, with Sheryl as assistant, won the Durban July with Dancing Duel in 1993. Sheryl was also an amateur jockey who twice won the Schweppes Ladies' Challenge and is now trying her skills at endurance.
She breeds registered Arabians on their farm and currently has 20 horses, many of which are sired by the Krige's stallions of Banghor Stud in Klipplaat near Jansensville. In addition to managing the horse stud, Sheryl looks after a flock of 300 Angoras and breeds Bullmastiffs. Andy focuses on the Nguni stud, Merino, Meatmaster and Persian sheep and game.
Their schoolgoing children are also involved in the farm. Their daughter Bianca, 14, runs indigenous Northern Cape Speckled Goats (Kaapse skilderbokke) and their 10-year-old twin sons farm poultry. Mark has Rhode Island Reds and sells live chickens and eggs, while James breeds button quails and sells pickled eggs and frozen whole quails.
Gordon Wright, the renowned chef and owner of Andries Stockenström Guesthouse in Graaff-Reinet is a regular client. "The children pay feed costs for their animals out of their profit, and they do their own bookkeeping so they can learn about business," says Andy.
Super bull
At the other end of the family's business spectrum is Blikkies LEB 01-29, at one time the most expensive Nguni bull in the world (see box). Bought in 2009, it is still active in his herd of 80 registered and 60 commercial Nguni females. But this is by no means the only quality bull – Andy is a strong believer in maintaining excellent bloodlines. "I buy really top bulls and I'll only put my best bulls on auction. It makes sense from a breeding and financial perspective," he says.
Several of the heifers and cows in his herd are the progeny of his first registered bull, Blitz. "I bought Blitz for R40 000 in 2006 from the Biggs stud in KwaZulu-Natal and sold him last year for R41 000. I also sold one of his sons for R30 000 at the annual Karoo Nguni Club auction in Graaff-Reinet, " says Andy.
He divides up his herd for single- sire mating at a ratio of 25:1 and runs his breeding bulls all year round. He mates his heifers at 16 months. No stranger to breeding and bloodlines, Andy and his brother John represented South Africa in the FCI World Championship for Racing Pigeons in 2001. "Breeding racing pigeons and stud cattle is fairly similar, so we'll see if I can breed a super cow," he laughs.
Getting grasses going
Andy has always paid close attention to the condition of the veld. After buying the farm, he rested the cattle camps for three years so that they could recover from heavy overgrazing. Today, he says that he is "really pleased with the recovery of the veld from year to year".
His cows are completely veld-reared – they are not supplied with salt or phosphate and are not dipped or dosed. "The Nguni as a breed has been developed over centuries to withstand harsh African conditions. I believe that feeding, supplementing, dipping and dosing reduce their natural immunity to diseases. Any of my cows that don't fit the bill are deregistered and go into the commercial herd," he says.
As the chairman of the Karoo Nguni Club, Andy appreciates the importance of the breed's characteristics. "Because they're so hardy, fertile and well-adapted, I get calls all the time for cattle, including from the Industrial Development Corporation, which uses Ngunis for its cattle projects," he says.
Andy's 1 000 Merino ewes require far more maintenance. His ewes are put on irrigated 10m x 10m lucerne lambing camps – two ewes per camp if they have triplets or twins and three if they have singletons. They remain there until bonding is strong – about five days – after which they are moved to larger lambing camps.
"We lamb twice a year – 70 to 100 ewes at a time – and we synchronise for multiple births. We sponge them 14 days after birth, remove the sponges 14 days later and then give them PMSG to super-ovulate. Then we put in the rams at a ratio of 15:1 or we do AI or hand-mating," he explains.
Andy is now experimenting with Meatmaster sheep and comparing them with Merinos. "So far they are doing very well," he says. "I would like to get two lambings a year per ewe without compromising their condition, so I'm thinking of expanding into Meatmasters to achieve this."
His flock took a hard knock last year when it was struck by Rift Valley fever, resulting in 30% lambing. "It happened after I'd administered Clone 13," he recalls. "Fortunately we didn't vaccinate the cattle." The Persian sheep are simply there for the droëwors the Duthies make on the farm.
Andy uses a rotational grazing system, and has divided the farm into three groups of camps for this purpose. So one group is grazed during a specific period once in three years. He is flexible, however, and moves animals from camp to camp depending on the condition of the grass at the time and whether he is rehabilitating the veld.
A serious game
Hunting is a significant source of income on the farm, and Andy and Sheryl host eight to nine groups of 12 to 20 hunters at a time. "We have driven hunts and trophy hunts guided by my nephew Jason Badenhorst, who's a professional hunter," says Sheryl, also a keen hunter. The Duthies run about 1 300 head of game, including springbok, gemsbok, black wildebeest, blesbok, impala and zebra, and their hunts have become a sporting and social highlight on the calendar.
The Duthies have a permanent staff of seven – five men and two women – and admit that it took time to assemble this team. The result, however, has been well worth it, with everyone working together "really well", according to Sheryl. The Duthies have shown that mixed farming, if carefully managed and appropriate to the environment, can produce a smoothly run, profitable operation. Just as importantly, the hands-on involvement of their young children in the enterprise is laying the foundation for continuity.

The world's most expensive Nguni bull

When Andy Duthie bought the bull, Blikkies LEB 01-29, from Nguni stud breeder and businessman GT Ferreira in 2009, he was delighted with the price. It was a dispersal sale and the bull was a snip at just R78 000. The reason for his happiness was that just three years earlier Blikkies LEB 01-29 had broken all records when Ferreira bought it from Dr DS Reed & Son for a staggering R190 000.
Asked why this bull was so expensive, Andy replied that the animal was "just a great Makatini specimen" and its small-framed body was ideal for the tough conditions of the Karoo. He was also the stud sire for Reed & Son, whose LEB brand is renowned for excellence.
Now 11 years old, Blikkies LEB 01-29 remains active in Andy's stud herd. He believes that the animal would fetch approximately R48 000 today, and is certain that in its present condition it will continue to be fertile for another five years. The next-highest prices for a Nguni bull range from R111 000 to R140 000.

Contact Andy Duthie on 082 883 0334 or 084 491 1113, or email [email protected].