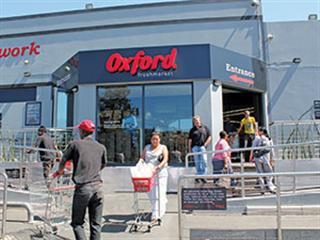 In December 2012, business partners Brett Latimer and Paul Beltramo opened a large retail supermarket in the Bluff, a suburb in the southern outskirts of Durban. It was a ballsy move, with the partners selecting a site in close proximity to retail giants Checkers, Pick n Pay and Spar, and well-established butchery, Bluff Meat Supply. They purchased and refurbished an existing fresh produce store, Hanee Fresh.
After injecting R80 million into the venture, they opened their first store, Oxford Freshmarket, containing full-sized grocery, fresh fruit and vegetable and butchery halls. Success came quickly, with the store turning over R46 million in December alone, considerably higher than the R4 million monthly turnover of Hanee Fresh.
"We base our business on freshness, quality and price. Our objective was to fill the gap left by other retail giants, by supplying only the best quality goods for considerably less than the competition. We dived in here between major retailers and stood up. We are being counted. The consumers are voting with their feet and cash," says Brett. On 2 March, one of the most profitable days, 6 386 customers walked through Oxford's 2100m² retail space and spent R2 million.
The butchery sold 1 500 fresh chickens, 85 beef forequarters and over 220 lamb and sheep. "Fifty percent of our floor space is allocated to fruit, vegetables and meat. Turnover on these lines is between R16 million and R20 million per month, of which meat turnover is about R12 million. Sales are driven by these lines but we have to be priced right on the full trolley of groceries. This puts us in a space where we can play with major retailers and offer Mrs Housewife a one-stop shop," says Paul.
Gross profit across all segments is 18%, a relatively low margin compared to major retailers who are thought to make an estimated 28% gross profit on meat, fruit and vegetables, Brett says. "We are happy to work on relatively low margins in each category to achieve 18% gross profit. We only make R2 per chicken but if a customer walks out without purchasing a chicken, we have lost R2 profit and a sale of at least R26," says Brett.

Brett Latimer, (left), and Paul Beltramo in the fresh produce hall. Fifty percent of the floor space is allocated to fruit, vegetables and meat.
While it sounds like an overnight success story, there is almost 35 years of experience and expertise behind the Oxford brand. Brett's first job in 1978 was as a trainee butcher at a local Spar, earning R65 a week. He went on to own and manage 17 butcheries in Durban and it was during this time that he met Paul.
Brett purchased a Cambridge Foods meat outlet in 1990 and over the next 20 years, the duo built the business up to six Cambridge stores approaching a R1 billion turnover, with Paul running the food side of the business and Brett the meat side. Brett sold the Cambridge chain to JSE-listed Massmart in 2010.
Future plans
With their first Oxford store now well established, the next step will be to diffuse the costs of the head office and marketing structure by expanding their retail network. Stores are scheduled to open in Hillcrest, Chatsworth, Amanzimtoti and Pinetown within two years and these outlets should altogether generate about R3 billion per year. Plans are also on the cards to open stores in Richards Bay, the Western Cape, Port Elizabeth and Gauteng.
Paul and Brett are the only shareholders in Oxford and have yet to decide how to fund the roll-out. "We could go for a listing, invite big retailers or the public to buy shares or facilitate a franchise opportunity with a difference. For now, we want to grow and 'tomorrow' we will decide on what is best for the longevity of the business," says Brett.
Regardless of which route they take, the development will require a significant expansion of their farmer supply base. All meat is directly sourced from abattoirs in the Karoo and Eshowe, and chickens from Astral Foods. Currently, 60% of fresh produce is bought directly from farmers and 40% off national fresh produce markets.
"We are buying off fresh produce markets throughout the country but prefer to buy directly from farmers. Farmers think they can get more value off the markets but we feel they are better off dealing directly with us. There are no speculators who buy their product cheaply and sell it on at a profit, there are no agent fees or market commissions (which can add up to between 12% and 19%), and the farmer is paid the agreed price the following day," says Paul.
"We also welcome small abattoirs to talk to us because we are currently looking for an organic meat supplier," says Paul.
Ideally, food would move directly from the farmer to the retailer, then from the retailer to the customer. This model not only cuts out the middleman, but the fresh produce reaches the customer quicker, reducing risk for the farmer.
"The minute you take fresh produce to a central distributor, you are shaving off shelf life. We buy directly from the farmer and if there is wastage and fresh produce must be discarded, we take the knock and not the farmer," Paul says. There is, however, no room for any loss in the business. "Most supermarkets allow for a 7% to 10% throw-away on fruit and vegetables but we don't even throw away 1%.
That is because our price is low and produce is continuously fresh. What we buy today we sell today, except on a Monday. Farmers don't pick on Sundays so we have to carry over stock for Mondays. Should we get farmers to pick on Sundays, volumes would increase," says Brett.
Supplier network
Oxford has a network of small market gardeners, mostly Indian farmers from Isipingo to Richmond, who supply Indian herbs and vegetables like calabashes, spinach and dhania. But to supply its expansion, Oxford will have to cast a wider net and source fresh produce in sufficient quantities.
"It is all about quality and volume and giving the consumer the best possible price. If we buy directly from farmers or get bulk discounts, we pass the saving on to the consumer. All customers want the same thing, quality and value for their money," says Brett.
The businessmen are committed to the improvement of their staff, and each member of the 400-strong team earns a minimum of R3 000 a month. "We cut all frills out of the cost of food and pay our employees as much as we can, so the staff customers deal with are well paid," Brett says.
The oxford movie
Oxford aims to secure customer loyalty for life and to foster this, Brett and Paul promote what they call the 'Oxford Freshmarket movie'. "We believe Oxford is an ongoing movie and encourage customers to take part by watching their savings and our staff grow, and being part of each other's lives. We hug staff and get on the microphone to tell employees and shoppers about our sales performance and thank them for being a part of our 'movie'," Brett says.
The Oxford movie appears to be a blockbuster. "At the end of day, the corporate opposition has cannibalised its own markets. There is a Spar on every other corner. If we can strategically place stores that don't cannibalise each other and trade the way we are trading now, opportunities will be endless. I don't know why companies feel they must go outside borders. While they are looking over the fence, we are mowing the lawn in their backyard."
Contact Paul Beltramo on 083 289 7767, Oxford Freshmarket on 031 467 6461 or visit www.oxfordfreshmarket.co.za