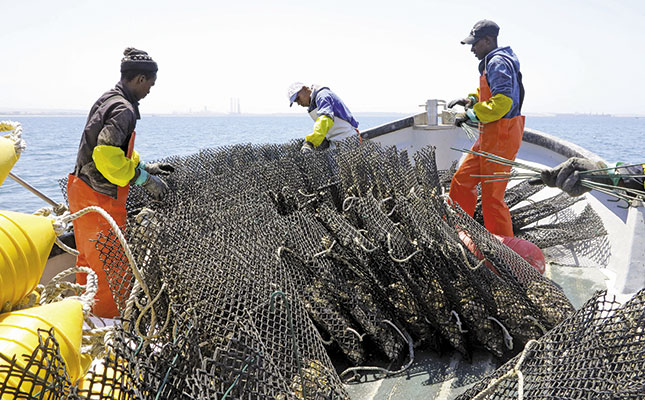 "I was born to be an oyster farmer," says Antonio Tonin. "I've had a love affair with the ocean all my life." Antonio has been farming oysters for 27 years. He revitalised the original South Cape Oysters Company, built an oyster farm in Algoa Bay off Port Elizabeth, rescued an oyster farm in Alexander Bay (no longer operating), and even opened an oyster bar in Knysna (no longer operating).
READ:How biorefineries can add value to forestry waste
Then in 2005, he set up the Saldanha Bay Oyster Company, which has since tripled in size. The company, now the biggest oyster farming operation in South Africa, has 40 employees who work in two factories in Saldanha Bay and aboard the company's two boats, Imbaza and Karlo. Antonio's wife Sue, who has a PhD in marine biology, manages the oyster nursery.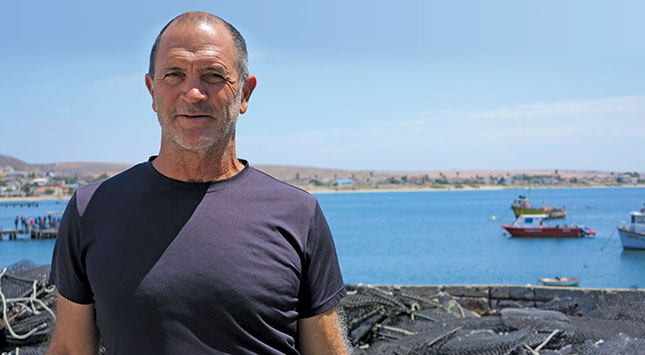 Establishing the farm
According to Antonio, setting up an oyster farm requires an inordinate amount of red tape, and obtaining a lease for the water from the harbour authority was a challenge. One reason for this is that oyster farming is a relatively new industry in South Africa and there are no well- established state structures in place to manage it.
Choosing the correct marine environment was crucial. Saldanha Bay is ideal, as large quantities of plankton, on which oysters feed, occur here from the upwelling of the nutrient-rich Benguela current. In addition, the bay is slightly warmer than the rest of the West Coast due to the hydrodynamics of the nearby Langebaan Lagoon system. The sea temperature in Saldanha Bay averages 13°C in winter and about 18°C in summer,  which makes for  a temperate marine climate, ideal for oyster farming.
The right variety
"In the past, there've been attempts to farm our indigenous Cape rock oyster [Striostrea margaritacea]," says Antonio. "But they're slow- growing and heavy-shelled. Pacific oysters [Crassostrea gigas] are excellent for cultivation – they're hardy, fast-growing, taste good and have their own cup." Edible oysters occur in two main groups: 'cupped' and 'flat'. Pacific oysters are native to the Pacific coast of Asia, but are now cultivated on every continent.
Production
The Saldanha Oyster Company imports spat (juvenile oysters) from a hatchery in Chile. Antonio says he chose this supplier as it produces "a good, hardy, generalist spat". "We also don't want to use any genetically altered spat because we want to maintain a pure organic crop. Oysters are filter feeders with a low carbon footprint and we want to keep them an ethical food."
There are many varieties of spat, some of which are selectively bred to be disease-resistant. An oyster herpes virus has been devastating oyster production in many parts of the world since the late 2000s. "We plant our spat in nursery tanks on land to grow to 10mm," explains Antonio. "We do this because at sea they'd have to compete with other species such as red bait. We then place them in stacked mesh baskets in a 10ha sheltered nursery site where we grow them to 40mm or 50mm, or 30g.
During this period, the oysters are regularly brought back to land to be sorted, graded and thinned out to specific densities. Then they're put back into the baskets and returned to the nursery site in the bay to continue growing." The baskets are  attached to long rope lines suspended from buoys.
Antonio emphasises the importance of choosing the right type of basket to maximise water flow over the oysters. "To do this, you have to match mesh size to oyster size – the mesh must be small enough to retain the oysters, but as big as possible to maximise water flow through the baskets."
SEE ALSO: Food for Africa – investing in the future
Initially, the spat spend 30 days in the baskets before being sorted, graded and replanted in the sea for 45 days. They are then checked again, returned to the sea, and thereafter checked every 50 days. When they weigh 30g or reach a diameter of 40mm to 50mm, they are moved from the sheltered nursery in the bay to the nutrient- rich 25ha finishing farm in the outer bay. Here they are inspected at two-monthly intervals.
As there are more currents here, plankton proliferate, enabling the oysters to grow rapidly to maturity. "It's a pristine site," says Antonio. "In the inner bay where the nursery is located, it takes weeks for the water to be replenished completely. In the outer bay it's a daily event from the open sea."
From spat to market, cocktail oysters of 40g to 50g are ready in eight to 10 months. Medium-sized oysters of 60g to 70g take 10 to 12 months, large oysters between 80g and 90g have a grow-out period of 12 to 14 months, and extra-large oysters, weighing 90g to 110g, take 14 to 16 months to become market-  ready. Giant 1 oysters of between 110g and 130g take 16 to 18 months, while Giant 2 oysters take 18 to 20 months to mature to between 130g and 150g.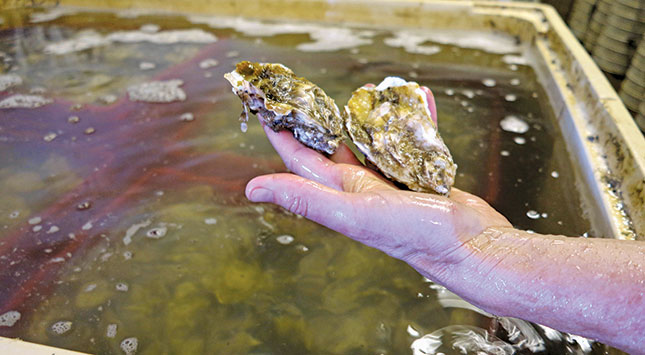 "Oysters grow extremely fast in Saldanha – about twice as fast as in other parts of the world," says Antonio. Asian markets prefer big oysters, but the smaller sizes are in demand on other global markets. Personally, Antonio prefers the smaller oysters, but stresses there is no real taste difference between large and small-sized oysters.
"There is a taste difference between males and females, but it's very subtle and most people can't distinguish it. Oysters are sequential hermaphrodites – they usually start off as males and then change into females. So smaller oysters tend to be male and will become female as they get bigger, but they can switch back again."
Survival factors
Antonio stresses that oysters are sensitive marine organisms that are restricted to their environment, so it's crucial to ensure this environment remains favourable for them. "We've been lucky in South Africa – our oysters have remained disease-free, a benefit from being isolated from the rest of the oyster-growing world."
To ensure food safety, oyster farmers in Saldanha Bay constantly monitor pollution, taking water and oyster flesh samples to ensure that their products are safe to eat. Antonio adds that South Africa has a rigorous molluscan shellfish monitoring programme that farmers have to adhere to. This helps to protect both consumers and farmers.
Antonio explains that oyster survival rates depend on the environment and the diligence of the farmer. "A properly managed farm in a well-managed ecosystem should have a consistent 50%, even up to 70%, survival rate. "Most mortalities occur in the summer months. This is also the breeding season," he says.
In warmer water, the oysters' oxygen retention is lower, their tissue tends to become inflamed, and bacterial levels are higher. Lowering the oysters to cooler water when the surface temperature rises is one way of tackling these problems.
Summer does offer the advantage of significantly better growth rates due to the longer days – light drives the plankton food chain, which the oysters need to reproduce.
In winter, the oysters' growth slows down dramatically, and the molluscs live on the glycogen stored up in their bodies during the summer months, resulting in slower growth. Other ongoing tasks faced by Antonio and his team are guarding against storm damage and poachers. Both are very real threats and demand constant vigilance.
Red tide
Most of the organisms (algal blooms) that cause red tide are actually good food for shellfish, Antonio explains. Being filter feeders, oysters quickly flush out the chemicals present in the plankton species that cause red tide. "In Saldanha Bay, we have far fewer occurrences of red tide than surrounding areas on the West Coast. It must have something to do with the hydrodynamics of the bay. "
Antonio says oyster and mussel farmers in Saldanha Bay also have not yet had any problems with heavy metals. "We routinely test for these, as well as biotoxins such as red tide, bacteria and viruses. If there's a problem, we pick it up as the oysters are harvested daily."
Sustainable
Oyster farming is completely sustainable; the farming process consumes little energy and does little harm to the natural environment. "We use plankton, which is probably the most renewable resource on earth," says Antonio. "Our biggest carbon footprint comes from distribution to markets – the farming footprint is negligible."
Keeping the cold chain intact is crucial. "We pack in a cold room and keep the oysters in chilled, oxygenated holding tanks prior to packing." They are then packed in insulated containers, with ice packs in the individual boxes. These are transported in refrigerated trucks to Cape Town International Airport and air-freighted to various destinations.
They are collected at the receiving end and immediately placed in holding tanks. Because oysters are natural intertidal organisms and can tolerate higher temperatures, they survive better out of water than many other marine species. The
colder oysters are kept, the longer their shelf life, as their metabolic rate is kept low.
"If we can keep them below 10°C from the farm to the end user, it's ideal," says Antonio. "They then go back into tanks when they reach Asia – a large proportion of the region's seafood trade is kept alive in tanks. It's a quick trip, though. Oysters leaving Saldanha Bay today will be in Hong Kong tomorrow."
50/50 markets
There is a global resurgence in oyster consumption, explains Antonio. Oyster bars have popped up in many places across the US. Despite this, the Saldanha Bay Oyster Company has not yet broken into the US market due to inter-governmental agreements. It does export to Hong Kong, China and Taiwan, however, and intends targeting Singapore and Kuala Lumpur next, and thereafter, Russia and Dubai.
Currently, markets for the business are split 50/50 between exports and local sales. "The potential of the export market is huge, whereas the domestic market is fairly saturated and dependent on tourists," says Antonio. "But there have also been significant dietary changes among affluent South Africans, which keeps demand up."
SA has fewer than 10 oyster farms on its coastline, with most on the West Coast. As an oyster producer, the country is insignificant, producing 500t/year, compared with France (160 000t/year). By mass, oyster production is the biggest cultured seafood activity in the world, with the output running into millions of tons. "We, however, are niche producers and Saldanha Bay oysters are unique in taste," says Antonio.
Phone 022 714 0321, email [email protected], or visit www.saldanhabayoysters.co.za. 
This article was originally published in the 26 February 2016 issue of Farmer's Weekly.