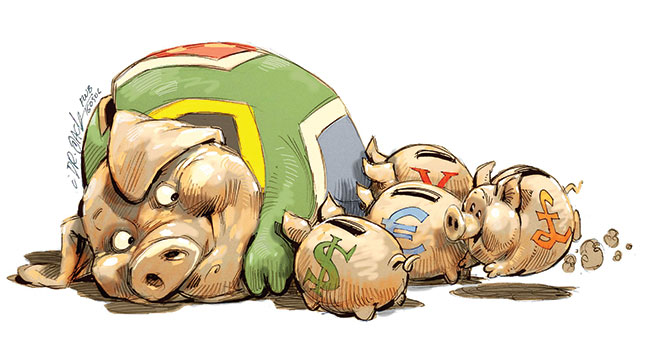 If agribusinesses want to make a real impact on improving global food security, they have to become involved in regions of low productivity. Over the next 30 years, the greatest need will be in sub-Saharan Africa, where average yields are only 20% that of yields achieved in the developed world.
The immediate challenge is to elevate sub-Saharan Africa to higher levels of capability, and this need will intensify in the future as the population increases.
At the same time, I maintain that Africa is now more stable politically and economically than at any time in recent history, and many people in the lower classes have become upwardly mobile. With this happening, people are starting to demand a higher standard of living, which means more and better food. We need an agricultural system that is able to meet their higher expectations, or we risk conflict similar to that which may arise from food insecurity.
At DuPont Pioneer, we focus on those areas where we can make the most immediate difference with products and services, in regions relevant to our business. We have active markets in Ethiopia, Kenya, Tanzania, Mozambique, Malawi, Zimbabwe, Zambia and South Africa, with the latter currently being our biggest market.
We've been doing business in Ethiopia since 1990. Despite the many political and economic challenges that country has faced over the past 25 years, businesses such as DuPont Pioneer have persevered and managed to survive, and are now making a real difference.
On a global scale, Ethiopia has suffered severely as a result of drought conditions. However, the Ethiopian government has implemented economic and political reforms, and made a commitment to invest in agriculture and education. As a result, agricultural productivity in Ethiopia has grown during the past 15 years.
Investment criteria
There are certain criteria that we have to evaluate when deciding whether or not to enter or remain in a market. First and foremost, for our business, is that a country has to offer solid agricultural opportunities. We also look at where we can make a difference, whether it is with research or providing services.
But there has to be a good business environment and infrastructure that is appropriate for the technology and services we introduce. It could be as simple as good roads and established markets. We also consider the legal system, land rights, political stability, availability of finance and credit, and whether farmers have access to markets.
If you look at history, a fundamental truth is evident: you need a strong agricultural sector for a country to be stable and grow. We want to be part of that process, but there needs to be a basic assurance that we will be able to make a meaningful contribution.
Again, Ethiopia is a good example. The government did what it had undertaken to do. When we first became involved there, the country's ranking on the Global Food Security Index was 101 out of 115 countries. In the past five years, Ethiopia has moved up to 85th position, due in part to the commitment of public and private sector investors to agricultural development.
Land rights
In any country, uncertainty about land rights can add potential risk. Zimbabwe has gone through trauma and great uncertainty over the past 30 years. But one must consider all aspects of a country, not just a single issue. When deciding whether or not to continue doing business in Zimbabwe, we resolved that the available agricultural resources were substantial enough to make it worth our while, despite political and economic difficulties.
Even at times of uncertainty, it is better to retain a presence than withdraw and then try to start again from scratch. If conditions deteriorate and become uncertain, we may take a strategic decision to take on less risk, provide less credit, build up a smaller inventory, or reduce our investment in research. Thus far, we have never completely withdrawn our business from a country.
We also invest in the countries in which we do business and employ local staff, thereby becoming a partner in the development process. As part of this process, we also form strong relationships with governments, academia, and industry players. When times are tough, we can then fall back on long-standing business relationships.
Respect local conditions
A fundamental requirement for getting involved in communities is respect for local conditions, culture and practices. We never try to force any changes or behaviours on a group of people or a region. But it is nonetheless difficult to simply sit back and watch when you know you have the tools to improve the livelihood of farmers.
Farmers share a common aspiration to improve their operations. For the most part this involves producing more, so that there is enough to feed their families and livestock, and still have something left to sell on the market. In Mexico, there are maize farms where the yield is equal to that achieved in the US – up to 12t/ ha – but just across the road you might find a farmer who insists on farming according to archaic principles and produces only 2t/ha.
Improving a farming business is a long, steady process; you do not come up with perfect solutions in one day – you have to be committed.
In 2000, we made a conscious decision to make sub-Saharan Africa a major priority, and we have seen slow but steady progress. We made similar commitments in Ethiopia and Zambia, and these paid off. In South Africa, we added significant resources, undertook meaningful research in the first decade of the 2000s, and acquired Pannar. These resources have been expanded locally through technology hubs.

Working in partnership
We collaborate with NGOs and governments to help turn 2t/ha farmers into 10t/ ha farmers. But we understand that we cannot do it alone, and so do farmers. They have to see something they can believe in, and in Ethiopia and Zambia this has happened through improved maize adoption programmes.
In Africa, we focus on providing farmers with improved seeds and better services, but we cannot introduce new technology without helping them understand how to use it. A lot of knowledge transfer needs to take place, and we have programmes in place for this purpose.
Local research is undertaken to develop products specifically suited to the needs of farmers in a particular country and compatible with local conditions. We have seen that heat, drought stress, insect pressure and disease are only some of the stresses that we need to factor into our research programmes to ensure that the products we develop are resilient enough to withstand these stresses.
We have programmes in place dedicated to developing high-yielding cultivars that perform well, even under drought conditions, and we have had a long history of success in this regard. It is products such as these that enable our clients' farming businesses to remain viable even during droughts and in this time of climate unpredictability. – Gerhard Uys