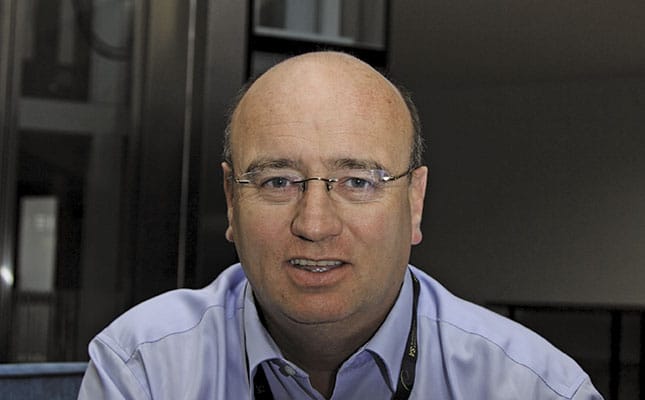 UK potato producers seem to have had a rough ride over the past few years. Tell us about this.
UK potato consumption, especially of fresh potatoes, has dropped by almost a quarter since the 1990s. With the credit crunch, consumers became more aware of food wastage and started favouring produce with longer shelf-life such as rice and pasta.
Our best clients are also a dying generation. Where older citizens had a bag of tricks to turn a potato into a feast, the younger generation favours more Continental diets that include pizza, pasta and curries with rice. It's also quicker to cook pasta than a potato, something that appeals to this generation, which places a high premium on time. In addition, we have to deal with dieting fads, where people are told to stay away from carbohydrates and hence potatoes.

Has there been a shift in the way fresh potatoes are consumed?
Consumers shop more frequently than in the past – three to four times a week rather than once or twice every fortnight. Where potatoes used to be something you bought in bulk and stored in the cupboard, consumers are buying smaller packets and no longer storing them.
With austerity measures during the economic slump, consumers have also become more aware of wastage. We hardly sell 7kg bags anymore, except at discount stores, as it has been found that up to 30% of the potatoes in these bags are discarded.
What has happened in the processed market?
British farmers used to focus all their time and energy on supplying the fresh market. It shifted, however, and consumers started eating more processed potatoes. While we weren't ready for this, Dutch and Belgium farmers were.  They have been fine-tuning the production of potatoes aimed at the processed market for years. The result is that about 50% of the UK's processed potatoes are now imported from these two countries.

How did this shift affect production?
Per capita consumption has decreased from about 100kg to 90kg over the past 10 years. Where hardly any potatoes were processed in the past, the processed market today accounts for 58% of the market. Because British farmers have been unable to supply the larger demand for processed potatoes and the lower demand for fresh potatoes, production has gone down from six million tons per year to about 5,2 million tons. Of this, 1,4 million tons are produced for the processed market.
Following the world trend, the number of potato farmers in the UK has decreased from 70 000 in the 1960s to only about 2 000 registered producers today. There has also been an increase in the number of tenant farmers in the country. A farmer might manage his own farm as well as the farms of five other producers.We have one production season – from May to October – and an annual rainfall of between 700mm and 800mm. Even so, we have to irrigate to produce good yield.

What has happened to potato yields?
There has been a growing demand for salad and niche varieties. Salad potatoes are waxy, and have a good bite and great taste. They're typically sold in small sachets at premium prices, can be boiled in 10 to 15 minutes and are eaten cold or hot. They are totally different from the Mondial potatoes sold in South Africa. The problem with these salad varieties, though, is that they have a low yield, ranging from 25t/ ha to 30t/ha. In spite of this, overall British potato production has gone up by about 50% to 45t/ha due to improved cultivars and production techniques.
South African market conditions are different from the those in the UK. Consumption here has increased by about 3% annually since 2009 and the Bureau for Food and Agricultural Policy has estimated that a 10% increase in disposable income would result in a 7,3% growth in the demand. South Africa is also one of the biggest exporters of potatoes and seed potatoes into Africa. Do you have any general advice for us?
I think our biggest mistake in the UK was that we lost touch with what the market wanted, something you cannot afford in a global market where there is always somebody else waiting for a gap to take your place. And once you lose or miss out on a market, it's extremely difficult to win it back.
As I mentioned earlier, Belgian and Dutch farmers have been perfecting the production of potatoes aimed at the processed market for many years. It's highly unlikely that we'll be able to take this market back, as it will take years for us to develop new cultivars aimed at the processed market. So my advice to any producers of any foodstuff is to keep their eye on the ball and ensure that they supply what the consumer wants.
The consumption of processed potatoes in South Africa currently represents only 20% of our market. The country has a protection mechanism to prevent dumping from Belgium and the Netherlands, and the International Trade and Administration Commission has indicated that an anti-dumping tariff would be introduced on these imports from next year. What is your opinion of this?
Belgium and the Netherlands produce a high-quality potato aimed at the processed market. I don't think that they were dumping potatoes in South Africa as prices were quite low in Europe due to the Russian ban of imports from Europe in combination with a good harvest. I think they were most probably testing the market.
Again, I think it's important for the industry – from the seed producers to the fast-food restaurants and other processed buyers – to have an open relationship and talk to each other to ensure an understanding of each other's position and the demands of the market.
What other lessons have you learnt through this time?
The UK has a mature market, with four or five retailers dominating the market, resulting in a lot of price competition. Retailers are also constantly looking for ways to outdo each other, which means there's a premium on exclusive varieties. At the moment, we produce more than 30 potato varieties in the UK. The problem with exclusive varieties is
that they represent higher costs and risks. If the market is flooded or there isn't a demand, you might end up sitting with a variety that you can't sell.
Farmers can pull together to supply the market with greater volumes and by doing so, negotiate better prices.
However, it's important not to abdicate control of your supply chain, as you need this to ensure you supply a high-quality product in the market.
Branding can help to add value to produce, but doing this in a highly competitive market is not easy. Remember too that your brand is only as good as your last sale. So once you've established a brand, you need to ensure that nothing happens to damage its reputation.
It pays to work closely with independent research institutions as they can give unbiased advice. I've been participating in trials for Cambridge University and in return, its scientists have been sharing research results with me and giving me production advice.
You are also involved in seed potato production. How are you adding value to this market?
We've moved from selling potatoes by weight to selling it per hectare to ensure that producers end up with the right quantity of seed potatoes for their production requirements. In addition, we're adding value to potatoes by giving producers an independent disease analysis. Obtaining a certificate is not enough for a farmer as this only measures for viral and bacterial pests, whereas we've found that fungal diseases are the real problem.
We're also doing on-time delivery so that growers don't need storage facilities.
We aim to supply growers with older seed potatoes as research at Cambridge has found that they have a higher number of stems, which results in more tubers produced.

Email Tony Bambridge at [email protected].
This article was originally published in the 18 December 2015 issue of Farmer's Weekly.