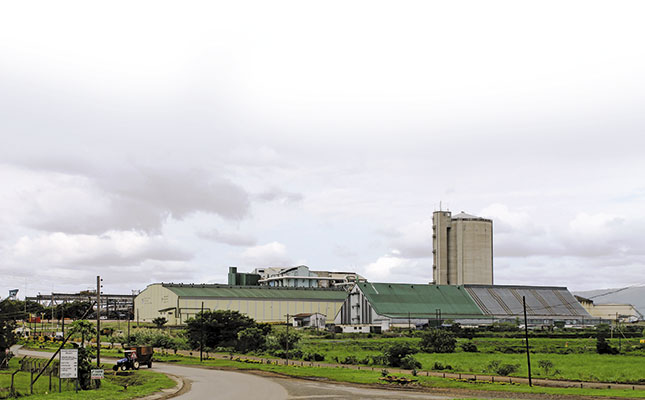 Thanks to a multi-million rand expansion, Ubombo Sugar Limited (USL) in Swaziland now has the capacity to co-generate nearly 40MW of electricity from bagasse.
Of this, between 9MW and 10MW is exported into Swaziland's power grid, freeing the country from its almost total dependence on Eskom for its power requirements. Ubombo has also shown that co-generation can work, despite concerns about its cost.
READ: Hydro-electricity: all the power, half the cost
South Africa's Illovo Sugar Limited acquired the Ubombo Sugar Mill operation, now known as USL, in 1997.
Illovo paid R1,6 billion for all of Lonrho Sugar Corporation's African sugar assets which included USL, its surrounding miller-cum-planter (MCP) lands, their associated infrastructure, and the nearby Big Bend sugar mill village, which now houses mostly Illovo employees.
USL and its MCP lands have been in operation since the 1960s.
"Our strategic intent for the acquisition of Ubombo, along with the other Lonrho operations, was to begin significantly expanding our operations to other parts of Africa, while still retaining our strategic and valuable sugar and downstream investments in South Africa," says Chris Fitz-Gerald, Illovo's group communications manager.
"The acquisitions also allowed Illovo to spread its risk because SA sugarcane lands are largely rainfed. Illovo sugarcane lands outside of South Africa are almost entirely irrigated and benefit from enhanced agronomic conditions for cane cultivation, and we have access to attractive domestic, regional and international sugar markets."
The R1,3 billion expansion began in 2009 and was commissioned in 2011. The overall aim was to increase USL's milling capacity, thereby increasing its annual sugar production from 220 000t to more than 300 000t by 2016.
In addition, the upgrade would allow USL to co-generate electricity from renewable bagasse for all of its own operations, (including irrigating its MCP lands) as well as for commercial export into Swaziland's national power grid for approximately 48 weeks of the year.
Deliberately inefficient
Prior to the expansion, USL only produced enough electricity for its own operations.
"Historically, most sugar mills were deliberately designed to be inefficient at burning the waste bagasse to co-generate their own power," explains Guy Williams, Illovo's regional director for Swaziland and Mozambique.
"This was partly because there was more bagasse than a mill actually needed to co-generate enough power for itself.
"About 15% of a sugarcane stalk going into a mill typically comes out as bagasse. It's challenging to store large quantities of bagasse safely because it can become a fire and environmental hazard.
"Another reason for the deliberate bagasse-to-electricity inefficiencies was that many sugar-producing countries didn't want to buy electricity co-generated from renewable bagasse, because it's more expensive than electricity produced in coal-fired power stations."
Improved energy efficiencies were therefore essential for USL's expansion costs to be justified. At the same time, there had to be a commitment from the Swaziland Electricity Company (SEC) to buy USL's excess electricity at a viable tariff.
Load shedding: a game-changer
The problem for USL was that Eskom exports relatively cheap coal-generated electricity into the Swaziland power grid, supplying more than 80% of the country's power needs.
The remaining demand has traditionally been met by Swaziland's own hydroelectric power generation facilities. However, these are at the mercy of highly variable river water volumes, resulting in inconsistent electricity generation.
The SEC was initially resistant to the tariffs Illovo wanted for its co-generated electricity, says Guy. "But then Eskom's load shedding of 2008 began happening. It became apparent to SEC that it needed to lower its dependence on Eskom for power," he says.
"Its management also realised that Eskom's current expansion programme would eventually result in more expensive electricity tariffs. Negotiations between the SEC and ourselves resulted in a tariff for our co-generated electricity that suited us both."
In addition to exporting up to 10MW of electricity into the country's grid, the bagasse-fuelled power station supplies 6MW to 7MW for MCP lands' irrigation systems and about 23MW for the mill itself.
USL's bagasse storage area is the size of 20 soccer fields and can hold 100 000t of bagasse or any other biomass. By 2016, USL will supply about 15% of Swaziland's electricity requirements.
USL's increased milling capacity has gone hand in hand with a dramatic growth in the supply of sugarcane to the mill, explains Guy. When the mill was purchased, USL had access to more than 8 000ha of MCP lands, which supplied about 60% of the mill's intake.
The balance came mostly from large-scale private sugarcane farms.
"Our calculations showed that with less than 5 000ha of new sugarcane supply, it wouldn't have been cost-effective for us to expand the Ubombo Mill," says Guy.
With the irrigation water allocation for USL's MCP lands and those of its private out-growers already fully subscribed, the only way to source more sugarcane was to partner with the Swazi government.
Small-scale farmers
The result was the Lower Usuthu Smallholder Irrigation Project (LUSIP). With support from the Swazi government, the EU, private banks and Illovo, that crucial 5 000ha of greenfield irrigated sugar cane farming operations owned and managed by small-scale Swazi farmers is being developed. Irrigation water is provided by the Lubovane Dam.
Fed by the Usuthu River, it can hold enough water to sustain up to 12 000ha of irrigated smallholder lands.
USL also manages 2 300ha of Tibiyo Taka Ngwane land on behalf of the Swazi nation. This allows Illovo to keep direct control of approximately 50% of the cane supplied to the mill – an important consideration for sustainability.
Chris Fitz-Gerald explains that because running sugar mills at capacity is essential for maximum efficiency and profits, Illovo seeks to manage at least 50% of its own sugarcane production wherever it operates.
Cost and complexity
According to Guy, boilers are a problem when it comes to increasing the capacity of any mill. Not only are they the most expensive pieces of equipment in a mill, but existing infrastructure has to be modified and expanded to house new boilers, adding to the overall cost. USL now has six functioning boilers.
Of these, the newest and most efficient – costing about R150 million – has allowed it to significantly increase the efficiency and, therefore, the capacity of its co-generated electricity operations.
A further concern, says Guy, "was having LUSIP develop at the same pace as the mill's expansion so that the mill could be ready for the additional sugarcane supply when this supply became available".
"Unfortunately, for several reasons, LUSIP's development has not been as we would have wished it. LUSIP currently has 2 600ha of irrigated sugarcane lands," says Guy.
"In terms of our original feasibility study this should have been at 4 000ha by now. However, while we've taken a short- to medium-term financial knock because of this, we're still encouraged by the fact that we'll eventually have the full 5 000ha of LUSIP sugarcane being supplied to Ubombo Mill by around 2016. This is important because the investment horizon for the Ubombo Mill expansion is greater than 20 years."
Mapping out the future
USL's milling capacity currently stands at 500t/ hour. Once LUSIP, the MCP lands and the private out-grower lands are supplying sugarcane at optimal levels, Ubombo will be crushing 2,6 million tons of sugarcane annually.
This would make it the second-largest sugar mill in the Illovo group after Nakambala in Zambia, which is capable of producing 450 000t of sugar annually.
In addition, by 2016 Ubombo should be supplying 15% of Swaziland's total electricity requirements.
An added environmental benefit of USL's electricity-from-bagasse and biomass is that bagasse is renewable, unlike fossil fuels, and does not produce atmospherically detrimental nitrogen oxides and sulphur dioxides of burning coal.
USL's chimney stacks are fitted with water scrubbers to filter out carbon particulates in the flue gases. This ash is transferred to an ash dam, then to the cane lands, where it is used as fertiliser.
"As a group, Illovo currently produces 91% of its own energy requirements from renewable biomass, primarily bagasse. The balance is provided by national power grids and by back-up diesel-powered generators," says Chris.
"The Illovo group's objective is to eventually become totally self-sufficient in producing its own electricity from renewable resources for all of its operations. Where possible, we'll aim at exporting surplus power into national grids."
Phone Chris Fitz-Gerald on 031 508 4464, or email [email protected]. Visit www.illovosugar.com.
This article was originally published in the 4 April 2014 issue of Farmer's Weekly.