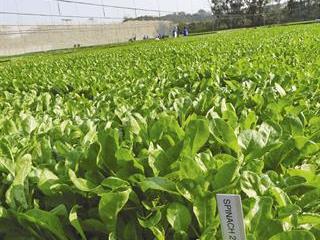 Nowadays, The hawkers who gather at the entrance of Lone Oak Seedlings on a Monday morning, make up around 80% of the nursery's business. It's a new and profitable market, very different from the commercially-based one the nursery supplied in the early 1970s.
"I used to have 60 to 70 commercial farmers on my list when I started, now I have about 15," says Lone Oak's owner, Dux Meintjies. "I would say the successful farmer has grown larger, and the smaller farmer just can't make it."
Dux describes the hawkers' transactions as "bits and pieces". They buy seedlings in large white plastic packets, then hit the taxi ranks and resell them to commuters.
Dux's black customer base grows a bit every year, encompassing not only hawkers but also emerging farmers and agents in former homelands who supply state-funded agricultural projects.
One of the challenges of servicing the communal markets is that clients never make specific orders, as commercial farmers do. "Buyers in the informal market don't do much planning, so you don't know what you're going to sell this week – a guy just arrives here and wants 10 000 or 20 000 seedlings," explains Dux.
"Long ago we wouldn't plant a seed until we had a definite order for it – a buyer would say what he wanted to plant in six weeks and we would prepare an order for him."
Communal markets flourish
"Hawkers are after basic vegetables, like cabbage, spinach, beetroot, onions, green peppers, cauliflower, and broccoli – cabbage and spinach are the most popular," explains Dux. "They buy in bulk from us and go out and sell in 10s and 20s further on." "The emerging farmers are definitely becoming a factor.
There are more and more of them coming in. Some have begun to demand significant volumes of seedlings. Last year a customer from the Qamata district in the former Transkei bought 150 000 maize seedlings, and 30 000 cabbage seedlings every two months.
Many emerging farmers and other independent small-scale producers are involved in provincial government-funded agricultural projects. These provide a link in the seedling supply-chain for would-be entrepreneurs.
For example, Lone Oak has two long-term agents who supply seedlings from King William's Town (with a focus on the former Ciskei) and Mthatha (with a focus on the former Transkei) to government-funded agricultural and food security programmes.
"When the farmers arrived here originally, they drove clapped-out old bakkies – today they have good businesses," says Dux. This trade has become the heart of the current seedling market. "Government projects are basically what keep you alive in the nursery business. We wouldn't survive if we had to rely on commercial farmers."
Decrease in commercial demand
Dux used to farm vegetables on 250ha near Macleantown outside East London. He started producing seedlings for the commercial vegetable enterprise he managed with former partner Fred Burchell in the early 1970s.
"It all started rather basic," he recalls, "with seedlings produced in seedbeds and later in trays, when Burchell and I opened the Kingsdale Nursery in 1973. "In the old days we planted seedlings in beds and they often wouldn't grow. But then I went to Natal, where I got tips on seedlings in trays."
For the next 20 or so years, Dux produced vegetables and seedlings for a stable commercial market. With his son Mickey and son-in-law Trevor Neise he expanded the business by creating Lone Oak Seedling on 4ha of land near the coast in 1995.
But Dux's son Philip was killed in a car accident and Mickey, Trevor and Dux's daughter Mandi emigrated to Australia. The Macleantown-based business was sold, leaving Lone Oak Seedlings for Dux to carry on with.
Simple yet effective
In Dux's opinion it is critical to minimise start-up costs to ensure the long-term sustainability of an agricultural business. "People often borrow money for tunnels or multi-spans, and if the prices aren't good and they have disease, they struggle with the repayments," he says.
At Lone Oak, seedlings are produced in the open, eliminating the need for large investments in tunnels and shade-cloth structures.This is possible because the nursery is close to the sea, where night temperatures rarely dip below 6ºC and hail is nonexistent – critical advantages thanks to Dux's foresight when buying the property in the 1980s.
However, this kind of production is not without its challenges. "We do have problems with wind and you have to build good windbreaks and tie the trays down, but once the plants are about three weeks old it doesn't worry all that much," says Dux.
Hard rain can also destroy newly planted trays, while doves have proved a problem, pecking at newly planted seeds and freshly germinated seedlings.
"If you get a storm of 30mm in an hour, and you've just put out trays, its goodbye to those seedlings," says Dux. "Fortunately, we've sorted the doves out by feeding them far away from the seeds and they don't seem to go there any more."
Exacerbating matters is the irregularity of business during times of drought. This can drop sales by 40%. "The drought has affected us badly this year, and customers are very quiet. I had to throw away millions of plants," says Dux.
But, as he explains, the secret is to chip away at it because the drought will pass and good years will return. "If it doesn't rain we sell nothing, if we get a lot of rain, we can't keep up," he says with a smile.
Contact Dux Meintjes on 083 453 5312 or 043 740 1823.