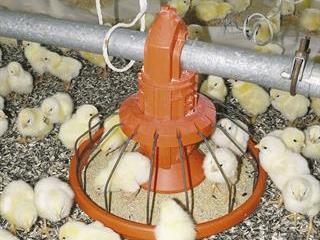 Great physiological changes in broilers have occurred over the past few years, most notably in size, as birds are growing larger at a faster rate. "In the last 15 years we've seen a 10-day reduction in chickens reaching a 2,3kg weight," says Dr Marc de Beer, Aviagen's global head of nutrition services.
"Fat percentage is also lower, having halved over the last 30 years. Other changes include a smaller gizzard, but we're still uncertain if this is good. If the gizzard was larger, the bird could probably eat more and grow bigger."
Speaking at the South African Poultry Association Congress in Johannesburg, Dr de Beer said that great skeletal improvements in chickens had been made and bones were growing stronger to cope with the extra weight. "Breeding has improved the yield and the amount of breast meat," he says.
"Birds are growing faster and bigger which means they require a stronger skeletal structure. Previously, only 64% of birds had legs that were strong enough to handle their weight, now it's 95% of birds. Mortality rates are lower and the blood's oxygen-carrying capacity is greater in the modern broiler."
He notes that chicken selection criteria have also changed. In the 1960s, for example, broilers were selected based on liveweight. Today many factors play a role, including skeletal integrity, eggs and cardio fitness, as the birds need to perform in challenging, more intensified conditions.
But the physiological changes have introduced challenges and farmers are urged to look more carefully at nutrition. "With a shorter grow-out period for the chicken to reach the same weight, the effect of breeder nutrition on broiler performance has become more important," he says.
"Phosphorus is being overfed and the resource is being depleted. It won't be around within the next 100 years and farmers must look at alternative means of reaching the same goal."
Dr De Beer says that negative consumer perception of the poultry industry is a concern, as chicken is often perceived as a suspicious meat by ill-informed consumers. "There are consumer perceptions on animal welfare, food safety and environmental concerns which should be closely monitored," he warns.
"Many people don't eat chicken due to a fear of salmonella, antibiotic residues and chemicals involved in the production. It's up to us in the industry to set the record straight and to ensure that the right message is sent to consumers about farming practices."
Contact Aviagen at [email protected].