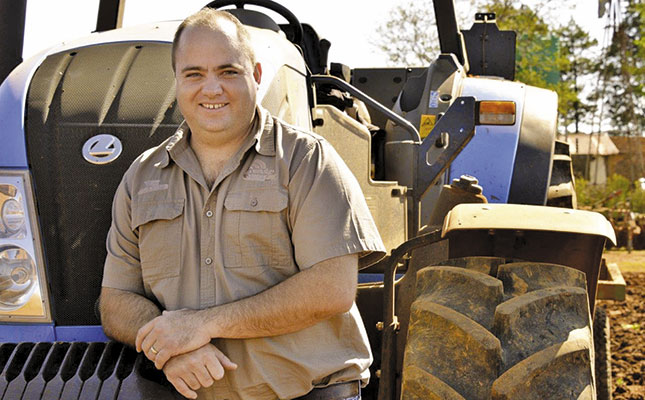 What are the main challenges you have had to overcome in your career so far?
Trying to make a career of farming, as a young person, is a challenge and there are many hurdles to overcome. These include acquiring land, getting access to equipment and finance, as well as finding assistance from people prepared to share their knowledge on different farming methods. This is particularly true in our area where there are very few study groups. So it's been difficult for me to gain the knowledge necessary to expand my current techniques.
READ:Better economic prospects ahead for sub-Saharan Africa
Young farmers need access to new ideas, products and equipment. We need as much information as possible to stay at the cutting edge of technology, to ensure long-term sustainability and profitability. I've been working for my uncle, Riaan Hudson, as farm foreman on the farm Holfontein in the Randfontein district for four years. He introduced me to farming when I holidayed on their farm as a child, and it's here where my passion for farming began.
I run the day-to-day operation on the farm, but also have my own farming enterprise on rented land nearby, where I plant maize. For me, being a farmer is something truly special. Being in the presence of nature and watching your crops grow is such a fulfilling experience, and a true blessing. I'm constantly reminded that all the hard work I put in every day makes a difference in the lives of thousands of people.
Among other things, you found it very difficult to obtain production capital. Please explain.
Obtaining production capital was one of the biggest challenges. It took me many frustrating months to try and convince financial institutions to help me get my business started. It didn't matter how good my business plans were, no one was prepared to assist me with production capital as I didn't have sufficient security.
Then, by chance, I attended an FNB farmers' day where I met Barend Esterhuizen, the commercial relationship manager at FNB's Ventersdorp branch. We discussed my plans and he recommended business financing offered by his bank. Thankfully, Barend not only saw the potential in my business proposal, but also in me. Within weeks, my application was approved and I received the capital I needed. Since then I haven't looked back.
Commercial banks, including the Land Bank, should as a matter of urgency develop financial products to help young farmers enter the industry. We are more than willing to work hard to feed our country and its people, but without the help of the banks, it's virtually impossible. Not everyone has access to family land or is part of an established family business!
Who does the vast tracts of fallow land surrounding your farm belong to, and could you gain access to it to expand your own business?
It belongs to the government and land owners who apparently aren't interested in developing it. They're mostly city folks who seldom, if ever, set foot on their farms. I don't know what percentage of the farms belongs to land reform beneficiaries. But anyway, it's almost impossible to gain access to this land. There are various options available on the private land, such as leasing it or entering into a partnership with the landowner.
However, limited infrastructure on these farms causes major problems as far as storage and security are concerned. Driving tractors and implements to and from them vastly increases your input costs. The only option is to outsource to a transport company, which isn't feasible on such a small piece of land. Not only is the land being 'wasted', it's also not maintained so it becomes a danger to the surrounding farms. Every season one of the surrounding farms suffers veld fires because there are no firebreaks on the fallow lands. Farmers have lost crops, grazing, cattle and equipment.
Cable theft is another big problem here. The overgrown land is a perfect place to hide stolen cables, where they are then stripped and prepared for collection. Thieves also use the fallow land to hide away and to store stolen products such as maize. All of this obviously affects the safety and security of our community.
Because these farms have deteriorated over the years, a lot of work needs to be done before a commercial farming operation can commence. Trees have to be cut and pests have to be managed, and weeds, like cockle-burr and purple stinkweed (olieboom), eliminated.
However, many prospective young farmers, including myself, of all creeds and races, are more than prepared to take up the challenge, despite all the obstacles. All we need is for someone, somewhere to realise our potential. If we were given the opportunity to exploit these farms' commercial potential, we'll not only create better lives for ourselves, but contribute to food security and job creation.
Have you tried making contact with the relevant government departments on this matter?
Yes, but unsuccessfully so far. It's very difficult as an individual to approach the right people in government who have the authority to give the go-ahead on land and funding. I've also worked closely with Agri  Gauteng on the matter, but these efforts have been in vain. Some Agri Gauteng members, including Dirk Hanekom, Willem Basson and Helene Bester, have really gone out of their way to help me reach my goals. Unfortunately, the process is very time-consuming and there's a lot of 'red tape' to get through.
Are there any other difficult issues you've encountered?
A major challenge, which many farmers can relate to, is the drought we experienced this past season. Because my operation is so small, I haven't been able to diversify. This has put my business under huge pressure and has halted my progress in becoming a successful commercial farmer. I'm not in a position to buy the equipment I need to improve my farming practices. It has also been difficult to find a financially stable partner to invest in my operation. Of course, the unstable markets, as well as the increase in the prices of seed, fertiliser and diesel, haven't helped – there's only a narrow profit margin and very little room for error.
Do you think established commercial farmers should play a bigger role in helping young people like yourself? If so, how?
Yes, definitely. Mentoring plays an important role in providing young farmers with skills. It also helps them realise that their goals are achievable. If commercial farmers invested time and knowledge in young farmers, who are dedicated to agriculture and show potential, it would safeguard the food security of the next generation.
The average age of farmers in South Africa is between 50 and 60. These farmers have great knowledge and wisdom and if it's not shared, a lot of valuable information will be lost forever. Another possibility would be for financially stable commercial farmers to invest in young farmers by way of partnerships. In this way they could receive a return on their investment. While growing their own businesses, they'll provide these young farmers with the opportunity to build businesses of their own.
If you were the minister of agriculture, what would you do to make it easier for young farmers to enter the agricultural sector, regardless of race or creed?
I'd introduce a project controlled by a governing body and run by a person qualified in all relevant areas of a farming practice. This would ensure that all objectives are completed successfully. For example, if the government invests in an approved candidate, he or she must be able to produce a return on that investment within a specified period. In this way, young, up-and-coming farmers would be allowed to become self-sustainable. With current mentoring programmes, the government invests millions in candidates and hardly sees any return on the investment.
You've just been voted Agri Gauteng's Young Farmer of the year. What keeps you motivated to carry on farming despite the uphill battles you've had to fight so far?
I'm more motivated than ever. We are so blessed to live in South Africa and there are so many opportunities for young farmers. The challenges we face daily, as farmers, are what makes it so interesting. I believe it builds character – failure isn't an option for me. The responsibility I have to my country, fellow citizens and myself, motivates me to be the best farmer I can be.
Any advice for prospective young farmers?
The motto by which I live is: positive thoughts produce positive results. Young farmers should also take pride in everything they do. Also, never accept defeat and don't take no for an answer! It's also vital to focus on that driving force that helps you achieve your goals. Stay determined.
Lastly, always be grateful for everything you receive.
Contact Corniel Louwies on 082 524 9571.
This article was originally published in the 9 August 2013 issue of Farmer's Weekly.