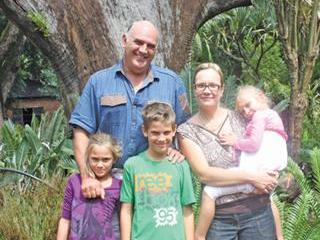 Today Theo de Jager, dressed in shorts, vellies and a short-sleeved Agri SA shirt, is a farmer. He has abandoned the suit and tie he wore to a meeting in Cape Town the day before as Agri SA's deputy president. For now he inspects the palms in his nursery on his farm in Tzaneen, Limpopo – an activity he does not have the privilege of doing every day.
"I'm not here much. Less than half my time is spent on the farm," Theo admits, walking attentively between rows of palms with his eyes fixed on the plants. "It's tough. I don't recommend it to anyone." He bends to pick up a plant and proudly explains that he grew it from a seed that originated in Madagascar. It is this kind of passion that makes it evident that Theo relishes the time he does spend on the farm.
The stillness of the jungle-like surroundings is interrupted by a cellphone tune emanating from Theo's shirt pocket. "Excuse me," he apologetically mumbles, his focus already on the call. The voice on the phone sounds anxious and I can hear the panic in the caller's voice from where I stand two metres away.
Theo's face darkens, but he listens patiently, momentarily shifting his focus from the palms on the ground to the horizon. After a while he proffers some advice to the caller in a slow and steady tone, "Get all the information pertaining to the land claim and whatever you do, don't stop farming. The claim process takes years and you don't want to be without an income."
Theo's phone does not stop ringing for long. He fields an infinite number of calls every day from solution-seeking farmers with land claims on their property. He advises without growing impatient because he knows how the farmer feels – Theo has been there.
Pursuing a dream
In 1999 Theo bought his first farm in Trichardtsdal in Limpopo. After managing a friend's nursery on a neighbouring farm, the spark for palms was ignited and Theo decided to invest in his own business. When his farm was up and running, Theo gave some thought to his farm workers who expressed a desire to farm. He drove to the land reform department to see if any of the empty tracts of land bordering his farm could be given to the workers to farm.
But the official informed him that the whole area had land claims gazetted on the properties – including his farm. "I felt like all farmers in that situation: angry," remembers Theo. "They had a cheek to put a claim on the land that I paid off with blood and sweat." After seven years of investment in this farm, Theo left and decided to look for investment opportunities in a field unrelated to agriculture.
But after being without land for nearly a year Theo says he felt 'naked' and he and his wife, Karin, decided to look for another farm. Preferably one with no pending land claims. Today Theo and Karin farm on the 443ha Red Bank property in Tzaneen. Karin practices law in town and admits that cases related to land claims take up most of her time.
Their three children LT (11), Rachel (8) and Kristi (4) are all too aware of the struggles farmers face with land claims. It becomes evident when listening to their choice of topics for the school's debate contest. Despite the magnitude of land claims gazetted in Tzaneen, on Theo's farm it's business as usual. The blue gum, litchi, mango, macadamia and avocado plantations give his farm a forest-like atmosphere and exotic palms dotted around the property allude to Theo's true passion.
He admits to cultivating scarce palm varieties because it's lekker and not necessarily because it makes good business sense. "If you don't have a passion for something, you won't be successful. You must understand a thing's soul, but not to the point where you can't get rid of it if it is detrimental to the bottom line."
Theo's green fingers extend to the development of new crop varieties and he has several trials on the farm, one of which is a new cassava variety. "Cassava is popular with the Congolese and Malawi population in SA and the crop did very well for me on the market last season."
He seems to have a knack for sourcing seeds of interesting plants for his farm and is getting ready to harvest a red fuerte avocado, the seed of which he got from a neighbouring farm. The 120 trees Theo planted were all cultivated in his own nursery and he is understandably anxious to see the results once the fruit is harvested.
Indulging his interest further in rare crops, Theo has just planted 500 carambola (star fruit) trees. The trees were cultivated two years ago, despite a lack of information on the cultivar in SA. "Carambolas aren't really planted locally so it has been trial and error. The market for the fruit needs to be developed as it is still relatively unknown."
A never-ending battle
Turning Red Bank into a flourishing farm was no easy task and Theo slogged to build it into the valuable investment he knew it could be. The farm was overgrown and neglected when he arrived. Waving his arms about, he explains how he had to cut a pathway through the bush with a machete to get to the farm house. Because the farm had been uninhabited for several years, nearly 1 000 squatters were living there.
Theo's patient and diplomatic negotiating skills came in handy; the majority of the squatters were evicted and the remaining 25 families were moved to a neat, cordoned off camp on the farm. In exchange for staying on their part of the land, Theo helps the squatters plant maize and other staple foods. "The idea is that if they do get their own land one day, at least they will be able to farm. This works in my favour too because it keeps the camp clean and tidy."
Six months after their arrival, just as the farm started taking shape, a man arrived on Theo's doorstep one morning and announced that he was instituting a land claim on the farm. Theo had heard the rumours of claims in the area and the news came as no surprise. But this time, instead of selling the farm he decided to fight the claims – all 16 that were eventually gazetted.
He adds tensely that he has just received news of another farm sold in the area to a land claimant. "It looks like I'm becoming an island in a sea of land claimants." But far from being paralysed by fear that his farming efforts could go to waste, Theo is determined to keep farming on Red Bank.
Being a farmer and Agri SA's deputy president has its benefits and Theo says that having an in-depth knowledge of the policy environment has given him the confidence to invest in his farm. "I know what's really going on in agriculture and land claims don't scare me. The government needs me, more than it needs land claimants, to make farming work." The tug-of-war between working for Agri SA and farming with his family is intensifying for Theo. Red Bank is an obvious winner.
This is his fourth year as Agri SA's deputy president and he admits that he did not think he would last this long. "Land reform is not a very popular portfolio. There are people in Agri SA who feel that the process is moving too quickly and those on the outside who think it is moving too slowly." Too slow or too fast, Theo is unfazed. He is investing aggressively in his farm and plants an extra 15ha of blue gums every season to add to the 190ha plantation.
"I'm not in this business for the short term," says Theo, pointing to a plantation on the hill behind the house. "When those trees are harvested in 15 years' time the income will pay for Kristi's honours degree.""I won't sell my farm again. There is a lot of tension in agriculture because of land claims, but you get used to it."
Contact Theo de Jager at [email protected]