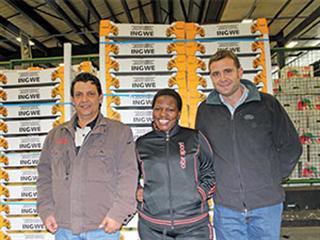 The Johannesburg Market – formerly known as the Johannesburg Fresh Produce Market – generates a turnover of about R17 million per day, or R3,8 billion per year. The market is the largest in Africa and located in City Deep, about 5km outside the city's CBD. It distributes about one million tons of fruit and vegetables to many destinations annually, including African countries such as Zambia and Botswana. Market agents – the most important link between farmer and consumer – make all this possible.
"There are 14 of us here," says Gugu Hadebe, a 51% shareholder of Egoly Market Agents. Egoly has been in operation for just over a year. It is one of the few successful BEE market agencies and its majority shares are owned by a black woman.
working for the market Gugu, who hails from Soweto in Gauteng, worked for various departments in the Johannesburg Market for over 15 years. While there, she introduced the market's customer care centres in the trading halls and the consignment control system.

Gugu Hadebe and Danny Geral's company logo; they strive to provide the best service.
"We only had one centre at the main office building," she says. "The system did not work properly and was inconvenient for customers. Those with problems had to drive or walk from the trading halls to the main office, which was tiring and time-consuming," she explains. "I suggested that we introduce customer care centres in the halls, which I managed for a few years."
Gugu then moved to the internal control section in the main office, interacting with security at the gate. "I realised there was no system in place to record goods coming into the market," she recalls. "The guards only recorded trucks coming in, but not what they were carrying." To solve the problem, she instigated a consignment control unit at the gate. This digitally recorded everything brought in and the information was stored in the market records. "This was to protect the money belonging to both the market and farmers," Gugu explains.
A partnership, and New opportunities
After 15 years, Gugu was keen for a new challenge and it was at this time – 2009 – that she met Danny Geral, her current business partner. At the time, Danny was employed by another agency. "We met through a mutual friend, Clint, who worked with me in the consignment control department of the market," Gugu recalls. "Clint told me that Danny wanted to start his own agency and I was interested in partnering with him."
In 2010, the pair started the process of registering Egoly Market Agents and the business opened on 21 March 2011.
According to Gugu, BEE agencies do not succeed due to many challenges, but this was a chance they were willing to take. She realised that there were strict requirements to starting an agency or acquiring floor space. "For a BEE company to keep its space in the halls, the market demands a turnover of at least R20 million per year," explains Gugu.
"We managed to make a turnover of R76,4 million in our first year. This year, we are already looking at a turnover of just over R80 million," she says. Adds Danny: "We made in six months what other BEE companies normally make in a year. Of this, only 7,5% went to Egoly, 5% to the market and about 87,5% to the farmers."

The partners believe that the success of every agency depends on its team. The vegetable team comprises more than twenty employees.
Getting help
Gugu admits that they initially thought starting an agency entailed only securing floor space in order to start the business. "It's quite expensive to start up. If it weren't for WENPRO Market Agents, we wouldn't have made it." WENPRO is a leading market agency that also operates at other municipal fresh produce markets around the country. "The owner – Roelf Nigel – lent us R400 000 to start our company," recalls Danny. "We used the money to acquire equipment such as forklifts and cold storage infrastructure and to pay salaries for a few months."
"Operating without the equipment would have made running the business difficult. This is one reason many smaller companies do not make it." The market has its own cold storage facilities and equipment, which it allows agencies to use. "But imagine having no forklifts," Gugu says. "It would have been a nightmare collecting produce from the cold storages every morning. If we had depended on other people's equipment, we would have had to wait until it was available and customers don't have time to waste."
The pair managed to pay back the WENPRO loan in their first year. "WENPRO continues to support us in many ways, except financially. It's doing our books and administration, for example," adds Danny.
Cut-throat competition
Danny is thankful for the support from farmers who were his clients at his previous agency. Competition between agencies is extremely tough. "It gets so bad that some agencies actually call up farmers to discredit their rivals and claim they can secure better prices," he says. "The worst fear for farmers is that their produce may not be sold, which is why they're wary of new, smaller agencies."
Gugu explains that farmers build relationships with their agents over a long period and trust them not to cheat. "Imagine if you send your produce to market and it's not sold, or that someone tells you that the price of cabbages today is R3 when it's actually R6," she adds.

The agency opens for business at 5am and closes at 11am. 'We sell to various buyers, including hawkers, retailers and wholesalers,' says Gugu.
Gugu laments that many farmers are spooked by the word 'BEE'. "It's associated with incompetence and lack of capacity. But my experience with the market and consignment control gives me the confidence that I can do very well in selling fresh produce. I've been looking after farmers' produce – making sure correct volumes are recorded and farmers are paid – for a long time."
Trust between farmer and agent
"It is the farmer who carries the risk until his produce is sold," explains Gugu. "So I need to be completely honest and strive to get the best price possible for the farmer. If I tell him that the cabbage price was R5, he must be able to believe me."
"We make a point of keeping farmers informed and up-to-date about prices and how their produce is selling, so he knows what to expect."
Another challenge for the farmer-agent relationship is payment. "If we don't pay our farmers on time, they are certain to become unhappy with us. So we pay them every Tuesday and Thursday," says Gugu.
Contact Gugu Hadebe on 083 669 3100 and Danny Geral on 082 563 4562.