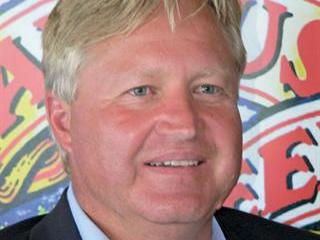 What does Angus Beef do, and what is your position in the company?
Angus Beef is the proprietor of the trademark under which Certified Angus Beef, produced according to protocol, is marketed in South Africa. I am the chairman of the Angus Beef Board of directors. Angus beef is produced by registered Angus stud bulls – Red or Black. The registration numbers of the bulls used by a beef producer are recorded by Angus Beef and the Angus Society.
When the calves of these bulls are born, the farmer contacts Angus Beef, who issues the farmer with ear tags, each bearing a unique serial number. These are fixed to the left ears of weaner calves and the serial numbers recorded and invoiced to feedlot operators who purchase the calves from the farmer. The serial number remains with animals right up to the retail stage to ensure that the beef can be traced to its farm of origin.
When and how did the Certified SA Angus Beef initiative come about?
At the heart of it is the desire to capitalise on the exceptional beef produced by these cattle. The Aberdeen-Angus breed originated about 200 years ago in Aberdeenshire and Angushire, north-east Scotland, and went on to become the largest beef cattle breed in the world. In pre-refrigeration days, meat had to be either eaten immediately, or pickled or dried. Customers valued Aberdeen-Angus for its fine texture, and also for the fact that it matured well and remained tender during preservation.
Substantial research and development has been conducted over the years to improve the quality of the beef, as well as to increase the fertility and adaptability of the breed. Today, Angus cattle, as they are commonly known, are found all over the world, from the Americas to Australia to the Kalahari, and of course, here in South Africa.
Where is Certified SA Angus Beef currently being marketed, and how does this process work?
Pick n Pay is presently the only retailer that stocks Certified South African Angus Beef products. There is a wide range, which can be viewed on www.angusbeef.co.za, and there is also information on the packaging regarding the properties of Angus beef. Importantly, consumers are made aware that Certified SA Angus Beef is not cut or trimmed by butchers; in other words it is 'case-ready' – it leaves the abattoir in its packaging and is sold as is.
This case-ready beef is usually more expensive than other beef, but only because of how much goes into certifying it as top quality SA Angus beef. From 1 April 2012, the Certified SA Angus Beef range will be extended to include mince and goulash from the forequarter.
Angus Beef is registered with the SA Meat Industry Company (Samic). The production of Certified SA Angus Beef follows various protocols required by Samic to ensure traceability 'from farm to fork'. Often Samic will arrive at feedlots and abattoirs unannounced to audit that only Certified SA Angus Beef is being packaged and sold as such. The protocols cover everything along the value chain, including feeding, vaccinations and livestock transport.
How will farmers participating in the production of Certified SA Angus Beef benefit from this initiative?
Many Angus Beef producers are paid a premium for their weaner calves. These are identified by feedlot operators nationally and quality calves are naturally worth more than other calves. Performance-tested and approved bulls produce calves that excel under feedlot conditions, and Angus Beef producers who use these bulls are rewarded handsomely. Given that 75% of South Africa's beef is feedlotted, there is a massive market for the Angus breed.
With their computerised systems, feedlotters are able to monitor production factors such as average daily gain among their weaners. Currently, many feedlotters break even with an average daily gain of 1,56kg per weaner. Angus genetics consistently outperform this figure. The better that Angus genetics perform in the feedlot, the greater the premium that the feedlotter is willing to pay Angus producers for their weaners.
How do farmers qualify to participate in the Certified SA Angus Beef initiative?
The Angus Society of SA, together with Angus Beef, are keen that as many Angus and Angus-type weaner producers as possible register with the Certified SA Angus Beef programme. To do so, farmers have to fill in a form and submit it to the Angus Society of SA for approval.
Those who qualify will be provided with special ear tags for their certified Angus or Angus-type weaners. Each tag comes with a unique serial number and a Certified SA Angus Beef label. The tags must be attached by the farmer before the animals leave the farm for the feedlot. In future, producers will probably be given the option of adding value to their weaners by feedlotting them on-farm.
How do feedlots qualify to participate in the Certified SA Angus Beef initiative, and how do they maintain this qualification?
Each feedlot buying Angus or Angus-type weaners for the programme has its own weight preferences. Some prefer calves between 200kg and 300kg liveweight, while other prefer animals between 180kg and 240kg. Feedlots also prefer bull calves, with some willing to pay a premium for bull calves that are castrated, immunised, and free from internal and external parasites.
Angus Beef is satisfied with all types of calves that are the direct offspring of a registered Angus bull. The following weaners are excluded from the programme, however: phenotypical Zebu types and dairy crosses, and those with horns or scurs, excessive or prominent naval folds and sheaths, long and floppy ears, or large or prominent humps.
Once a feedlot has been made aware that it is receiving certified weaners, it is obliged to register them in Angus Beef's computerised system and feed them as required by the Certified SA Angus Beef programme.
How important is traceability in the initiative?
It's key to the entire process. At slaughter, each qualifying carcass receives a barcode that allows for control of traceability along the Certified SA Angus Beef value chain. Any lapses in this traceability control mean that, by law, the meat cannot be marketed as Certified SA Angus Beef. It's important for this value chain to follow all the production and traceability criteria so that everyone involved in the process can build a brand that's trusted by consumers.
In addition, the Angus Society of SA and Angus Beef want to establish positive working relationships with feedlotters so that when they get a guaranteed Angus or Angus-type weaner supply, they are prepared to pay a premium price. Our responsibility will be to ensure that the feedlotter also gets a consistently good quality weaner.
For further information, contact 082 389 4863 or visit www.angusbeef.co.za