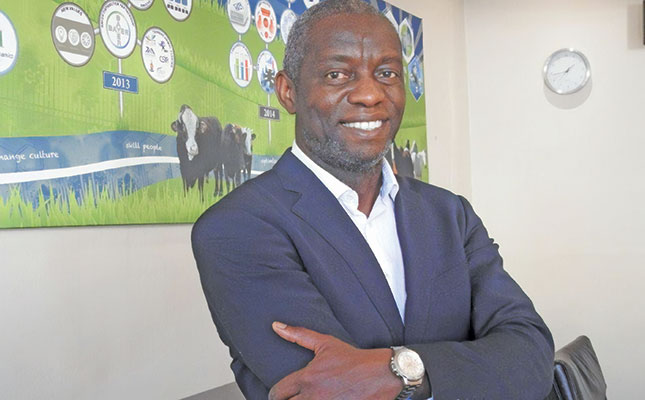 The position of CEO of Onderstepoort Biological Products (OBP) was vacant for over two years until your appointment in March 2019. Why did you decide to take the job?
Onderstepoort is like home to me. It's the place where I started my career and I'm one of only a handful of people who has been privileged to work under the highly talented professionals in all the institutions of the complex, namely Onderstepoort Veterinary Institute (OVI), Onderstepoort Biological Services (OBP), and Onderstepoort Foot-and-Mouth (FMD) Laboratory and Veterinary Faculty.
When I was asked to rejoin the organisation, I knew that my expertise, subject-specific knowledge and international network in veterinary vaccinology were what it needed.
I'm now 56 years old and see the position as a way to give something back before I retire. I want OBP to be restored to its former glory and become more involved in alleviating poverty by supporting all farmers, including small-scale farmers.
Please tell us more about your career.
I qualified as a veterinarian in the Democratic Republic of Congo in 1988, and later did a master's and doctorate in vaccinology at the University of Pretoria. I was employed at OVI in 1992, where I worked in different research capacities, and was
later employed as the head of FMD Development and Manufacturing and executive in charge of Operations, Vaccine Production, and Research and Development at OBP.
In 2008, I was appointed as a senior director of the Global Alliance for Veterinary Medicines, based in Edinburgh, Scotland, where I was in charge of programme development and the scientific strategic direction of the organisation.
The position gave me an opportunity to interact with major animal health companies across the globe.
From there, I worked with the Bill & Melinda Gates Foundation, provided advisory services to the British Development Agency, and worked as adviser to the CEO and head of strategy and business development for MCI Santé Animale, based in Morocco.
I'm serving my second term as one of six members of the Scientific Commission of the World Organisation of Animal Health, and am its vice-president. I'm also a board member of the International Veterinary Vaccinology Network.
OBP specialises in the development and manufacturing of vaccines. What are the biggest challenges it faces?
Over the past few years, OBP has been losing market share due to chronic product unavailability, an inability to come up with new products and technologies adapted to current needs, a loss of expertise, and an outdated facility, which prevents it from complying with new quality standards and registering its products on many markets.
What are the biggest issues in the vaccine market?
The vaccine market is affected by the difficult economy, climatic conditions such as drought, emerging and re-emerging diseases, and increasing regulatory requirements, which have an impact on vaccine production costs.
From a business perspective, it's expensive to develop a new vaccine due to regulatory requirements becoming increasingly stringent over the past 20 years.
The returns for human and pet vaccines are more lucrative than for livestock vaccines.
Moreover, vaccination is considered a type of insurance, so farmers often try to save costs by not vaccinating animals or using what they consider to be more economical solutions. Once an outbreak occurs, it's usually too late to take preventative action by vaccinating animals. Everybody then tries to get hold of a vaccine at the same time, resulting in demand outstripping supply.
Market access and availability of information are some of the biggest challenges in the emerging market. Small-scale farmers are not always aware of the vaccines that are available, the cost-saving benefits of using them, and the fact that they can generate better prices for healthier animals.
How do you plan to address these challenges?
We've embarked on an aggressive vaccine and technology development and acquisition programme. We've brought back expertise to assist our vibrant young scientists and technicians. Improvement is already taking place, and should be more visible in the coming months.
Ultimately, we'd like to realign our services to better address market needs. This would entail expanding support services to ensure that all farmers, regardless of the size of their businesses, have access to vaccines, and know which ones should be used in their production systems or regions.
We've already initiated direct interactions with a wider range of stakeholders, including commodity groups, and have put in place initiatives that will see OBP and its products more present and active in the small-scale, emerging and communal farming sectors.
We see these as a massive untapped business opportunity that can significantly improve rural livelihoods.
What about the structural problems?
We're fortunate that our shareholder, the Department of Agriculture, Land Reform and Rural Development [agriculture department], granted OBP close to R1 billion to upgrade its manufacturing plant, which has been in existence since 1968.
The financial injection will allow us to meet international production standards, which, in turn, will help strengthen our local footprint while opening up market opportunities worldwide.
New technologies that will be refined with the upgrade are already allowing us to address previous bottlenecks by improving efficiencies and enabling us to store vaccines for longer. Our production capacity had dropped over the past 10 years to nearly 30% of what it used to be. We're getting that capacity back, and also increasing our market presence.
OBP has in the past been blamed for a shortage of vaccines for FMD.
People have wrongfully assumed that OBP is responsible for producing the FMD vaccine, which is produced in Botswana, and have blamed us for vaccine shortages. The truth is that OBP has never been a producer of the vaccine.
We don't have the capacity or facility to produce the vaccine at this stage, as it requires high containment and separation from other vaccines, and production is also highly regulated. Even with our new upgrades, we won't be able to do so.
Given our commercial relations with the Botswana Vaccine Institute (BVI) and our strong capacity in vaccine inventory management, distribution and logistics, we were tasked by the agriculture department two months ago to assist it to import the FMD vaccine and manage inventory, logistics and distribution within South Africa, which we've been doing successfully.
We're also working with the BVI, agriculture department, the Agricultural Research Council, and provincial veterinary services to facilitate technical and training activities focused on FMD vaccination.
What is your market edge?
OBP develops and commercialises vaccines from local bacterial and viral strains, so that the vaccines are designed specifically for the pathogens and strains that our livestock keepers are battling.
We're one of only a few institutions producing multivalent bluetongue vaccines targeting all serotypes. Our lumpy skin disease vaccine is regarded as one of the best in the world, and we currently serve as the lumpy skin disease vaccine bank for the EU.
Which international markets would you like to target?
We'd like to duplicate the model being developed to serve local small-scale and emerging farmers in other African countries, as this will contribute to food security and help improve their commercial status.
Our first international market priority is therefore the Southern African Development Community and the rest of Africa. We'll also be consolidating our presence in the Middle East, and are working on an opportunity to penetrate the Latin American market, where climatic conditions favour diseases similar to ours.
We will also build on opportunities that we've already unlocked in the EU.
Email Dr Baptiste Dungu at [email protected].