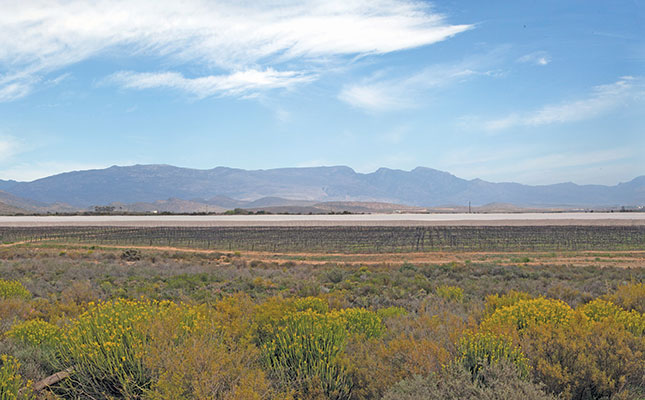 The area under nets in South Africa is expanding rapidly as farmers try to reduce the risks associated with climate change, such as increased incidents of hail, sunburn and wind damage.
In the Western Cape alone, the area under shade nets increased from 559ha in 2013 to 3 092ha by the end of January this year, according to the Western Cape Department of Agriculture. The total area under tunnels and shade nets in the province increased from 2 814ha in 2017/2018 to 5 906ha at the end of January.
So, how economically viable is this investment? William Roberts, national sales and marketing manager of Knittex, is reluctant to provide precise figures, as returns depend on the cost of the infrastructure, what the structure will be used for, and climatic and production conditions.
"The return on investment might be realised within a year if a farm is subjected to a hailstorm, but can take longer when the nets are used to protect crops against sunburn," he says.
"To my mind, the nets should pay for themselves within three years to make financial sense. In general, however, I've never met a farmer who regretted installing nets. Most started small and then ended up buying more."
The use of nets may also have financial spin-offs from higher packouts of first-grade fruit. In the Villiersdorp, Vyeboom, Elgin and Grabouw regions, for example, the use of draped nets has resulted in greener Golden Delicious apples, which are in greater demand on the African market.
Various netting types
The cost of a netting system can range from R250 000/ ha to R400 000/ha, depending on the type of netting and structure, orchard shape, overall size, tree and net height, soil type and slopes, row widths and other requirements.
Prices may be up to 40% lower if farmers erect the structures themselves, but Roberts does not recommend this.
"Don't skimp on installation and infrastructure. Rather start small and ensure that everything is done properly from the start, than sit with exorbitant mistakes, such as infrastructure that collapses on an orchard."
James Reid, director of Red Ant Agri, points out that various types of nets and netting systems are available.
Knitted nets work well in installations where they are stretched tight and movement is limited. For this reason, they are best suited to flat, fixed structures aimed at protecting crops against wind damage.
These nets have a negative impact on pollination, making them ideal for fruit such as seedless soft citrus varieties, where cross-pollination is undesirable.
Woven nets perform well in open-close structures that require movement. They are particularly suited to hail protection in areas where there is a risk of snow, or where there are trees sensitive to pollination.
"Farmers sometimes add up to 2m of space above trees to overcome pollination problems, but the bees still get disorientated because they use the sun for navigation. The problem is overcome with open-close structures, whereby the structures are opened during the pollination season," says Reid.
He adds that draped nets have become a popular option to protect older orchards against sunburn. Initially, old Granny Smith orchards were draped against sunburn, but producers are now also using drape nets on Golden Delicious and other cultivars.
Nets should be draped over the trees after thinning, normally towards the end of November. In areas prone to hail, draping can be done after pollination.
Owen de Wet, technical adviser at Nulandis, estimates the cost of draped nets at between R90 000/ha and R120 000/ha, depending on the row widths.
"More netting is used than in orchards with fixed structures, as entire rows of trees need to be covered. Net Wizz, produced by Red Ant Agri, is a machine that installs and removes the nets, or farmers can use a contractor to reduce costs."
The Drape Net brand is reusable and does not require any infrastructure. It comes with UV protection, and if handled properly and tears are repaired immediately, the nets generally last seven years or longer, according to De Wet.
Knittex also manufactures waterproof nets with a reinforced membrane, called Knipol. These nets are used primarily for vegetable production in areas prone to wind and hail, as they are much stronger than ordinary plastic nets, says Roberts.
Open-close and roofed net structures are slightly more expensive than flat ones, as more netting is required to cover an orchard. Reid estimates that about 12% more netting is used in an open-close structure to give the nets the required movement.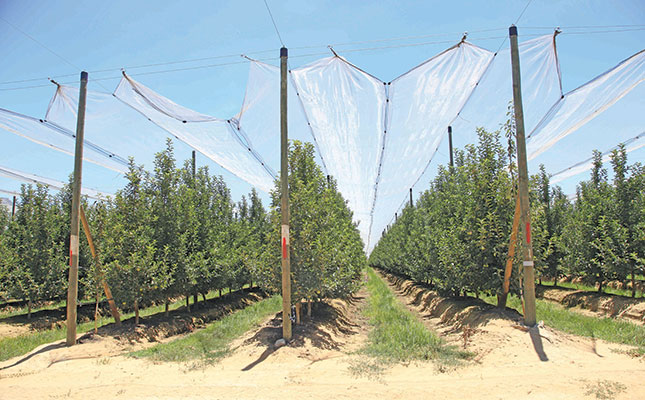 Open-close structures also require special clips and fittings to join the nets, as well as equipment to open and close the nets. Basic hog rings, on the other hand, may do the trick with fixed nets.
On-farm considerations
Ease of construction significantly affects installation cost. Heavy clay and rocky soils, for example, are more difficult to work than loam soils. The same applies to slopes and the shape of the orchard.
"Rectangular orchards are much easier to cover and maintain than rows that end at angles, or orchards that have boundaries following natural water courses," explains Reid.
The height at which the net is installed will also affect costs, as the price of poles increases exponentially the longer and thicker they get.
Orchard size is another consideration. Reid explains that orchards smaller than 2ha require a higher proportion of outside poles and anchors relative to the inside poles, whereas very large orchards will require thicker cables and anchors than smaller orchards.
"In our experience, the sweet spot is somewhere between 6ha and 9ha," he says.
Side nets add to the cost of the structure, but the major additional cost is the area needed for internal roads for tractors and other machinery.
According to Reid, orchards with fixed side nets will require 10% to 15% more covered area for the same planted area than orchards without side nets.
Maintenance
Nets require ongoing maintenance. During the first few years, maintenance is generally structural, such as ensuring that cables and wires are tensioned and anchors have not moved. Poles should also be inspected for mechanical damage or rotting.
"A [work] culture needs to be instilled where damage gets reported and fixed as soon as possible," says Reid.
Nets can last from eight to more than 20 years, depending on the quality of the net, its function, and environmental factors. Some insurance companies do not provide cover for nets older than eight years.
"I won't recommend the use of nets for longer than 20 years, especially not for hail protection, due to UV degradation. Most farms budget to replace their nets every 10 years," says Roberts.
Reid estimates that replacing nets typically costs about 30% to 40% of the initial installation cost.
Pitfalls
By installing nets, farmers are creating a different microclimate for their orchard, which will require different management from what they are used to. Failure to adapt can result in a loss of all the benefits associated with crops being under protection.
Wiehann Steyn, assistant general manager of the science division at Hortgro, says that shading trees has so far been found to result in more vigorous growth in plums and apples.
Farmers can manipulate growth by adapting irrigation, pruning and fertilisation, and also by using dwarfing rootstocks, the latter in the case of apples.
Steyn adds that farmers should realise that nets are not a magic solution to all their problems.
"You won't be able to fix poor management problems with a net. And nets won't reduce your water usage by 50%, as is sometimes reported. Water savings will depend on the climatic conditions of your area, with warmer areas generally resulting in greater savings under nets. But this also depends on a farmer's personal efficiency in managing water."
Reid estimates that water savings are generally equal to the shade factor of the nets, as this is the percentage by which evaporation will be reduced.
The altered microclimate may also favour the development of weeds and bacterial and fungal diseases. Roberts, however, says that pest management is usually more effective when used under cover, as products are applied in a controlled, windless area.
Pesticides should always be checked before use, since certain chemicals, such as acid and sulphuretted substances, may shorten the life of the nets.
Reid advises farmers to speak to other producers about their experiences and use only reputable net suppliers and installers who do not cut costs on critical items such as anchors and poles to improve their competitiveness.
The contractors should be involved from the orchard planning stage to avoid technical difficulties that may render the structure weak and push up the costs.
Planning should be based on extreme, not average, conditions.
"You may get snow only once in 15 years, but what if that snow comes next year?" asks Reid.
Email James Reid at [email protected], William Roberts at [email protected], Owen de Wet at [email protected], or Wiehann Steyn at [email protected].