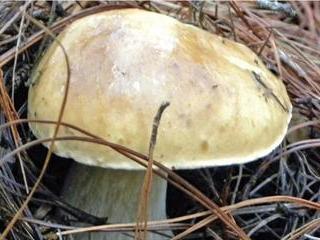 Pine trees. Wild mushrooms. Fourth generation Italian pickers… No, not a scene from an ancient European forest, but a description of a vibrant South African business operating in plantations in the Eastern Cape and KwaZulu-Natal. Here, fourth-generation Italian mushroom picker Lorenzo Gallino has built a successful export business harvesting the naturally occurring Boletus edulis.
Commonly named porcini, this mushroom is also known as the king bolete or cèpe. It grows in pine, oak, chestnut and beech forests in the northern hemisphere, and was accidently introduced to South Africa, Australia and New Zealand by early settlers.

Lorenzo Gallino, MD of Bolé Forest Fruits, holds freshly picked, wild porcini.
"The spores were imported in the root soil of the first pine saplings. Porcini have grown here ever since," says Lorenzo, managing director of Bolé Forest Fruits.
Large and tasty
Porcini are mycorrhizal, meaning that the mycelium – the threadlike body – of the fungus has a symbiotic relationship with the roots of vascular plants (complex, woody plants such as trees). The latter gain better access to water and nutrients through the larger surface area of the mycelia, and the fungus obtains sugars produced by the tree. The mushrooms are the spore-bearing bodies of the fungus.
Porcini mushrooms grow best under a layer of pine needles or oak leaves and can weigh up to 1kg each. The porcino is prized for its earthy, nutty flavour and thick, meaty texture. The South African crop is highly sought after overseas. Unlike porcini from Europe or North America, South African porcini are free of worms, which can burrow into the mushroom's dense flesh.
According to Lorenzo, South Africa's wild mushroom industry peaked at about 22 businesses in the late 1970s. "They started closing down after that, when price speculation disappeared," he says. "Years ago, porcini were seen as a luxury and the price could swing by 40% to 50%. Now they are much more of a commodity, and the price variation is only 4% to 5%. Many pickers closed down because without the price peaks, it wasn't worth their while."

It takes 10kg of fresh mushrooms to produce 1kg of dried mushrooms. Locally harvested mushrooms are dried on-site for Pick n Pay and the restaurant industry.
In the end, only a handful of main operators remained in the industry. One of these is Bolé and its parent company Boletus Mushrooms, which is owned by the Gallino family and operates in Sappi and Hans Merensky plantations in the Eastern Cape, KwaZulu-Natal and Mpumalanga. Two others are Global Fungi, which has rights in Mondi plantations across South Africa, and Pizzi, which operates in private plantations.
There are also several smaller independent operators, such as Cape Town's 'Mr Porcini', Gary Goldman, who picks wild mushrooms for restaurants, and a considerable number of hobby pickers, mainly immigrants from Italy, Germany and Poland.
Weather-dependent
The porcini crop is dependent on several factors, in particular rain, heat and humidity. The best combination is a spell of dry weather, followed by rain, and then warm temperatures of about 20°C. Wind is enemy number one, as it dries out the forests quickly. "If it's rainy and warm, the mushrooms grow slowly and the quality is excellent," explains Lorenzo.
"From the time of the first rain, it takes 10 to 14 days before the porcini pop up. Thereafter, pickers can go through the same area day after day because the mushrooms grow overnight." The Singisi plantation in KwaZulu-Natal, which is also the site of the company's factory, is in a summer rainfall region and the porcini season normally runs from the end of September to the end of April, with one half of the crop harvested in spring and the other half in autumn.

S'lindile Mbanjwa (left) and Penny Mdutyana place mechanically chopped porcini onto a conveyor belt, prior to
packaging.
"If we are lucky and get sufficient rain to counteract the excessive summer heat, we can harvest more mushrooms in summer. It's a short season," says Lorenzo. Being weather-dependent, the harvest is completely in nature's hands. "Our total crop can vary hugely, from 150t to 12t," he explains. "The problem is that an operation of this scale requires significant investment. We have six trucks, three bakkies, a refrigerated truck and a factory with coldrooms and drying facilities. So we have to hope the weather plays along."
Another difficulty is that harvesters are traditionally at the mercy of plantation owners. Picking rights are normally secured through a three-year contract, which can make long-term investment decisions difficult. Lorenzo overcame this problem by entering into a joint venture with Singisi Forest Products, a subsidiary of timber company Hans Merensky, in 2001.
This gave rise to Bolé Forest Fruits, with Hans Merensky owning 26% and Boletus Mushrooms 74% of the business. Picking rights were secured on 50 000ha of the Singisi plantation. In addition, Lorenzo has a picking contract on 25 000ha of Sappi plantations. "We operate in plantations from Greytown to Umtata. We also have picking rights in Sappi plantations in the Midlands," he says.
With such an enormous expanse, it falls to Lorenzo's drivers to know where the most productive areas are. Each driver's incentive is based on the harvest of his team, so he makes it his business to take them to the best spots. "Pickers earn a basic wage and a commission on volume. This is the only way to control staff over such a vast area," says Lorenzo.
Bolé employs about 250 seasonal and 23 permanent staff. With the exception of the male drivers, all the staff are women. The teams leave at 6am and return to the factory at 5.30pm. The night shift then take over, sorting and grading mushrooms according to age. "Business is very intense when we are picking. We sometimes work 20-hour days. When the mushrooms are there, we make the most of it," Lorenzo says.

The Bolé Forest Fruits factory in Singisi.
Young porcini aged between one and three days are packed into 3kg boxes and exported fresh, while more mature porcini, aged four to five days, are sold fresh on the local market, finding their way to hotels, restaurants and the Food Lovers' Market. A small quantity of porcini is dried on site and sealed in pouches for Pick n Pay. Approximately 90% of the crop is exported either fresh or frozen – whole, sliced or cubed. Lorenzo's extended family in Italy buys all the frozen porcini he can produce.
Transport is one of biggest costs faced by the company. "It costs between R35/kg and R42/kg to air-freight fresh porcini to Europe or the US. To ship frozen porcini to the EU costs R6/kg to R7/kg," explains Lorenzo. Fresh mushrooms last for three to four days. If they are frozen, they can last for about a year. The timber companies are paid per kilogram of mushrooms picked.
"We pay as we pick. We also put back R2/kg towards community development," says Lorenzo. "The community is planning to use the money to build a crèche so the children are cared for while the women are out harvesting." While porcini can generate a substantial turnover, timber companies do not regard them as a core business. "Their primary object is to grow trees," says Lorenzo. "They spray for the Sirex woodwasp which I'm sure kills fungus spores.
"Having said that, we're fully HACCP-certified (hazard analysis and critical control points) and our porcini are 100% organic. We constantly test for pesticide residue and always come out clean."
Marketing
One of Bolé's strengths lies in its marketing, which is undertaken by Lorenzo's Italian wife, Daniella. "The family has a long history in the mushroom industry abroad," explains Lorenzo, "and have established a substantial customer base in the catering and food processing industries. We offer quality as well as reliability of supply, and sell whatever we produce." The local market has grown too, but Lorenzo believes there is still much education to be done as far as porcini go.
"We took it for granted that South Africans would recognise porcini as a delicacy because it's such an important part of our culinary traditions in Italy. But they don't," he says. "We have to educate people and grow the local market as much as possible."
The Italian connection
Aldo Gallino started the family tradition of processing Boletus edulis in Italy in the 1930s. In 1974, his grandson Aldo Gallino Jnr, who managed one of the family's mushroom factories, was brought to Mpumalanga by the SA embassy in Milan. His task was to evaluate the viability of setting up a South African operation to pick, beneficiate and export porcini mushrooms.
Highly impressed with the quality of local porcini, he set up Boletus Mushrooms in Amsterdam, Mpumalanga, and brought his wife Maria and children Maria, Lorenzo, Angela and Raffaele out from Italy. All the children ended up going into the business with him, and the company now has three processing plants, in Amsterdam, Singisi and Umtata. Boletus Mushrooms also imports Italian foodstuffs and dried chanterelle, Boletus luteus and shiitake mushrooms into South Africa, which helps the business in the porcini off-season.
Contact Lorenzo Gallino on 082 900 0706, or email [email protected] or visit www.wildmushrooms.co.za