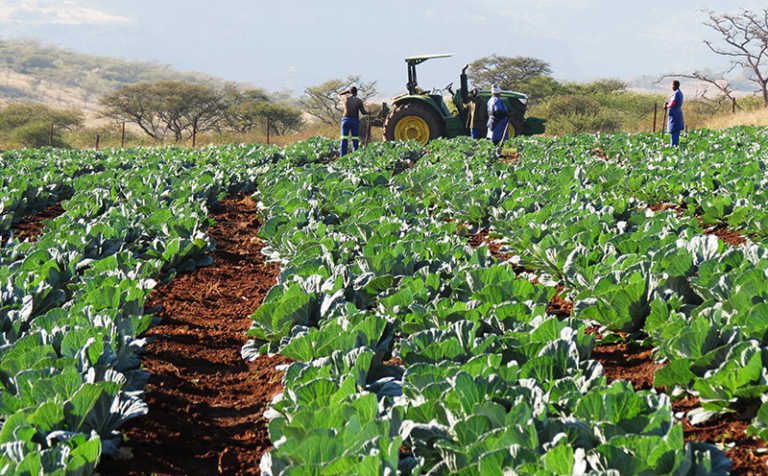 Andile Ngcobo is just 24, but he is using this to his advantage, harnessing his youthful curiosity to find ways of improving the profitability of the 30ha open-field, dragline-irrigated fresh produce enterprise he manages on the 1 299ha Tusokuhle Farm in KwaZulu-Natal's Table Mountain area.
Tusokuhle, owned by businessman Dedani Mkhize, also comprises 300ha of sugar cane, as well as stud and commercial Nguni beef herds on the natural veld, making up the balance of the farm's area.
After obtaining his Diploma in Agriculture in 2015 from Cedara College of Agriculture and working in various short-term agricultural jobs, Ngcobo joined Tusokuhle in October 2017 as its fresh produce enterprise manager.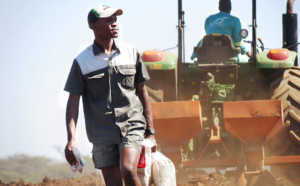 He oversees a team of 16 who plant, grow, harvest, grade, pack and distribute a variety of vegetables: cabbage, spinach, butternut, broccoli, cauliflower and green mealies.
The produce is marketed through the Pietermaritzburg and Durban municipal fresh produce markets, although ever-increasing volumes are now also being sold to retail outlets.
"The biggest driver for the varieties and volumes of the fresh produce we produce is
what the consumer market demand is at any given time of year," says Ngcobo. "We get this information mainly from the market agents we liaise with. They also give us feedback on the quality of our produce compared with that of our competitors."
He uses this information to judge his own management and how it can be improved. Working towards consistently growing and supplying produce of a quality above that of his competitors, he tends to attract above-average prices from buyers. This, in turn, increases the profit margins of Tusokuhle's fresh produce enterprise.
Ngcobo's experienced market agents have an intimate knowledge of supply and demand trends for various fresh produce varieties throughout the year. They use this information, together with their understanding of Tusokuhle's production conditions, to advise him on what he should be growing and when.
"For example, we won't grow English cucumber because we don't yet have the tunnels needed to grow them in. I believe that as part of market research by any new fresh grower, market agents should be a first point of contact for production and demand guidance."
Ngcobo sources his cabbage, spinach and broccoli seedlings from Sunshine Seedlings, a few kilometres away. He plants the butternut and green mealies from seed.
For its own planning, Sunshine Seedlings asks him to provide a preliminary estimate of the types and quantities of seedlings he will need for the next 12 months. Both parties understand that as Ngcobo's planting times draw nearer, he will most likely refine his seedling orders based on the increasingly accurate market demand information he collects.
Matching production to demand
"My most accurate production planning can only extend as far as three months before planting, and even this is a stretch. My aim is to plant the varieties and quantities of fresh produce needed to fill demand when it's at its greatest and supply is under pressure, so we get the best possible prices," he says.
Demand is particularly high at the start of the school year, when government's school nutrition schemes buy large volumes of fresh produce.
Ngcobo points out that it is not always easy, or even possible, to synchronise Tusokuhle's fresh produce production to take advantage of these high demand/low supply periods.
Challenges include increasing threats from weeds, pests and diseases due to midsummer rainfall and high temperatures, which can result in significant declines in yield. Moreover, controlling these challenges often means added production costs, which eat into profit margins.
To minimise risk from both potentially low market prices and on-farm threats to profitability, Ngcobo and Mkhize regularly carry out a cost-to-benefit analysis for each of the fresh produce varieties that Ngcobo is considering planting in the coming months.
They then compile a production plan to maximise yields of best-quality produce that will reach the market in time and achieve the highest possible prices.
"There are times when our cost-to-benefit analyses show it would be best if we cancel planned production of a particular fresh produce variety and allocate the available space either to expanding production of a variety I was already intending to plant, or planting a new fresh produce variety to generate the best returns," says Ngcobo.
To maximise quality and profitability, he staggers planting and, as a result, harvesting. He explains that the benefits of this practice are varied.
Planting smaller populations of, for example, 30 000 cabbage seedlings at two- to three-week intervals is within the team's capabilities. The cabbages will therefore also be ready to harvest at two- to three- week intervals and, this too, is within their capabilities.
"It would be impossible for us to plant 100 000 or more seedlings within the space of a week or two," explains Ngcobo. "We'd also struggle to harvest such a large crop and this would lead to mature fresh produce standing in the land and losing quality before we could get to it. Our quality control, grading and packing would also be negatively affected.
"And if we suddenly had a single big crop to sell on the markets, the volume would depress the prices we'd get. I could employ more staff, but this would add costs that we're not prepared to absorb."
The team, at two- to three- week intervals, typically plant 30 000 cabbage seedlings, 5 000 broccoli seedlings and 5 000 cauliflower seedlings.
The constant demand for spinach, coupled with its short shelf life, means that Tusokuhle grows it almost constantly.
The butternut is typically planted at 25 000 seeds/ha.
Diversification and value adding
Ngcobo and Mkhize are looking at opportunities to expand, diversify and add value to their production over the medium- to long-term future.
To this end, they are planning to erect plastic tunnels that will allow Ngcobo and his team, which he will increase as needed, to also grow baby marrows, cucumbers and peppers.
The two men intend constructing an on-farm processing facility to allow them to add value to their fresh produce, such as peeling, cubing and freezing butternut, or freezing bags of mixed vegetables.
"We've already started on-farm packaging and branding of whole heads of cauliflower and broccoli, but we intend branding far more of our products so that we can differentiate them from our competitors' produce and build a trust relationship with consumers," says Ngcobo.
"I've also come to appreciate the marketing value of social media, so I'm in the process of creating a social media presence for Tusokuhle's fresh produce enterprise where our consumers can see how we go about producing their food."
Email Andile Ngcobo at [email protected].