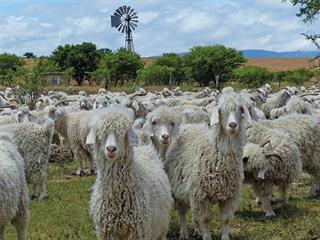 The mohair industry's vision is to establish commercially viable Angora goat operations, says Bongani Ndhlovu, the Mohair Empowerment Trust's development officer.
"To achieve this, we need to work with the right people. Remember you don't invest in a property, but rather in people."
Significant effort has therefore been made to select the correct beneficiaries for the trust's BEE operations in Somerset East and Graaff-Reinet, he explains. Selection is based on candidates' passion, skill and potential to become sustainable commercial farmers.
First beneficiaries
It was these characteristics that Bongani says drew the trust to cousins Linda and Simphiwe Fani on the 4 495ha Doornrivier farm awarded to Linda through the Proactive Land Acquisition Strategy (PLAS) land reform programme in 2012. Today, the farm is home to 134 crossbred beef cows (on which Bonsmara and Brahman bulls are used), 457 Dohne Merino and Merino ewes, 85 Boer goat ewes, and about 500 Angora goat kapaters, received from the trust in late 2014 and early 2015.
From left: André Synman (ECDRDAR, Somerset East), Bongani Ndhlovu (development officer of the Mohair Empowerment Trust), Simphiwe Fani, and Linda Fani.
Journey to mohair
When the opportunity arose to join the trust in 2011, Bongani grabbed it with both hands. Although originally from Komatipoort in Mpumalanga, he first arrived in the Karoo in 1997 to study at Grootfontein Agricultural Development Institute (GADI) in Middelburg.
After completing a three-year diploma in agriculture, he spent almost a decade at GADI in various farm management positions, while studying part-time and completing a B Tech (Nelson Mandela Metropolitan University) and a master's degree in Sustainable Agriculture and Rural Development at the University of the Free State.
In 2010, he was head-hunted by the Western Cape Department of Agriculture and moved to Beaufort West. The following year he relocated to Port Elizabeth to start his job at the Mohair Empowerment Trust.
Bongani was instrumental in restructuring the project implementation of the trust's BEE initiatives, which shifted its focus from small to larger scale projects. This change in strategy was driven by an assessment of 28 small-scale mohair projects last year, which highlighted serious structural flaws.
For example, beneficiaries' lack of title deeds and/or ability to rent land on a long-term basis resulted in unnecessary financial stress (many of the projects were located on commonages). A complicated multi-beneficiary approach with complex trust agreements only aggravated this stress.
It was also noted that keeping animals on commonages near towns resulted in stock theft and livestock losses from stray dogs. In addition, the input from state extension officers were inadequate. The decision was made to develop a new strategy.
The first aim was to redefine the entire process according to which beneficiaries were selected. In future, all beneficiaries would have to own land (preferably not near towns) or have long-term lease agreements for land.
This forms the foundation on which to develop large-scale commercial mohair producers. All beneficiaries (no more than two per property) are identified by the trust in conjunction with the South African Mohair Growers' Association (SAMGA) based on their willingness to reinvest in their farming operations. Beneficiaries receive a maximum of 1 000 goats (sourced by SAMGA) consisting of ewes, kapaters, or a combination.
Agreements are entered into according to which the trust receives 25% of the value of all clips over a five-year period, after which the goats become the beneficiaries' property. A project management team chaired by Bongani steers the project.
Beneficiaries receive training at the Eastern Cape Department of Rural Development and Agrarian Reform's (ECDRDAR) mohair experimental farm in Jansenville.
This includes short courses on veld management, livestock health, mohair classing and selection procedures. Beneficiaries are urged to get involved in local SAMGA structures to improve their access to the commercial mohair industry.
The road to DoornRivier farm
The Fani cousins' determination to commercialise their livestock operation on Doornrivier secured their selection as beneficiaries. "I'm so proud of this project – it has money, it has financial muscle,'' Bongani says. "They're farming commercially.''
Linda Fani began farming cattle on the cramped Somerset East commonage in the 1990s. By 2000, with about 12 cattle (another six cows were added using a Land Bank loan), he was given the opportunity to graze his cattle on Prinsloo Farm adjacent to Somerset East, which the state had acquired in the late 1990s as part of the land reform programme, and was awarded to hundreds of beneficiaries from the area.
At that stage, many land reform farms were awarded to large groups of beneficiaries (almost as an extension to commonages linked to townships). However, once the state realised that this approach was not working, the number of beneficiaries was drastically reduced. By 2007, Linda and three other farmers were transferred to another land reform farm, Karkotskraal, also near Somerset East.
It was hoped that they would be transferred to their own properties from here. After a five-year wait, Linda was eventually awarded Doornrivier where his cousin Simphiwe joined him. By the time the Fanis arrived on Doornrivier, they had a herd of 90 cattle. Through the sale of weaners and income from his small construction business, Linda then began building a flock of Dohne Merinos and Merino sheep, while continuing to expand his beef herd.
In addition to a significant personal investment in the property (including a livestock-handling facility) the Department of Rural Development and Land Reform (DRDLR) assisted with R900 000 in emergency funding for fencing, while the ECDRDAR supplied a Bonsmara bull and a Boer goat ram through its stock improvement schemes.
The ECDRDAR also appointed local commercial farmer, Jacques Jordaan, to mentor the Fani cousins. Today, the cousins are determined to implement effective commercial livestock management practices on Doornrivier. They are especially proud of the uniformity of their beef herd, which achieved a calving rate of 90% in 2014.
"When you look at the cattle, they are all the same,'' says Linda. "That's what we've learnt from the commercial farmers. The bulls must get in [to the herd of breeding females] at a certain period and must be removed at a certain period.''
Quality mohair
The first consignment of Angora goat kapaters arrived on Doornrivier in December last year (176) and the remaining 324 in January this year. The cousins recently received another 230 kapaters as part of the programme. Bongani supplied them with kapaters instead of ewes because the Fanis were unfamiliar with Angora goats. Ewes need more intensive management, especially during the kidding season, according to him.
"We want to see them producing good-quality mohair. It's not about the number of animals you keep, it's about farming them correctly,'' Bongani adds. Linda acknowledges that Angora goats are more vulnerable to predators and cold weather than other smallstock and therefore demand more attention.
"It wasn't easy, but we said to ourselves we needed this business and have to look after these goats,'' he says. "The major challenges have been predation by jackals and sheltering the goats in sheds when it's cold.''
The Angora project on Doornrivier is monitored by a management team:
Thomas Paulsen (CMW, Somerset East), André Snyman (ECDRDAR, Somerset East) and Bongani, who is the chairperson. The management team meets with the Fani cousins (their mentor, Jacques Jordaan, is invited as an observer) once every two months, to discuss various issues, including effective financial management and which of the available training courses the Fanis should attend.
"We believe that if we can empower them with investment capital and training they'll be able to become commercial [producers] and stand on their own feet within five years,'' Bongani says.
He has been impressed with the Fani cousins' dedication to their Angora goat operation and points out that since the arrival of the shorn goats, only nine have been lost, mainly to predators. The 990kg mohair marketed so far has achieved an average price of R171/kg.
"From our side, we're comfortable – mohair has been doing very well,'' says Bongani. "We're looking for more kapaters for them. By next year, they'll have a 1 000.''
Phone Bongani Ndhlovu on 072 621 7336 or 041 487 1387.