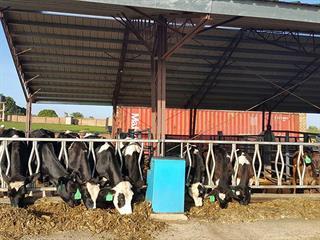 In 2012, the CEO of a large commercial dairy operation in western Michigan in the US, Wendell van Gunst, was invited by Partners Worldwide (PW) to travel to northern Uganda to study the local dairy environment. PW, a faith-based NGO, works in 27 countries where unemployment and poverty affect communities, and links up businesspeople with local entrepreneurs.
Wendell's company, Country Dairy, is a family-owned dairy business where 1 400 Holsteins cows are milked three times per day, and about 1 400 replacement heifers are raised. The operation also has a milk processing and bottling plant where cheese, ice cream and other retail dairy products are manufactured.
Embryo flushing is utilised to improve herd genetics, and bulls and heifers are sold to the local dairy industry. South African-born Johan Vosloo is the herd manager at Country Dairy. Prior to moving to the US, he worked extensively as a dairy extension officer in the Humansdorp and Tsitsikamma region for the then department of agriculture in the Eastern Cape.
During the visit to Gulu, Wendell visited several one- or two-cow dairy farmers and learnt that this was the standard for several hundred farmers. This was partly as a result of the Heifer International programme, which was established in the US Midwest 70 years ago, and has aimed to reduce poverty by donating a single cow to each family.
During a meeting with Ugandan businesswoman, Hope Okeny, Wendell mentioned the possibility of establishing a small research farm. Back home, he selected a seven-member US advisory committee to explore this possibility and Johan was invited to be part of the initiative. It was decided to establish a research farm using the same modern technology used at Country Dairy in the US, and Gulu Country Dairy was born.

Gulu Country Dairy
Most of northern Uganda was devastated during the country's protracted civil war in the 1980s and the more recent war with the Lord's Resistance Army. The city of Gulu, with a population of 200 000, lies in the middle of this war-torn region. "Even today, driving along the main road north of the capital, Kampala, you can still see reminders of the war in the partially- occupied internally displaced people (IDP) camps," Johan says.
In February 2013, the Country Dairy team made its first trip to Gulu to inspect the 12ha site for the research farm. Over the next several months, local villiagers, initially working under the US team's supervision, built a 20-cow dairy facility with free stalls, designed for zero grazing.
"The lands on the farm was natural veld when we started, and with no fertiliser available, the goal was to use the manure as fertiliser for the cropping programme, with each succeeding crop benefiting from it. With the long growing season we can plant two crops of maize each year, and still rotate cowpeas into the system," he says.
A bunker silo was also built to store silage, making it possible to feed a consistent ration throughout the year. Locally purchased sunflower oilcake, minerals and maize bran make up the rest of the ration.
"The availability of good quality milk cows is limited, especially in northern Uganda, and prices of good milk cows can be as high as US$2 400 [R37 400] each, making high production per cow a priority," says Johan.
In October 2013, the first cows were purchased and local people were trained to use the advanced milking equipment and procedures.
According to Johan, the farm was established as a model farm small enough for local people to see the potential of setting up their own five- to 20-cow farm. It also aims to teach them the newest management practices for maize and other crop production, animal feed, animal health and artificial insemination (AI), as well as management tools such as proper financial planning.
The farm is managed by Ugandans, with vet, Dr Tonny Kidega, overseeing animal health and Godfrey Omony in charge of the training centre. All crops are planted and harvested under the supervision of the management team.
"At the Gulu farm, milk production now stands at 20l/cow/day," explains Johan. "With the improvement in our feeding and AI management practices, conception has increased. This will reduce the average days in milk (DIM) of the herd and we plan to push production to 30l/cow/day, especially now that we can keep the ration more consistent."
The first heifers are now old enough for AI. This milestone represents an important link in maintaining and growing a healthy herd.
"We use mostly sexed semen, ensuring that about of 90% of calves born will be female".
Full steam ahead
With the farm now fully operational, the local management team trains candidates, while Wendell and Johan assist with mentoring from the US.
"Ugandans are experienced stockmen and we're simply training them in the finer aspects of modern dairy farming," says Johan.
He adds that the project has stimulated the local economy and helped to create new jobs. Several new businesses have also opened on the farm. A couple of local entrepreneurs are even buying milk in bulk and packaging it for resale, servicing areas a little further away. The local demand for good quality milk is so high that milk produced on the farm is sold immediately and does not even reach the bulk tank.
Wendell and Johan are encouraging these developments.
"We want to create an industry and hope that it will just naturally keep evolving," Johan says. "Six other local farms have already developed around this dairy model. These new farms are small, with some only having 10 to 12 cows, but interest has been generated from as far afield as Kenya to develop similar demonstration farms. This is definitely a step in the right direction.
"If we can get more producers going, we can go onto the next phase of the project and start a milk processing plant and a co-op. Then we can supply sufficient volume of a premium, great quality product that's pasteurised as well. That will make it possible for us to also service the higher end of the market such as hotels and guesthouses."
Training centre
In 2014, the Gulu Country Dairy advisory committee decided to add an entrepreneur training facility to the dairy. The idea has taken off, and full-time and part-time students, as well as farmers, are currently being taught the basics of dairy farming, crop production and good business practice.
The aim is to train entrepreneurs in industries that serve the dairy industry's needs. These include AI technicians, feed and commodities, seed, veterinary and medicine services, tractor and equipment dealers, and dairy equipment and servicing. Gulu University and Makerere University in Kampala have shown interest in including this dairy farming model in their curricula, and students from the former already makes day trips to the farm as part of their practical training.
Can this work in South Africa
Johan says that groups of experienced farmers in South Africa need to get together in a similar way to mentor and assist emerging farmers. "It has to be people who believe in the success of the project. Candidates would have to be put through a selection process to identify who are really interested – farming isn't for everybody – and then walk the path with them. This can't be about handouts; agricultural land has to contribute towards the food security of the country."
As South Africa has excellent resources and good infrastructure,
Johan says that it will make it even easier for programmes such as this to be successful. Government has a vital role to play in maintaining infrastructure, helping to keep the economy stable, maintaining law and order, and helping to expand markets for all industries.
"It's easy to criticise government and expect it to do everything. But it's not government's role exclusively to do so; the private sector has an ongoing role to play as well." Government can help with making funding available for the process through low-interest loans, possibly providing tax breaks and helping with the costs associated with advisory groups, he says.
"The costs of advisors should, however, be sponsored by the industries supporting agriculture, because if these farms are successful it will help develop future clients." Johan adds that extension assistance such as mentoring is critical for small-scale farmers as their day-to-day decisions affect whether they eat or not.
He acknowledges that many commercial farmers in South Africa organise training for their own workers as well as share milking and other 'ownership' and profit-sharing/bonus programmes. He is convinced that if today's emerging farmers come through a system where they receive mentoring and support like this, they will pay it forward to the next generation.
The Gulu Country Dairy management
and training team members have been on extended training visits to the US to expand their agriculture experience. "But we take people who are industrious and already motivated, and don't try to convince someone that they have to work hard," stresses Johan. He is certain that many people in South Africa fit this bill, and since there are many successful commercial farmers, candidates would not have to travel far to see and learn for themselves.
Help-up, not help-out
The US Country Dairy operation mainly assists with know-how; financial assistance is given in very few cases. Comparing Gulu with projects in South Africa, he says that in this country the trend is to approach projects from the top down, whereas the Gulu project took a 'bottom up' approach. A good start, he says, would be to make information about opportunities and services available through organised agriculture forums, the department of agriculture, and other media.
Discussions in national and regional forums will give everybody (including government) an idea of how much of this is already taking place, and will make this more of a point of discussion and progress, rather than a frustration or problem, he says.
Email Johan Vosloo at [email protected] or visit www.countrydairy.com.