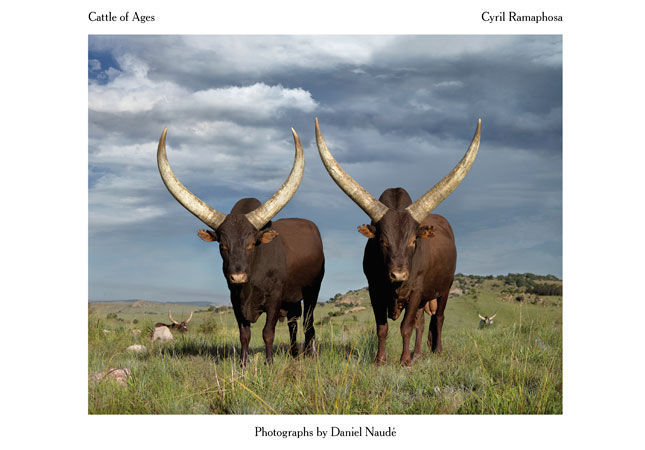 He added that he was proud to have been able to work with a man of Ramaphosa's calibre, and creating the book with him had been "a once-in-a-lifetime opportunity".
READ Beef cattle conformation basics
The book, a pictorial narrative, was officially launched by Jacana Media earlier this month.
In it, Ramaphosa reflects on his love for the Ankole breed and his journey in bringing them to his farm, Ntaba Nyoni, near Badplaas in Mpumalanga.
The breed originates in Uganda but is now also registered in South Africa.
Naudé, who shares with Ramaphosa a fascination for the Ankole, previously photographed the breed in his Sightings of the Sacred series.
He told Farmer's Weekly he had understood what Ramaphosa planned to convey in his story and had tried to create a book that would introduce the Ankole to South Africans.
He had also tried to merge his imagery with the poetry and songs from Uganda that Ramaphosa had included in the text.
"My idea was to support his text and his story and words by creating this rhythm throughout the book," he said.
Naudé, who has a background in farming and has started building his own Ankole herd, emphasised the historical significance of the book, saying it was a record of the breed's arrival in South Africa.
He said that he was in awe of the visual appeal of the Ankole.
"They are athletic and majestic. They are really amazing when they move," he said.
According to Jacana's marketing department, Cattle of the Ages – Ankole Cattle in South Africa is available at Exclusive Books and will be available in other stores by next week.
It can also be purchased online. The list price is R850.