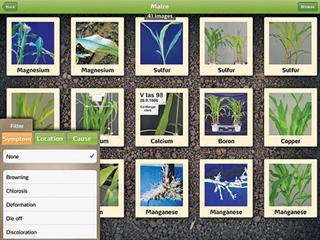 Yara International, a Norwegian chemical company that manufactures nitrogen fertiliser, has released a free app for smartphones called CheckIT. Featuring a database of various crops, it allows for speedy, convenient identification of nutrient deficiencies in crops. These include, amongst others, apples, carrots, cauliflower, grains, citrus, cucumber, grapes and grapevines, lettuce, lucerne, potatoes, sorghum, soya bean and tomatoes.
By simply clicking on a plant, the user can view a series of high- definition photographs, each illustrating a certain deficiency. On the maize page, for example, there are 41 pictures of maize plants suffering from deficiencies of nitrogen, phosphorous, potassium, magnesium, sulphur, calcium, boron and so on. The app also provides three ways to access the database – the symptom (such as browning), or the site of the problem (such as leaves or shoots), or the cause.
Treatment
"Once the cause of the deficiency is established, the app gives further information on how the deficiency affects that crop, what soil types are prone to this type of deficiency and what factors will make a deficiency worse," the online introduction states. "Yara CheckIT provides a fertiliser recommendation to treat the identified nutrient deficiency, as well as alternative products which allow preventive treatment.
"CheckIT has been designed to operate in rural locations with low signal strength. This enables farmers to have an on-the-spot, on-demand analysis." The app is localised – just click on the country. It can be downloaded at www.yara.com.