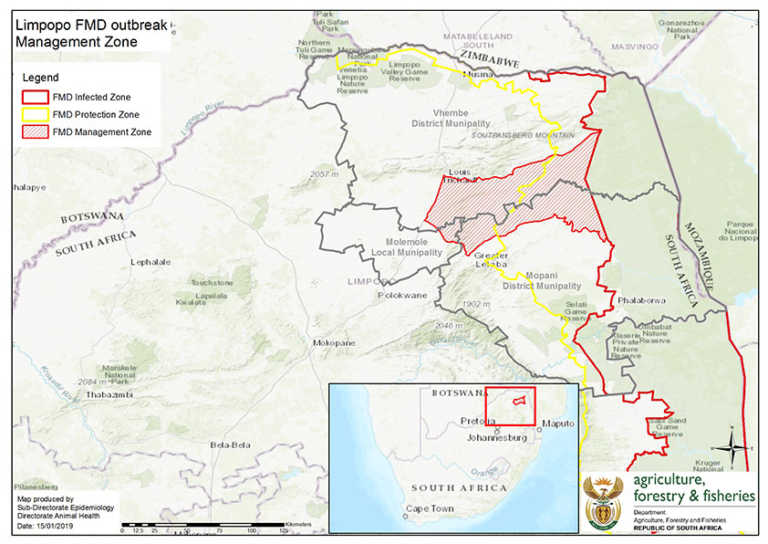 The rapid response by both government and the private sector to the recent foot-and-mouth disease (FMD) outbreak in the Vhembe district in Limpopo has been praised by role players in the livestock value chain.
While South Africa's FMD-free status has been temporarily suspended by the World Organisation for Animal Health, the fast and effective teamwork to contain the disease has raised hopes that the country will regain its FMD-free status in 2020.
Spokesperson for the Department of Agriculture, Forestry and Fisheries, Khayelihle Nkwanyana, said yesterday that more than 4 000 animals had been vaccinated against FMD in the Vhembe quarantine area since the disease was identified there earlier this month.
"The Limpopo Department of Agriculture has provided feed to the affected animal owners, and letters have been sent to 20 of our trade partners. Trade of especially processed products is starting to flow [again]," he said.
Gerhard Schutte, CEO of the Red Meat Producers' Organisation, told Farmer's Weekly that he believed the country's livestock industry was "making history" with so many diverse role players and stakeholders coming together so quickly to tackle the FMD outbreak and limit its negative impact.
Ernest Heunis, chairperson of the South African Skin, Hide and Leather Council, also praised the "great co-operation" between government and the private sector in tackling the current FMD outbreak.
He explained that the industry exported skins, hides and leather to the value of more than R2 billion annually, primarily to the EU and China.
Heunis added that while the EU market for wet, salted sheep skins, pickled sheep skins, raw hides, and wet blue hides had not been affected, China had blocked imports of these products following the outbreak.
"We're presently having serious discussions with both China and Thailand in the hope that they will soon again resume imports from South Africa," Heunis said.