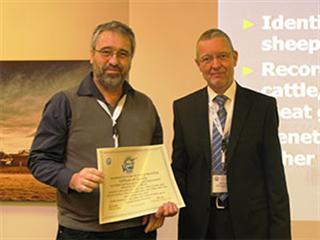 The Certificate of quality was awarded for all aspects of animal recording and genetic evaluation for all species and production system applied for. This makes SA Stud Book the only organisation in the southern-hemisphere to obtain ICAR accreditation for all departments and species.
"It is my opinion that SA Stud Book is among the best animal recording and evaluation institutions in the world. The quality of the services they provide are comparable to similar services in the Netherlands, Germany, France, Canada, Denmark and Sweden. The records and reports they provide to farmers are outstanding, and this also includes the direct contact with farmers through their field officers."
These are the words of Dr Andrea Rosati, the Secretary General of the International Committee for Animal Recording (ICAR). The ICAR on site audit took place during April 2013 and SA Stud Book passed all aspects with merit and in so doing obtained accreditation for all its' services.
Accreditation by an independent international panel carries dual importance, firstly that the participant, SA Stud Book receives confirmation that their services adhere to international standards, and secondly that the SA Stud Book client, the stud breeder, can rest assured that the services rendered to him by SA Stud Book are of the highest standards, determined by an independent team of experts.
Rosati further exclaimed that he is impressed by the genetic value of South African stud animals, and the technical level and experience of SA farmers which, according to him, rivals the best in the world. He went on to say that South African farmers can be very confident with SA Stud Book handling the data of their animals and the processing thereof.
SA Stud Book was also honoured by the election of Dr Japie van der Westhuizen, Departmental head of SA Stud Books' Production Recording Department, to the ICAR board. This is 'n massive honour as ICAR consists of 103 member-organizations from 57 countries worldwide.
Dr Pierre van Rooyen, General Manager of SA Stud Book said: "SA Stud Book is extremely proud to render services to our members that adhere to international standards. The future is indeed bright for SA Stud Book and its' members."