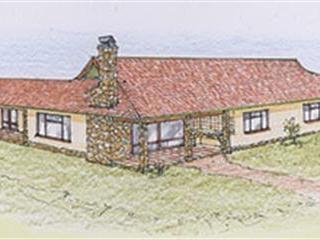 Hi Jonno
Please can you help me with a house design? I saw your design in the issue of 16 November  2012 and fell in love with it, especially the porch hallway. I want to extend my house into a stylish and modern contemporary family home. I would also like some feature rock work panels if possible. My house should not be a double-storey. My main bedroom must have a prayer closet because the existing bedrooms are too small. Please include a patio.
Judging by the good work that you do, I trust you with all the details.
Thank you,
Mary
Hi Mary
I finally got a break and sat down to design the renovations to your existing home. I regret to say that your room measurements given do not tally with the overall measurements of the outside of the building, so I've taken the external measurements of 6,7m x 8,45m. It seems more appropriate. As such, I re-arranged the room's uses and additions to be within the 7,5m building lines to the road frontages. In the outbuilding, I've left the doors as shown, but added some onto the veranda. This can be a mini flatlet in the future.
Please appreciate that converting a low cost unit into the one of the 16 November 2012 issue is an almost impossible task. It might be more appropriate to completely demolish your existing home and start from scratch but it all depends on your budget. Give me a call and let's discuss any further possibilities.
Kind regards
Jonno