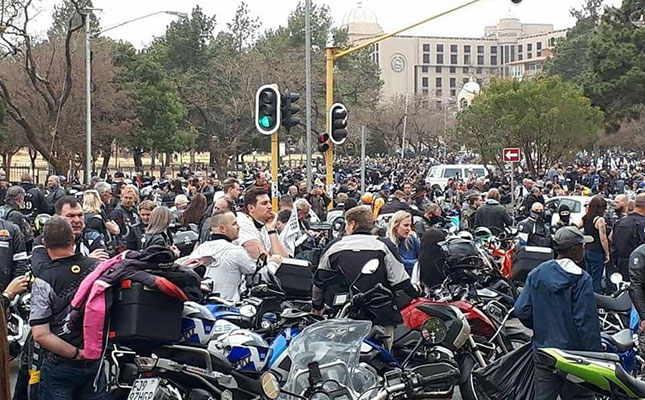 Nearly 40 000 motorcycle riders converged on the Union Buildings in Pretoria on Saturday, 29 August, to protest against farm attacks and racism in South Africa.
They placed roses and crosses at the gates of the building, and also delivered a memorandum to the office of President Cyril Ramaphosa.
READ South Africa is getting more violent
Tommie Esterhuyse, chairperson of Agri SA's Centre of Excellence for Rural Safety, expressed his appreciation for the efforts of the participants, as well as for the well-organised and peaceful manner in which the procession took place.
"The organisers made it clear that the objective of the awareness campaign was to highlight the plight of all role players in agriculture, including farmworkers," he added.
Marinus Coetsee, chairperson of Bikers United Against Farm Murders and Racism, organised the event. He said about 40 000 'bikers', mainly from South Africa's northern provinces, converged on the Union Buildings, while similar events were also held in Durban and Cape Town.
READ Tackling crime along the South Africa-Lesotho border
"The support we received exceeded our expectations by far. This underscores the fact that South Africans are sick and tired of violent crimes such as farm murders," he said.
The campaign would be followed up with a similar campaign on 5 and 6 September, but this time with motor vehicles, he said.
According to Francois Wilken, president of Free State Agriculture, farmers and farmworkers were being subjected to ongoing incidences of serious crime. These crimes, he said, could no longer be denied by the authorities.
"That is why initiatives [such as these] are so important to raise awareness of rural and farm crimes and criminality. We thank every biker who took part. The sad part is that these crimes are often negated by some politicians and their supporters," he said.
Just one day after the motorcycle protest, a couple was killed on their farm in Normandien, near Newcastle in KwaZulu-Natal.
According to media reports, unknown attackers shot the farm owner, Glen Rafferty, and his wife Vida, as well as the couple's dog.