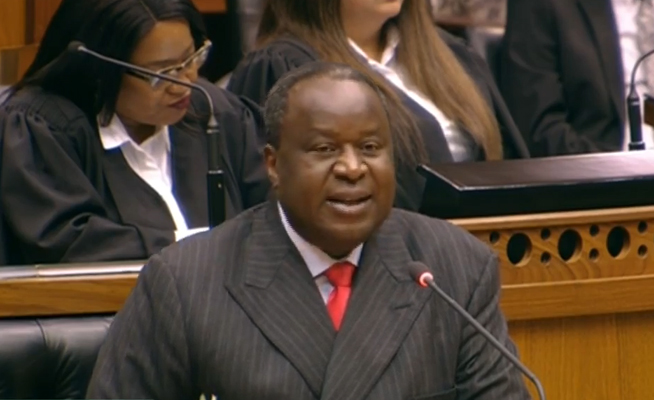 Only passing reference was made to agriculture and land in the Medium-Term Budget Policy Statement (MTBPS), which was presented in Parliament on Wednesday by Minister of Finance Tito Mboweni.
READ Poor governance worsens drought
However, given the medium-term budget priorities announced by Mboweni, if government does, in fact, plan to accelerate the rate of land reform and transformation in the agriculture sector, this would likely have to be achieved without any significant additional allocation to these programmes from the national fiscus.
Starting his speech on a sombre note, Mboweni spoke about the "long winter" experienced by South Africa's economy during which "[…]our people became poorer [and] some lost their jobs", while the country's expenditure continued to exceed revenue, causing national debt to increase at an "unsustainable pace".
Risks to fiscal framework
The picture painted in the MTBPS published by National Treasury and by the Minister in his speech, suggested that things would get worse for South Africa economically before they got better, and would only get better if government succeeded in implementing some painful reforms that would reduce spending.
READ SA's biggest land reform mistake
During a media conference in Parliament prior to delivering his speech, Mboweni said that the three greatest risks to South Africa's fiscal framework were the worsening debt to GDP ratio, which was reaching "unsustainable levels" (now projected at 5,9% of GDP in the current year), "fiscal leakages", including money lost to corruption, and wasteful spending by civil servants on items such as cell phones and travel.
Spending reductions of R21 billion in 2020/2021 and R29 billion in 2021/2022 had been identified, said Mboweni, mostly in the area of goods and services, and transfers.
But, he added, government would have to achieve additional savings in excess of R150 billion over the next three years, and at least some of this would have to come from trimming down and containing the public sector wage bill.
There were slight downward adjustments made to the 2019/2020 budget allocations for both the former Department of Agriculture, Forestry and Fisheries (DAFF) and the former Department of Rural Development and Land Reform (DRDLR).
The adjustments were mainly as a result of unspent funds, such as R57,7 million not spent by DAFF on transfers and subsidies to the Land Bank, and just over R74 million in unspent funds by the DRDLR in compensation for employees, due to vacancies since the beginning of 2019.
READ More money for black farmer development in Mboweni's budget
The merging of these departments into the Department of Agriculture, Land Reform and Rural Development was expected to be concluded by 1 April 2020, according to documents contained in the Adjusted Estimates of National Expenditure 2019.
The new organisational and budget structures were expected to be completed during the current financial year.
Growth outlook
According to Mboweni, South Africa's "fiscal framework had weakened substantially since the February budget, mainly due to weaker economic growth and lower revenues".
The economy was now forecast to grow at 0,5% in 2019, compared with the 1,5% expected growth rate announced in the February budget, he said. GDP growth was expected to rise modestly to 1,7% in 2022, "supported by household consumption and private-sector investment".
READ Consumer inflation down but food inflation up – economist
Strong property rights and the prioritising job-creating sectors, such as agriculture and tourism, were crucial "growth ingredients" for South Africa, said Mboweni, referencing the economic strategy paper published earlier this year by Treasury.
The MTBPS noted that government would reprioritise funding in the medium term, including from the comprehensive agricultural support programme grant, "to increase compliance with biosecurity, animal and plant health, and phytosanitary and sanitary standards to improve trade in agricultural exports".
In terms of land reform, government's focus appeared to be shifting from spending on land acquisition for reform to providing farmer support.
READ Goats: good management = good money
According to the MTBPS, since 1994, government had spent about R41 billion on the land restitution programme "to return about 3,5 million hectares of land to rightful owners".
"In the medium term, funds will be allocated to improve post-settlement support in collaboration with agricultural commodity organisations," the MTBPS stated.
This shift in spending focus was already evident in the way in which the DRDLR had spent its 2019/2020 budget during the first half of the current financial year.
According to the Adjusted Estimates of National Expenditure, during the first half of 2019/2020, the department acquired 43 075ha for redistribution against the annual target of 94 040ha.
"This underachievement was due to greater focus being placed on ensuring proper provision of post-settlement support rather than acquiring land," the document said.