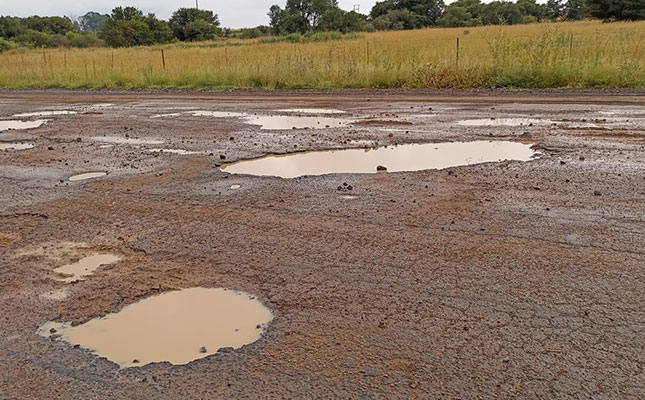 South Africa's road infrastructure is critical to the success of the agriculture sector, because commodities valued at about R7,1 billion per annum are transported along these roads.
This was the message from Agri SA's chief economist, Kulani Siweya, speaking at a media briefing on Tuesday, 5 April, during which the findings of a survey on the impact of deteriorating road infrastructure on the sector was released in Pretoria.
"That is 94% of all produce. The survey also showed that 87% of all farmers utilised governmental roads on a daily basis. On average individual farmers lose R200 000 per year due to poor road infrastructure," he said.
These costs were directly linked to reparation needed due to damage to vehicles and trailers by potholes and other obstacles on the country's roads.
According to Siweya, when this figure was multiplied by the country's 30 000 commercial farmers it added up to about R6 billion per year.
"While these [reparation costs] may be affordable for the biggest players in the sector, it is untenable for South Africa's small-scale farmers."
Agri SA's labour expert, Lebogang Sethusha, added that South Africa could forget about any plans to increase employment in rural areas if roads were not repaired.
"Functional roads are at the core of development. They are the arteries that link rural communities to the economy and are therefore vital for economic revival. This is about more than merely getting agricultural products to markets; it's about bringing jobs to the people."
Dr Jack Amour, commercial manager of Free State Agriculture, said a consulting engineer told his organisation that it would cost about R23 billion to bring the roads in the Free State alone to an acceptable level.
"The majority of this money will have to go to reconstructing roads that have not been properly maintained over the years."
Amour added that the Free State provincial government had been blaming the dilapidated roads on this season's heavy rainfall.
"That's not the problem. The problem is that roads aren't being maintained properly. If they were well maintained, the rain damage would not have been as severe."
Deidre Carter, CEO of Agri Limpopo, said that province's failing road infrastructure had reached catastrophic proportions.
"Many transport companies are no longer willing to service vast parts of the province. When Tiger Brands closed down its Alldays depot [four years ago] due to bad road infrastructure, it led to a 3 000t drop in tomato production. This directly impacts farmers' ability to produce food."
According to Nicol Jansen, chairperson of Agri Northern Cape, the province's budget was inefficient to cover the entire road network in the province.
Jansen said overloaded trucks were the biggest culprits in the deterioration of the roads, but as there was only one weigh bridge in the province this could not be confirmed.
"It is in Kimberly and it's not functional, because it's been vandalised. The province needs more scales to prevent overloading."
Agri SA would be sharing the data from the survey with the Presidency and would call on government to join forces with the sector to address the situation as soon as possible, Christo van der Rheede, CEO of Agri SA said.