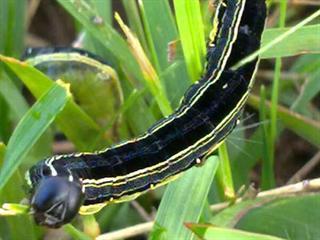 Marthinus Beytell farms some 20km from Potchefstroom and has lost about 50% of a 70ha camp of natural grazing virtually overnight.
"Three or four days ago the veld looked fantastic, but so far we've lost the bulk of grazing. Our neighbours also reported serious infestations," he said.
Additional reports of infestations came from Windsorton and Letsitele.
Agri North West president Cor Janse van Vuuren called on farmers to inspect their lands as a matter of urgency. "Army worm infestations are easily managed if detected early enough. One of the most effective methods is to spray the infested areas with a Super metrine solution.
"Another effective method is to determine the direction the worms are moving in and to plough a furrow some meters in front of the worms. They simply fall into the furrow and can't get out again."
The African armyworm is a particularly serious pest of pastures and cereal crops (maize, wheat, sorghum, millet, teff and rice) in eastern, central, and southern Africa.
Outbreaks follow the onset of wet seasons when dry grasslands produce new growth and cereal crops are planted.
Read: Know your crop pests: African army worm