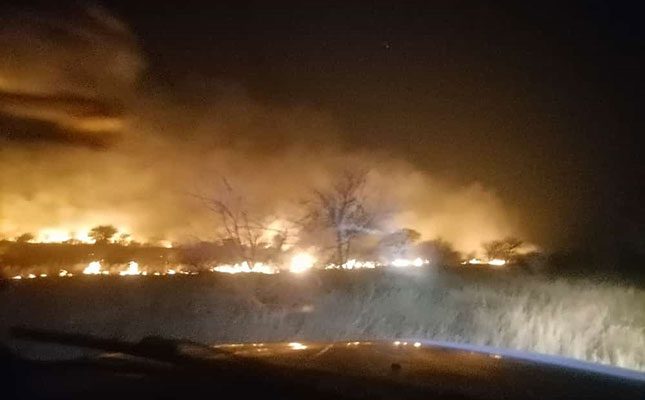 Naudé Pienaar, Agri North West assistant general manager, for instance said that there were clear indications that an unreasonably high percentage of the fires that destroyed in excess of 600 000ha in the province so far were caused by arsonists.
Kobus Visser, Agri SA director of rural safety and provincial affairs, told Farmer's Weekly that signs of arsonists starting veld fires also came to the fore in 2022. To that effect, the organisation liaised with the South African Police Service (SAPS) on the matter during a priority committee meeting.
READ Hundreds of thousands of hectares lost to veld fires in North West
"SAPS was urged to consider such incidents in a serious light and to see to it that all cases reported be investigated as a priority crime.
"This was followed by a national SAPS directive to, among others, crime intelligence, all provincial commissioners as well as the division for operational coordination with the order of investigating all reported cases of arson," he added.
According to Bennie van Zyl, general manager at TLU SA, the action of people intentionally starting fires on farms could be linked to irresponsible statements by politicians and also to criminal elements. He said some politicians deliberately created the impression that the country's commercial farmers should be considered as the enemy of the people in a country that was already unstable.
READ Veld fires: experts advise on treating livestock to mitigate loss
"These often emotionally laden statements create a situation of 'us and them', which could very well be one of the major reasons behind the activities of arsonists. On the other hand, we've come across several cases where criminals set fire on one part of a farm as a distraction for them to carry out their evil deeds on another area of the land," he explained.
Pienaar added that in North West, reports had been received of a marked number of fires purposely started on state land by rival factions claiming access to the land. The objective was, according to him, to gain sole access through the destruction of grazing and to force competing groups from the area.
In many cases, these actions resulted in runaway fires that caused untold damage to the surrounding farms.