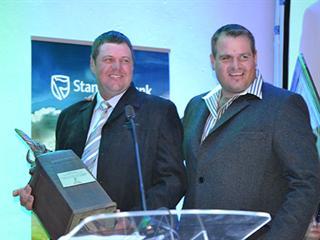 "The young farmers who are nominated for the competition are of high standard, which makes the judging process very challenging," said Pieter Fourie, of the department of agriculture at the Central University of Technology Free State and convenor of the judges.
According to Fourie, Louw performed well in all the categories and achieved a high average score. "He was a strong candidate with a neat farm and he is very involved with organised agriculture."
For the past three years, Louw, wife Annelize and their two children have farmed on Bloudrif in the Wesselbron district. He has been a farmer for 15 years.
Louw said: "To make a positive contribution to the image of the farmer in South Africa is one of the most important aspects which young farmers should focus on within the country's economic sector."