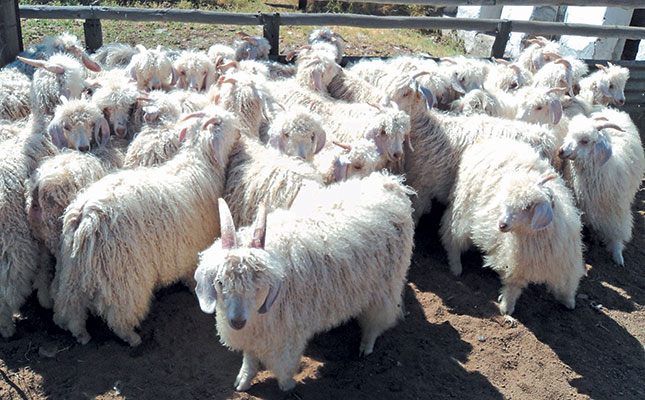 The Mohair Trust will consider making its stabilisation fund available to assist South Africa's mohair farmers, who are currently reeling from the effects of adverse weather conditions, according to Davey Herold, chairperson of the trust.
READ 'Wool sheep from Lesotho now being slaughtered in SA'
This followed a resolution introduced by Arthur Rudman on behalf of the Glenconnor mohair growers' branch in the Eastern Cape during the recent South African Mohair Growers' Association congress in Graaff-Reinet.
Rudman asked the Mohair Trust to consider extending loans to farmers based on 50% of an applicant's mohair production value over the past three years.
The assistance needed to be made available to drought-stressed farmers as a short-term production loan at 6% interest a year, to be reviewed every 24 months if required.
READ Merino sheep: sacrificing size for superior wool
He said he envisaged that mohair brokers would be responsible for repaying these loans from the proceeds of mohair sold and that loans would expire within 24 months.
Calling for producer funds to be made available to farmers, due to climatic and veld conditions that had resulted in farmers and their families experiencing depression and even committing suicide, Rudman said the organisation had a responsibility to stabilise the mohair farming industry by supporting producers in need.
"Unfortunately, the trust has, for many years, not sufficiently or directly assisted producers aside from empowerment projects and drought feed. The industry should protect and support its producers, who are farming under increasing strain from animal mortalities, droughts, flash floods, theft and [uncertain] government policies."
As the mohair stabilisation fund had performed poorly during 2018, it could do worse than lend money to farmers at a reasonable rate, he said.
"The fund will be protected while affordable interest rates will put money in farmers' pockets."
Without this kind of intervention, there was a risk that mohair production could drop to the extent that the industry became insignificant.
Since 1987, global production had fallen from 27 million kilograms to 4,2 million kilograms, while South Africa's national clip had decreased from 12,5 million kilograms to a mere 2,3 million kilograms.
He called on mohair and wool growers to share facilities and other costs.