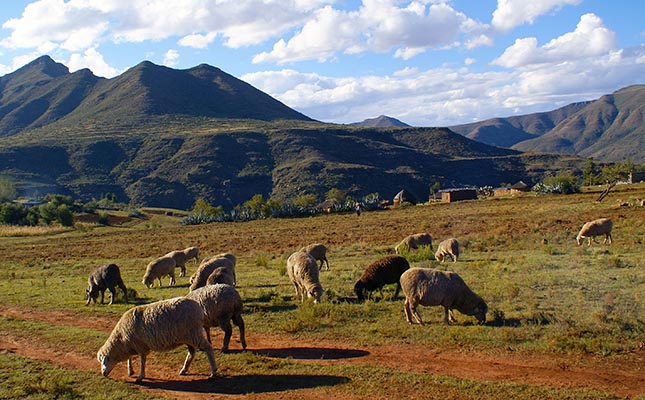 Wool growers in Lesotho, who had not received an income since March 2018, are now selling their stock to slaughter markets in a desperate attempt to survive.
This was according to Khotsang Moshoeshoe, a wool producer and head of a task team at the Lesotho National Wool and Mohair Growers' Association that was dealing with the crisis affecting farmers.
While these growers were prohibited by law from exporting their wool to South Africa, the live animals could seemingly still be transported across the border. He said the sheep and goats were being purchased by speculators and exported to South Africa for slaughter.
Moshoeshoe said more than 50 000 wool and mohair growers in Lesotho had been affected by legislation introduced by the government in 2018.
"No more than 35% of the total number of wool growers in the country have received payment for their product this season," he said.
The Agriculture Marketing (Wool and Mohair Licensing) (Amendment) Regulations 2018, prescribes how and where farmers can trade their produce and prevent them from exporting to South Africa without relevant permits.
The regulations further compel farmers to send their wool to the new Lesotho Wool Centre in Thaba-Bosiu.
The association instituted legal proceedings against the government to contest the regulations, which were then nullified by a High Court ruling in April.
However, according to media reports in Lesotho, the Court of Appeal had reinstated the regulations earlier this month.
Moshoeshoe said the latest ruling was a "massive blow to farmers". The only other hope to change the regulations now lay with the country's parliament.
However, a motion of no confidence had recently been instituted against Prime Minister Thomas Thabane resulting in the parliament being "on an indefinite winter break".
Meanwhile, the Wool Testing Bureau of South Africa, the only internationally accredited certifying facility on the continent, said it was still unable to certify any samples of wool in Lesotho.
Managing director of the bureau, Wian Heath, said the certification of wool required full compliance with International Wool Textile Organisation regulations.
"[These] specify the equipment to be used and the procedures to be followed when sampling wool from bales.
"This is to ensure that the samples are correctly taken to maintain the integrity of the test results."
Heath said this specialised sampling equipment and related infrastructure was not available in Lesotho.