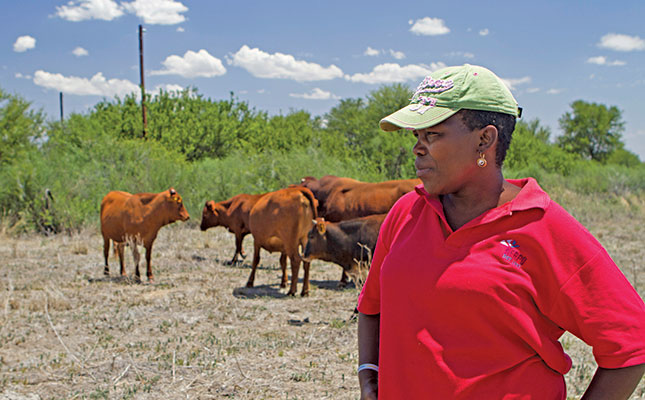 Tracy Marobobo and her husband, Thukela Marobobo, farm in partnership with her father, Matoo Khothule.
They operate on 548ha of state-owned land comprising two farms, Roodekrans and Doorndraai, near Ventersburg in the Free State.
Their main pursuit is beef cattle production, but they are also considering expanding into sheep, pigs and poultry. In addition, they hope to soon introduce a cropping component to produce feed or generate cash flow.
READ Frontier Bonsmaras' strategy for sold-out auctions
According to Tracy, their long-term goal for the farming business is adding value. This includes ambitions such as running a Bonsmara stud and even expanding into production of low-cost balanced licks specifically targeting emerging farmers.
"My father always says I want to do too much," she jokes.
Tracy is not rushing into any of these enterprises, however, saying she would rather wait than sacrifice on quality.
"If you put garbage in, you get garbage out," she says.
For now, their immediate goal is to grow from being so-called emerging farmers with a cow herd of about 55 productioon animals to being fully fledged commercial beef farmers.
Building on ruins
Tracy says the farms they now operate on were first purchased by the state in 2011, but she and her family started farming there only in 2016.
Although they do not yet have a formal lease agreement in place with government, they are the caretakers and have correspondence stating that the 30-year lease application process is under way.
Tracy says she wishes they could have arrived directly after the farms were acquired. The R5,4 million purchase price included infrastructure such as poultry sheds, but by the time they arrived these were in ruins. Windmills and pumps had also been demolished or vandalised, irrigation infrastructure had been removed and fences cut.
READ Addressing the risk of polluted irrigation water
The overhead transformer providing electricity to the farm had disappeared, and the homestead was a shambles, with all electrical reticulation removed.
To crown it all, the veld had been severely overgrazed.
Their first priority was to repair or replace everything that had gone to ruin. This included installing pumps and electricity, and rehabilitating grazing land. They also began rebuilding relationships with their neighbours, as these had been soured by the previous occupants.
Much remains to be done, and this is made more difficult by being unable to unlock financing options due to a lack of a formal lease agreement.
However, Tracy says they can start shifting their focus to improving their beef cattle production.
The cattle herd
The Marobobos farm Bonsmaras, and Tracy is convinced the "red breed" is the best one for their aim, which is to produce a good number of top-quality beef cattle.
She highlights attributes such as the breed's hardiness, muscling, body condition and weaning weight, and says Bonsmaras are efficient at converting forage.
Even though the farm has been experiencing drought conditions since December last year, the cattle are doing well.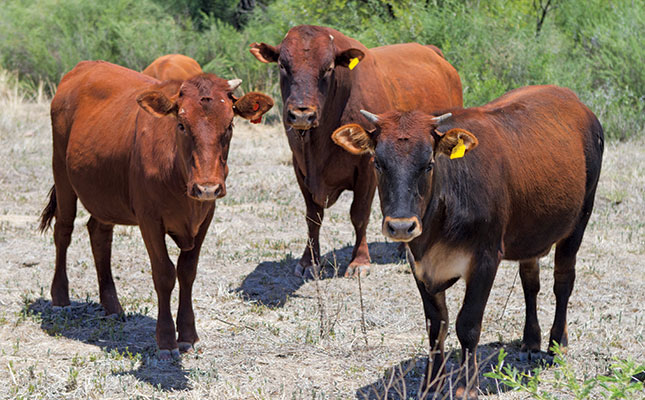 Tracy and Khothule work closely together in the cattle operation and she praises his wealth of innate cattle knowledge. One of the first breeding goals that Khothule introduced was for each cow to produce a calf every season.
He is also adamant that the cows must be good mothers and able to wean their calves at a good weight.
Tracy has now started placing emphasis on improving the quality of the bulls they are using.
Their main breeding bull is the offspring of one that Khothule received from the Department of Agriculture, Forestry and Fisheries about 10 years ago after it had been purchased from a stud farmer in Steynsrus.
She will use one of the sons produced by this bull during the 2019/2020 breeding season in September and plans to bring new genetics into the herd by either purchasing a new bull or using artificial insemination.
She is also hopeful that she will soon be able to acquire a top-quality bull through her involvement with the Sernick Emerging Beef Farmer Programme.
Tracy says she quickly came to realise that record-keeping and measurements were crucial to improving their herd.
Initially they used limited technology in the operation.
"We started by visually selecting weaners," she recalls.
She has now begun implementing a more fact-based approach and has started measuring her cattle at different stages of their life cycle, such as at the birth, weaning and production stages.
This often takes place under challenging circumstances.
She has access only to a dilapidated crush and is not fond of reverting to the use of an immobiliser as she believes it has a negative effect on the animals. She also does not have a scale to weigh them.
"I use a tape measure to calculate weight measurements."
Nonetheless, she takes pride in her efforts to improve her record-keeping in order to reach her ultimate goals.
Here, she has also tapped into a resource provided by the Agricultural Research Council's Animal Improvement Scheme: the Kaonafatso ya Dikgomo initiative.
Through this, Tracy will now be able to start accessing services such as scanning technology.
Grazing and herd management
The Marobobos produced between 25 and 30 marketable weaner calves last year while still retaining replacement animals and slowly adding to the herd size.
She says the farm comprises mostly grazing land (about 350ha) with a grazing capacity of 1 MLU (mature livestock units)/6ha. The remaining 200ha is considered arable but is not currently under crop production.
READ Scientific selection in beef cattle breeding
The farm is divided into three grazing camps and the Marobobos have reintroduced drinking water into each section. The fences have also been replaced and they are using smaller camps to implement a rotational grazing system.
"We rotate them every three to four months depending on the condition of the grass," says Tracy.
The sweetveld grazing comprises a mix of naturally occurring, "very palatable" grasses, as well as species such as Smuts finger grass (Digitaria eriantha) that were established by the previous owner.
If the entire area of roughly 550ha were used as grazing, they would reach capacity once the cattle herd numbered about 90 animals.
The loose definition that Sernick uses for a commercial beef farmer is someone with 100 or more production animals.
They are not yet aiming to produce at full capacity as Tracy is keen to run sheep.
Lower numbers have also been a boon in recent drought years, allowing her to continue farming without having to reduce herd numbers, and allowing grazing condition to improve.
They will, however, need to find a way of accessing more land to take the business to commercial production levels. Alternatively, they have to use the available land more efficiently, for example by cultivating forage crops.
Stud ambitions
Ultimately, the Marobobos' goal is to establish a stud as a means of maximising their profit per animal in line with the size of the farm.
Tracy says the annual revenue they realise just through producing weaners is not enough to keep them going.
READ Eastern Cape's world-class student Angora stud
"When you compare yourself with a stud breeder, you see they are making more money out of the few animals they have."
She loves being able to breed for improvement. She also believes that she and Thukela have identified a gap in the market, saying that too few emerging beef farmers are paying attention to genetics. Yet there is a huge need for good breeding bulls.
"Emerging farmers are struggling, saying they need a reliable source. There, I have my customers already!" she says.
Although she is still using a live covering system, Tracy is planning to send one of her employees on an artificial insemination course offered by the ARC this year. This is aimed at enabling her to bring greater genetic improvement to her herd more quickly and affordably.
Since taking the plunge into full-time farming a few years back, Tracy has concentrated on arming herself with knowledge, and last year successfully graduated from the Syngenta/Grain SA Grain Academy.
She also travels to the Sernick Group's training facility in Edenville for one week every month to participate in the NQF-accredited training she is completing through that programme.
She is involved in organised agriculture and serves as provincial coordinator for the youth wing and provincial executive of the African Farmers' Association of South Africa in the Free State.
Tracy says it has not been easy going and there have been sacrifices along the way, such as not being able to keep her young children with her at the farm for now.
"It has been tough, but we're improving every day," she says.
Phone Tracy Marobobo at 079 789 2721, or email her on [email protected].