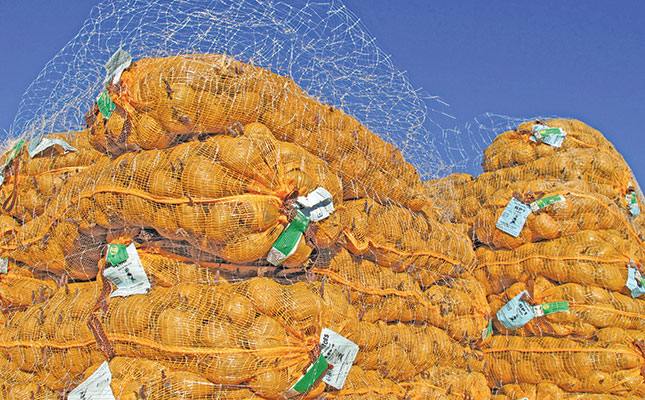 the local potato sector aims to increase annual production from about 2,6 million tons to 3,2 million tons over the next five years, according to Dirk Uys, research and innovation manager at Potatoes South Africa.
This would be achieved by protecting processors against the "dumping" of cheap potato product imports, growing local processing capacity, and developing "new uses for potatoes" that could create value for lower grades, Uys said.
READ Precision farming pays off for KZN potato producer
There was also scope to grade potatoes in terms of cooking and taste criteria, rather than just physical appearance, as well as to export potatoes, provided their shelf life could be extended.
"There are numerous opportunities for investment [in] and expansion [of the industry] through the Agriculture and Agro-processing Master Plan, but these need to be underpinned by a consistent power [supply], and a conducive operating environment.
"All industry role players need to work together to find sustainable solutions to increase yields to [viable levels] and drive production," he said.
Pests and diseases
According to Uys, the sector also faced numerous challenges. The destruction caused by the potato tuber (Phthorimaea operculella) and leaf miner (Tuta absoluta), as well as blemishes caused by diseases such as scab and powdery mildew, were curtailing production.
In addition, the sector had to deal with severe rolling blackouts in the latter part of 2022, which negatively affected irrigation, packing and processing, and resulted in shortages of potatoes. This had been further exacerbated by high input costs.
Uys added that these shortages had been followed by periods of oversupply at local fresh produce markets.
READ Potato farmer's virgin soil strategy to reduce disease risk
Henk van Zyl, a potato farmer in the Sandveld region between the Free State and North West, said farms in the area had faced a "perfect storm" last year.
Prices had fallen sharply when an additional 1 000ha of potatoes were planted in other parts of South Africa in the wake of good rainfall.
In addition, input costs almost doubled in 2022, while yields fell to below-average levels due to dry climatic conditions in the Sandveld region.
"As a result, for almost eight months of the year, many farmers [in the Sandveld region] had to sell [their produce] at below production cost," he said.
Van Zyl expressed fear that agricultural production in the area could come to a complete standstill if producers experienced another year like 2022.
"Potatoes are the only viable crop that can be planted here, and at this point it's no longer economically viable for us to plant," he said.
Rising costs
Uys stressed that ever-increasing costs were placing tremendous pressure on growers' profitability. These were the result of a need to boost fertiliser usage, as well scout for and model diseases in order to position crop-protection products more efficiently to reduce producers' risk and wastage.
READ Tips for running a farm's finances in tough times
Cultivar choice also played a key role in managing diseases, and Potatoes South Africa was conducting annual cultivar trials to evaluate their adaptability in the various production regions.
Uys advised farmers to monitor historical market trends, and said that profitability was not only determined by the prices received for the commodity, but was also dependent on production efficiency, as well as the timing of delivery to the market.