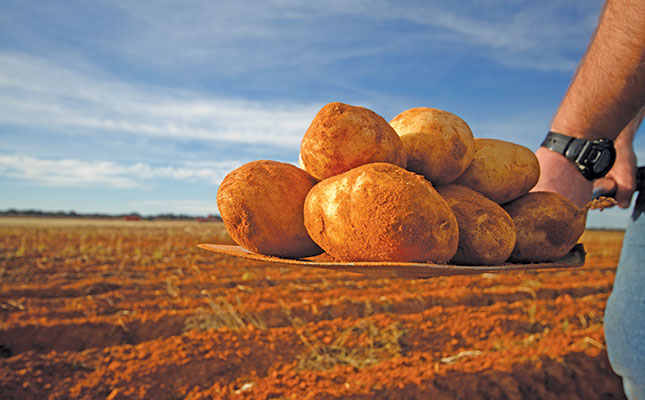 Gerhard Bruwer plants his potatoes only in virgin soil, and his intention is never to plant any piece of land to potatoes more than once in his life.
"If you look out across this bush, where it extends beyond those koppies, that is all virgin land that will be cleared for planting over the next 30 years," he says.
READ A beginner's guide to planting sweet potatoes
One of the major reasons for this approach is that as a seed potato producer, he needs to guard against the risk of disease.
Genade Boerdery
Bruwer farms with his father, Vickie, and his two brothers, Hannes and Vickie Jnr, in the Pixley ka Seme District Municipality in Northern Cape.
The business is spread across three farms, with Gerhard based near Douglas, Hannes near Hopetown and Vickie Jnr near Schmidtsdrift. Vickie oversees the entire operation.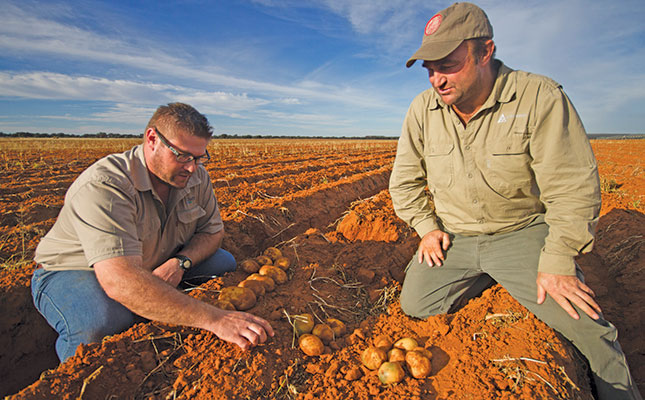 The Bruwers, who are primarily irrigation farmers, produce yellow maize, popcorn, waxy maize (used to make maize flour), wheat, barley, groundnuts, cotton, lucerne, onions, potatoes and pecans.
There is also a cattle component of commercial Bonsmaras, which is run symbiotically with the cropping component.
Genade Boerdery employs 11 managers and about 120 permanent staff, as well as providing seasonal contract work to about 200 people over the three months during which the potatoes are harvested.
The potato enterprise comprises only 5% of the Bruwers' cropping activities, but contributes approximately 15% of turnover. However, the crop has by far the highest input costs.
READ Limpopo nut farm – a shining example of worker empowerment
"These include market commissions, transport to market, labour and so on, so you're looking at R200 000/ ha," explains Bruwer.
Other costs include water and electricity, seed, chemicals and fertiliser, and mechanisation. Bruwer says the high input cost is one reason he plants more than just potatoes.
"Potatoes and pecans are my most profitable crops. Potatoes are high risk, but high reward. That's why I diversify; it's good for my rotational system, but also to protect me if there's trouble."
Turning to the benefits of rotation, he says that any crop can do well on a land previously planted to potatoes, as potatoes do not utilise fertiliser effectively.
A farmer therefore needs to apply a large quantity to ensure the plants absorb enough, which means that much fertiliser remains unused in the soil.
"For the next three years after the potato crop, the soil remains well fertilised," he says.
Cultivars
Genade Boerdery is part of a potato-growing consortium administered by the agribusiness GWK; members of the consortium have to adhere to strict production criteria.
During Farmer's Weekly's visit, Johann Botes, potato marketer at GWK, was also on hand to explain technical aspects of potato production.
Bruwer currently plants three cultivars: Taisiya, Up-To-Date and Lanorma. He and Botes are particularly enthusiastic about Lanorma, an excellent 'all-rounder' suitable for cooking or mashed potato, with processors such as McCain also favouring it for chips.
"Lanorma isn't really a processing potato as it doesn't have high dry matter content, but it makes great chips, so the processors like to use it. It crisps very quickly on the outside, which means it doesn't absorb so much oil," explains Botes.
For Bruwer, the benefits of the cultivar include greater resistance to disease, as well as high yields of as much as 80t/ha.
"It's also a very white potato with a pleasing white skin finish," he says.
The Taisiya variety has cream to yellow flesh and a more yellow skin finish.
"It has a lovely skin finish after washing, so many retail shops like it as a pre-pack potato. But it doesn't have the same qualities as the Lanorma. It isn't such a good chip potato, but it's very good for cooking and making mashed potato."
The Up-To-Date cultivar is a niche market product, he explains, as it is soft when cooked and absorbs flavours well, making it a favourite among the older members of the Indian community for use in curries.
"You get good money for it at the market in KwaZulu-Natal," he says.
However, demand for the cultivar is declining among the younger generation. Due to this, and its lower yield potential of around 65t/ ha, Bruwer is considering dropping this cultivar.
Production practices
Botes and Bruwer meet regularly to ensure that production practices are optimised; these include planting dates, plant density, spray programmes and precision technology.
Botes says that Lanorma is a medium-short grower, which means it is usually ready in about 90 days, but this can be extended to 100 days.
"We plant in December because the frost normally arrives here around May, and we want the crop to be physiologically mature by that time," he explains.
Bruwer plants seed potatoes at a higher density than normal commercial potatoes, spacing plants at 25cm to 30cm to achieve about 44 000 plants/ha.
After the bush is cleared, he applies pre-plant fertilisation, and fertilises a further eight times during the growing season. He also puts down a nematode mixture in the furrow at planting.
"Nematodes are actually the primary pests that attack the potato. When planting, we apply treatment directly to the tuber," he says.
Plants start emerging about two weeks later, and the spray programme begins approximately a month after planting. At that stage, Bruwer sprays every 10 days, increasing to once a week in the last month of the growing cycle.
The spray programme includes fungicides, insecticides, herbicides and leaf nutrition products.
"The main objective is to control lice in order to keep viruses at bay, and to prevent early or late rust caused by fungi," Botes explains.
Fertilisation includes the macronutrients nitrogen, phosphorus and potassium, as well as zinc. Bruwer also adds plenty of calcium for tuber development.
Harvesting 
In this region, the foliage of the potato plant will usually die off due to frost during the first half of May. The plants are thereafter left for approximately a month before being harvested.
READ Turnerland: potato and onion harvesting equipment
If the frost does not arrive in time, as happened this season, Bruwer covers the plant with soil to kill it off, which in turn enables the potato skin to set. This is particularly the case for Lanorma, which requires a month for proper skin set.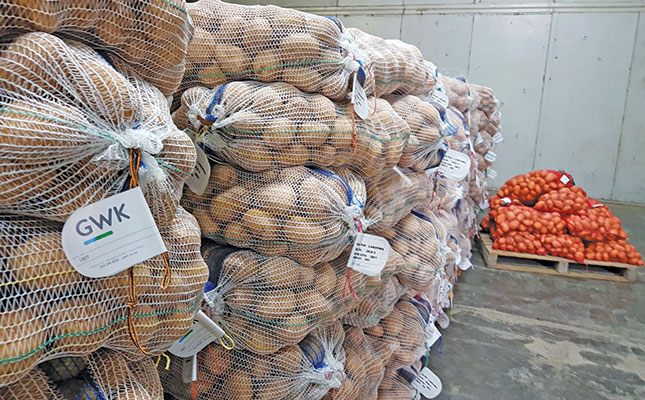 "Many farmers remove the potatoes a week after they've covered the plant, but at that stage the skin hasn't set yet," he says.
Harvesting is carried out mechanically with a Grimme GT170 potato harvester, and if the quality is good, the Bruwers can harvest and sort about 3ha/day. The packhouse operates a number of lines to cater for seed potatoes and various grades of table potatoes, which Bruwer sells under two separate brands at fresh produce markets across South Africa.
The packhouse is used specifically for the potatoes and therefore operates for only three months of the year. It also houses a cold storage area where the seed potato stock is kept.
"It's important to store potato seed in cool conditions because the potato then goes into dormancy. If you harvest it and leave it standing in a shed, the potatoes start sprouting within a month," explains Botes.
Irrigation 
Bruwer utilises a pivot irrigation system that draws water from the Orange-Vaal water system. Water rights are allocated on a per hectare quota basis, and he does his crop planning in line with what he terms the "crop factor".
READ The main types of irrigation
Potatoes use water at a rate of 5 100cm³/ha per season, similar to sunflower (about 5 000cm³/ha). Lucerne, by comparison, has a water usage of about 10 000cm³/ ha, which means that twice as many potato or sunflower hectares can be planted as lucerne.
Cropping is planned to make maximum use of every drop of allocated water, and Bruwer stresses that he has to pay tax on his entire quota, regardless of whether all of it is used.
He further optimises water usage through neutron moisture meters, which are underground probes that measure soil water content by detecting neutrons and thereby water molecules.
"We also do physical profiling twice weekly to see what the soil water profile looks like, in case the probe isn't entirely accurate. This is to ensure we give exactly the right amount of water."
Other precision practices include soil sample analysis and leaf sap analysis to check for trace element deficiencies. Consultants are also called in when required.
Bruwer carries out variable irrigation and variable application of fertiliser and chemicals on a per block or per land basis, but is not yet at the point of implementing it at individual plant level. However, he says that Genade Boerdery will "definitely" use this level of precision at some stage in the future.
Email Gerhard Bruwer at [email protected].
Email Botes at [email protected].