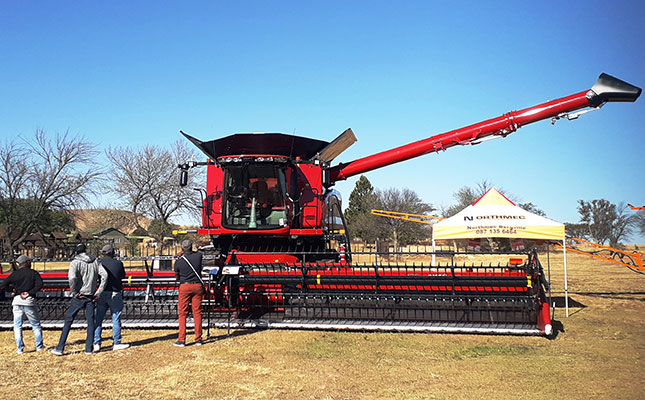 No combine harvesters were sold in South Africa during August, compared with the nine sold in August 2018, according to the latest statistics from the South African Agricultural Machinery Association (SAAMA).
SAAMA's report added that year-to-date combine harvester sales of 119 units were 17,9% down on the 145 units sold during the corresponding first eight months of 2018. Year-on-year combine harvester sales were almost 7% down on the preceding period.
National tractor sales of 437 units for August were, according to SAAMA, 10,3%  lower than the 487 units sold in August last year. Year-to-date tractor sales of 3 488 units were 21,2% down on the 4 424 tractors sold in the corresponding period in 2018.
On a rolling 12-month basis to August, tractor sales were also 14% down on the corresponding preceding period.
Commenting on the latest statistics, SAAMA's chairperson, Greg Cadman, said a number of challenges, including farmers facing adverse cash-flow positions, meant that South Africa's agricultural machinery market would probably remain subdued for the remainder of 2019.
"Despite some negative sentiments in the market, farmers are cautiously optimistic, as preparations for the forthcoming summer cropping season have now begun in earnest.  Although grain prices are better than they were last year, many farmers are currently holding onto their crops," Cadman said.
In his commentary on SAAMA's latest agricultural machinery sales statistics, head of economic and agribusiness intelligence at Agbiz, Wandile Sihlobo, said that while tractor sales in South Africa had been generally subdued so far this year, "there could potentially be a turning point around next month or so when the 2019/2020 summer grains and oilseed production season starts".
"The weather outlook is generally positive, which signals a potential recovery in production and activity in the fields.
"The South African Weather Service recently indicated that the central and eastern parts of South Africa could receive above-normal rainfall between November 2019 and January 2020," he said.
Cadman added that SAAMA expected total national tractor sales for 2019 to end between 15% and 20% below the 6 714 units sold last year.