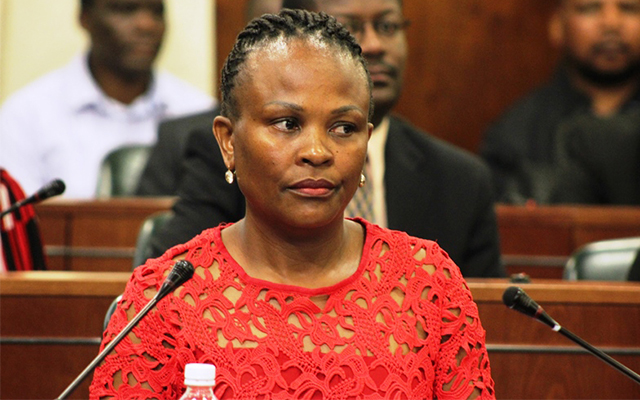 Public Protector Busisiwe Mkhwebane intends appealing the High Court ruling that declared the report into the Vrede Dairy Project "unlawful, unconstitutional and invalid".
Spokesperson for the Office of the Public Protector, Oupa Segalwe, confirmed that Mkhwebane was considering the option of appealing or applying for direct access to the Constitutional Court with regard to the ruling.
READ Mixed farming: a successful synergy of citrus and dairy
An official statement said Mkhwebane "fundamentally" disagreed with the ruling.
"She is concerned over, among other things, that in setting aside the entire report the ruling might be interpreted as though the court condones the maladministration attributed to the parties against whom adverse findings were made," he said.
Judgement was handed down in the North Gauteng High Court in Pretoria on Monday in a case brought by the DA and the Council for the Advancement of the South African Constitution.
The matter related to the report into the Vrede Dairy Project and the Gupta-linked company, Estina, which was investigated by Mkhwebane in the continuation of work initiated by her predecessor Thuli Madonsela.
It was published in February 2018 and was almost immediately labelled as a "whitewash" report.
Farmer's Weekly reported at the time that Mkhwebane had been summoned to appear before a Parliamentary Committee days after it was released, and the DA had also initiated relevant legal processes.
The judgement reviewed and set aside the report, also finding that Mkhwebane had failed in her duties as Public Protector.
"It is found that in investigating and reporting on the Vrede Dairy Project for the purposes of her report, the Public Protector failed in her duties under Section 6 and 7 of the Public Protection Act and Section 182 of the Constitution," the judgement stated.
Leader of the DA in the Free State, Roy Jankielsohn, said this was just another step in the process.
He said had been investigating affairs around the Vrede project for years, and was also scheduled to testify on the matter at the Zondo Commission of inquiry into state capture in June.
READ Western Cape dairy farm 'milks' the sun's energy
Jankielsohn said he was calling for the entire investigation to be reopened and expanded to include political role players in addition to officials, saying he would also drive this process in the provincial legislature.
"I will not rest until all the politicians involved in plundering resources and denying those beneficiaries a source of livelihood have been held accountable and criminally charged for their roles," he said.
Segalwe said the Office of the Public Protector had a pending investigation into the role of politicians and the plight of beneficiaries. "It was started last year at the request of the Portfolio Committee on Justice," he said.