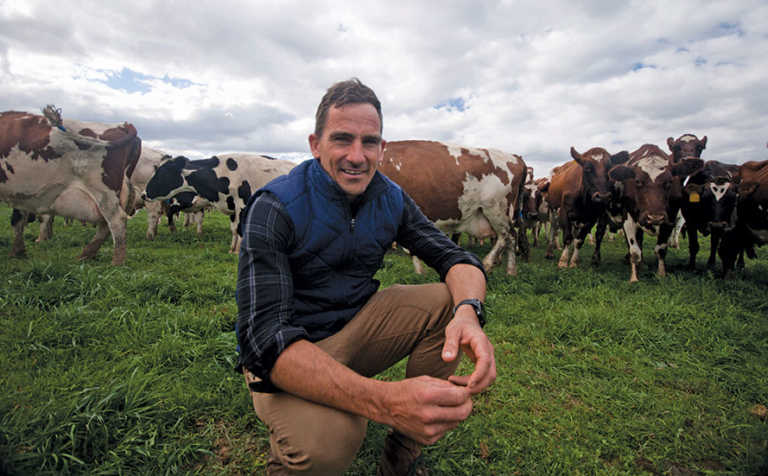 Huguenot Farms, established by brothers Charles and Stephen Marais in the 1970s, is one of only a few remaining mixed dairy-citrus operations in the Sundays River Valley in the Eastern Cape.
Elsewhere in the area, most similar farms have converted entirely to higher-value citrus orchards.
READ Using 'cow power' to make your dairy farm self-sufficient
However, on this 228ha farm, the two farming divisions are managed to create a symbiotic relationship that allows the dairy and orchards to complement each other.
Stephen and Charles remain at the helm as board members of the business but have largely handed over the day-to-day management to the next generation. Stephen's son, Stuart, is manager of the dairy while Charles's son-in-law, Joe Pringle, serves as citrus manager.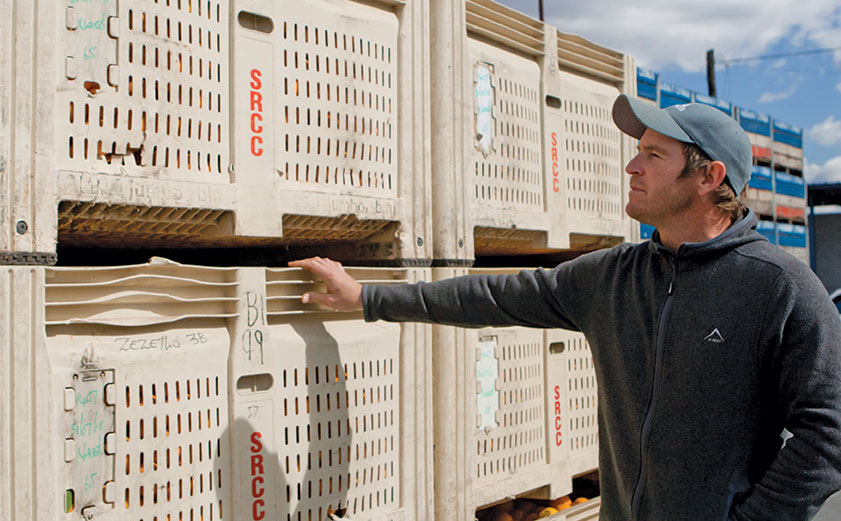 Planning for the future required a major mind shift – the corporatisation of the family business structure – and a willingness by all to adapt. Both the dairy and the citrus divisions remain autonomous but answerable to the board, which consists of a representative of each of the three shareholders, as well as two external directors, to provide a balanced perspective.
The family was assisted in the restructuring by Prof Elmarie Venter, a specialist in family businesses from the Nelson Mandela University in Port Elizabeth. The process has been arduous but is finally starting to bear fruit from vertical expansion and diversification.
Extending the citrus orchards
Joe, who has been with the business for six years, received a solid grounding in the citrus tree enterprise from Charles, his mentor.
According to him, Charles's knowledge and experience have been invaluable, and helped them to overcome challenges such as limited expansion capacity.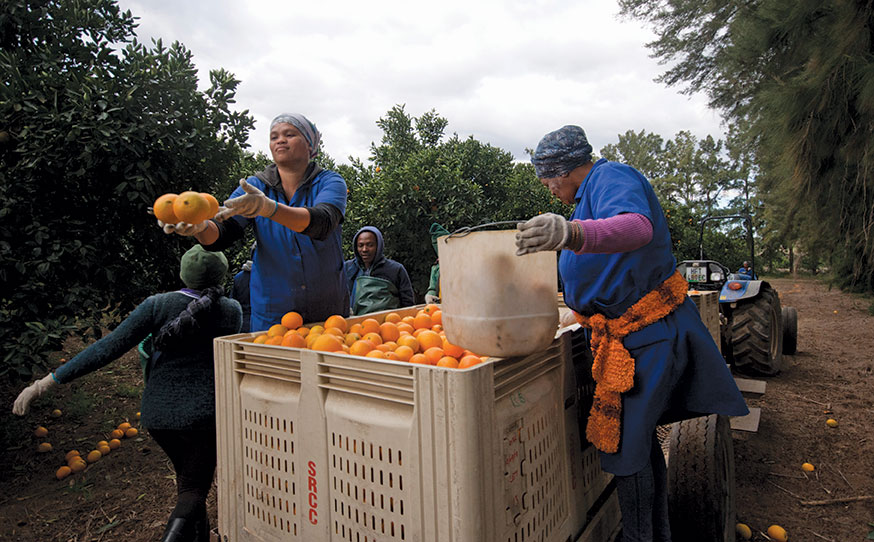 Much planning and activity have been invested in the citrus business in recent years. In particular, the family has embarked on a process to replace unprofitable cultivars with better ones that will enable the production potential of every available hectare to be maximised.
READ Innovation drives citrus nursery's 450% production increase
Several lemon selections have been added to the farm's export-quality oranges and soft citrus. The citrus component now covers about 100ha, of which 75ha are under stem-to-stem orchards comprising 33ha of lemons, 23ha of Valencia oranges, 5ha of navels and 14ha of soft citrus.
The cultivar replacement programme means that many of the trees are not yet at full production, with about 30% of the orchards under six years old.
Soil health
Another important focus on Huguenot Farms is soil health, a factor necessitated by limited access to land for orchards. Six years ago, Joe and Charles initiated an intensive soil health programme to rapidly restore old lands for replanting. Replanting takes place within three months of the old trees being removed.
"We need to plant the soil fairly quickly again. We don't have time to let it lie fallow because of our small size," explains Joe.
With this in mind, he and Charles favour soil restoration practices, which include a standard incorporation of 10% by volume of organic material into the soil profile. The organic component comprises 350m³/ ha of dry cow manure mixed with 450m³/ha of plant chips.
This is spread over the soil surface and then delve-ploughed into the soil to a depth of 0,8m with a Caterpillar D8.
Other techniques include the use of an organic root drench containing non-pathogenic bacteria such as Bacillus spp, fungi such as Trichoderma spp, and amino phosphonates to inoculate trees against pathogens and stimulate root growth immediately before planting.
Follow-up treatment is administered through the irrigation system.
Resistant rootstocks are used as an additional defence against soil pathogens in the old soil, and top-quality trees are sourced from registered nurseries.
Joe's compost factory, which is fed by the dairy, has become a key factor in the operation.
"Across the road, Stephen and Stuart were moving towards feeding the dairy herd a TMR [total mixed ration]. Many more cows were standing in kraals, so we were able to harvest huge amounts of manure," says Joe.
When the compost is ready, it is applied with a contracted compost spreader. Each orchard receives about 80m³/ ha every two or three years.
"Because of our soil restoration plan prior to planting new orchards, we tend to pay more attention with the compost to the trees planted before the advent of our soil restoration programme to get those soils in better shape," he explains.
The Ayrshire share
Separate, yet linked to the bigger picture, is the dairy, which comprises a largely Ayrshire herd.
According to dairy manager Stuart, about 550 cows are milked daily in a 40-point rotary parlour. They produce about 285 000ℓ/ month and a high of 10 000ℓ/ day can be attained during seasonal peaks.
In the past, the dairy was run on an entirely pasture-based system. In recent years, however, Stuart and his team have started combining the pasture base with a mixed ration system.
Several factors have contributed to this shift, not least of which is location.
Being in a predominantly citrus valley, Stuart realised he had access to a constant supply of top-quality feed that was available in any volume he needed. One ingredient is the citrus pulp produced as a by-product at nearby juice factories.
READ Pasture-based dairy: lower cost and more lactations
"It's about capitalising on the opportunities you have," he says.
He uses approximately 75ha of the farm to produce high-quality kikuyu pasture, which is oversown with Italian rye in winter. The pasture, under sprinkler-based perma-irrigation, is managed on a strict rotational system with a high stocking rate of 7LSU/ha.
Grass is measured daily to ensure that the area can provide the day's feed requirement. In addition, Stuart purchases maize and oats silage that he sources from the region.
This is combined with the citrus pulp to create a high-protein, high-energy ration that is fed to the cows after they receive their concentrate on the table during milking. Stuart also incorporates molasses and soya as alternative sources of protein and energy.
A new way forward
Changes are already being made in the running of the dairy as a first step to a new system.
Stuart has intimate knowledge of farming with grass, but acknowledges that there will be a steep learning curve as he converts the dairy away from pasture towards a ration-based system.
"It's a big mind shift in terms of the way you run a dairy," he says.
Over the next five to 10 years, the plan is to research options that will see the dairy gradually convert from pasture-mixed rations to a combination TMR-based system.
The family will also have to evaluate whether or not the conversion to higher levels of feeding required for TMR is profitable and sustainable.
"One should never stop planning and exploring new ways and ideas to make the business successful. Plans change regularly; we as managers need to keep finding ways to improve," says Stuart.
Joe adds that much hinges on the next five years as they evaluate how the dairy copes when they remove a portion of pasture to plant more trees.
"If we can find a winning formula for that, then we'll continue that programme."
Facing challenges
Huguenot Farms does not consider itself a major player in either the dairy or citrus industries.
It is not yet large enough to require its own packhouse, for example, and Stuart says he would need to milk four times as many cows, at least 2 000 a day, before he could be counted as a large dairy producer.
Nonetheless, this compact operation provides permanent work for 12 people for the dairy and about 25 people for the orchard.
READ New net solution to protect fruit from sunburn
Another 60 seasonal jobs are created during the citrus harvest from April to September each year, with about 10 of these staff kept on a semi-permanent retainer for off-season orchard work.
Labour can be a major challenge for citrus producers due to strikes at harvest time, which can lead to fruit damage.
Other ongoing difficulties are phytosanitary rules, pests such as citrus black spot and false coddling moth, and currency fluctuations, which affect exports.
The dairy operation, in turn, is affected by price volatility.
Stuart describes several consecutive price drops in 2018 as "disastrous".
"The dairy industry has experienced well over six months of the lowest of lows," he adds.
Other challenges affecting the operation as a whole are security concerns, high input prices, climate challenges and political uncertainty.
Despite these challenges, the Marais family is optimistic about the future. While not looking at investing in additional land, they are focusing on internal growth.
"We want to grow the farm, grow our businesses, and increase our volumes and turnovers," says Stephen.
Charles describes their approach as vertical farming, where they try to maximise
what they have, rather than extensive growth. This involves improving quality and production, as well as achieving economies of scale.
Diversification remains core to the business, which is why they are not keen to stop the dairy side completely.
"The dairy might move but from a diversification perspective it's very beneficial. The two of them feed off of each other well," says Stephen.
Charles adds that diversity does not mean having different components that prop up one another. "They have to be independently profitable so that we can reach the market place in different ways."
Email Stuart Marais at [email protected].