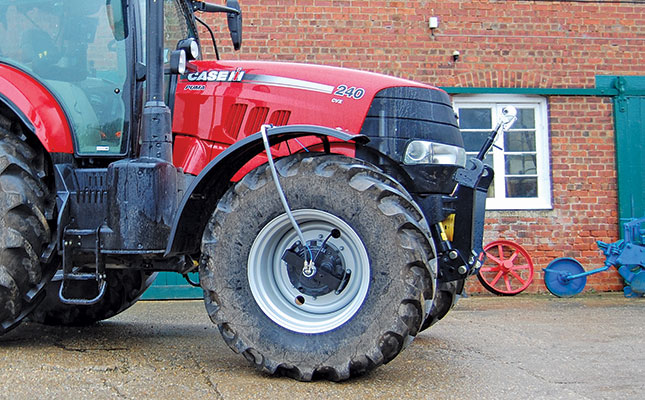 Low tyre pressure spreads the weight of the machine and load, decreasing soil compaction and maximising tyre grip.
Conversely, on the road, a higher pressure provides stability, improves fuel efficiency and reduces tyre wear. In both situations, the optimal pressure also depends on the work being carried out and the loading on each axle.
Tractor and trailer
TractAir's central tyre inflation system (CTIS) makes it possible for the operator to change tyre pressures of both the tractor and trailer on the move. The connection can be inboard or outboard, and is compatible with dual wheel applications.
Pneumatically controlled check valves ensure that seals and air lines are pressurised only during pressure changes, so there is no loss of pressure in the case of a damaged air line or air leak.
The operator can change the tyre pressures from inside the cab at the touch of a button located on a dedicated control panel or built into the tractor display. This can be done at any speed.
The air is supplied by an on-board air brake compressor or a separate high-performance, hydraulically driven unit that can be mounted almost anywhere on the vehicle.
Trailer and implement tyre pressures can be controlled in the same way.
Tyre footprints
The above picture of tyre print casts, taken at Agritechnica in 2013, clearly shows the difference that lower tyre pressure can make.
The longer left-hand print, with the tyre inflated to only 0,8 bars, shows that the tyre has a larger area of contact with the soil and more crossbars in play than the one on the right, which was inflated to 1,8 bars.
TractAir claims the following advantages of correct tyre inflation:
It reduces wheel slip on the towing vehicle by increasing traction by up to 20%;
It lowers fuel consumption by up to 10%;
It reduces soil compaction, thereby increasing yield by as much as 6%;
It reduces tyre wear;
It enables the tyres to self-clean more efficiently, resulting in less soil being carried from the land to the road.
Joe Spencer is the mechanisation editor of Farmer's Weekly.