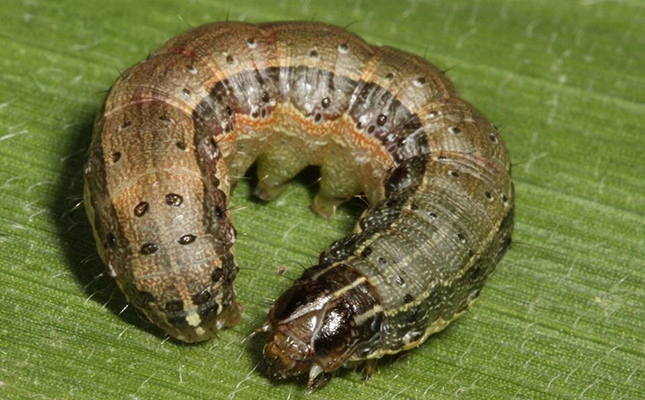 Serious damage to grain fields due to fall armyworm (FAW) infestations has to date been reported in Mpumalanga, Gauteng and northern KwaZulu-Natal in the 2019/2020 production season, according to Dr Gerhard Verdoorn, CropLife SA's operations and stewardship manager.
READ Researchers advance in fight to control fall armyworm
Damage due to FAW (Spodoptera frugiperda) had occurred "along a broad band", including the Badplaas and Carolina areas in Mpumalanga, near Magaliesburg in Gauteng, and as far as Piet Retief in northern KwaZulu-Natal, among other areas.
He called on grain producers to be on the lookout for larvae, especially in the whorl formed by the leaves, as the larvae fed within the whorl. Larger larvae could even "cut" plants off at the base. Mature plants were attacked on reproductive structures.
"I call on producers to send me photos of any insects suspected to be FAW. We have a specialist team on hand to immediately confirm the species," Verdoorn said.
According to the Food and Agriculture Organization of the United Nations, fall armyworm was an insect native to the tropical and subtropical regions of the Americas.
In its larval stage, it could cause significant damage to crops, and despite its preference for maize, the worm fed on more than 80 species of plants, including rice, sorghum, millet, sugar cane, vegetable crops and cotton.
Since 2016, the pest had spread across virtually the entire sub-Saharan Africa.
According to Verdoorn, farmers were the first line of defence in the prevention of any pest and disease outbreaks. He said regular scouting was imperative; the realities of climate change were such that producers could not afford to not inspect crops on a regular basis.
He added that this season's early, dry hot summer followed by good rain formed the ideal conditions for the FAW outbreak.
"We must present a united front and act proactively to [nip] outbreaks in the bud as soon as possible to prevent the excessive use of pesticides and insecticides, which could eventually harm the environment."
READ Boost your farm's sustainability with the right crop rotation
According to Dr Annemie Erasmus, senior researcher in entomology at the Agricultural Research Councils' (ARC) Grain Crops Institute, a number of trials had been conducted to determine larval susceptibility to Bt maize.
Larvae were inoculated on maize whorls of non-Bt maize plants as control treatment, as well as the first generation Bt maize commercialised in South Africa (Bt1), and the second generation Bt maize (Bt2).
About 95% of the larvae on the control non-Bt maize plants survived after feeding for 14 days, 47% on Bt1, and none on Bt2. From these results, it could be concluded that Bt1 will suppress the FAW, while Bt2 has the potential to control larval infestation, she said.
Send photos of suspected FAW worms to Dr Gerhard Verdoorn via Whatsapp on 082 554 6306, or visit croplife.co.za for management protocols.