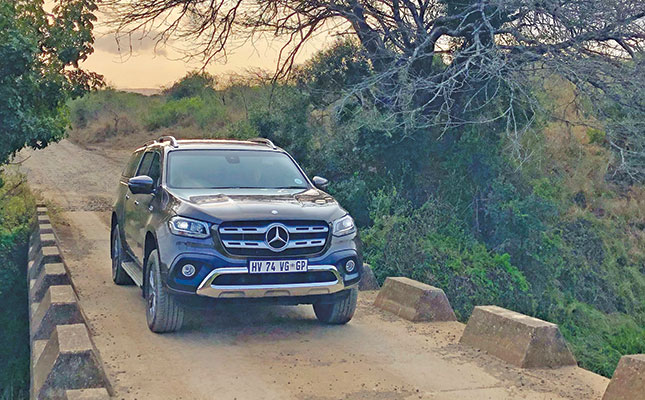 If you're an award-winning Ankole breeder, buyer of South Africa's top-rated, and priced, buffalo, and also the president of your country, this is probably the bakkie you'll want to drive when you take a break from World Economic Forum meetings to spend time on your farm.
However, don't mistake the X-Class's presidential air for an unwillingness or inability to roll up its sleeves and get its hands dirty.
Mercedes-Benz's double cab (the manufacturer doesn't offer a single-cab option) can match or even outperform your trusted farm bakkie.
It can carry just over a ton and has a towing capacity of up to 3 500kg. But at a hefty price tag (the top-of-line X-Class 350d V6 sells for just under a million rand), and because of its plush interior, it's not really the kind of vehicle you want to jump into with grease-stained khakis and muddy boots.
The X-Class range, which includes the X220d 4×2 (120kW), X250d 4×2 (140kW) and X250d 4×4 (140kW), was launched globally in 2017 and in South Africa in 2018, initially with a Nissan four-cylinder turbo-diesel engine.
More recently, Mercedes added the X350d 4Matic 4×4 (190kW), with a more powerful Mercedes-Benz V6 engine, to the line-up.
The latest addition to the stable is, quite simply, a joy to drive. Expect love at first acceleration when you experience its powerful turbo diesel three-litre V6 engine, which delivers 190kW at 3 400 rpm and promises to take you from zero to 100km/h in 7,9 seconds. Maximum torque is 550Nm at 1 400 rpm.
Unfortunately, you would have to be a part of a blue-light convoy to ever experience its top speed of 205km/h.
Driving options
The 7G-TRONIC PLUS automatic transmission included as standard operates with no interruption in tractive power during gear changes. Manual changes are also possible using the shift paddles on the steering wheel.
With the Dynamic Select system, fitted as standard, the X350d 4MATIC offers five driving options: Comfort, Eco, Sport, Manual and Off-road. You can change from one to the other with the touch of a finger.
There have been reports in the media, all seemingly based on an article published by Automotive News Europe in July, that Mercedes-Benz is planning to discontinue the X-Class bakkie.
The company has not confirmed these, but according to Automotive News Europe, just 16 700 X-Class bakkies were sold in its key markets, Europe, South Africa and Australia in 2018.
For some perspective, compare this with sales figures of South Africa's most-popular bakkie, the locally built Toyota Hilux, of which 21 000 units sold in South Africa just in the first six months of 2019, according to the National Association of Automobile Manufacturers of South Africa.
However, even if the rumours turn out to be true, no timeline exists for the vehicle's discontinuation, so there's still time to treat yourself to this envy-inducing set of wheels.
Mercedes-Benz X-Class comes with a standard maintenance plan that covers your vehicle for 100 000 km/five years, whichever comes first.
Mercedes-Benz X350D 4Matic 4×4
Engine: 3,0-litre V6 turbo diesel
Power: 190kW at 3 400 rpm
Transmission: seven-speed automatic
Economy: up to 10,3ℓ/100km
Prices start at R904 188.
Visit mercedes-benz.co.za.