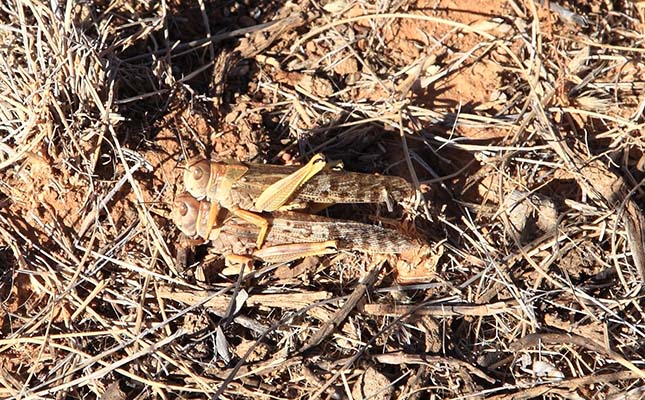 Agri Northern Cape is urging farmers to report brown locust outbreaks to their local district locust officers as soon as they are first observed.
According to Nicol Jansen, president of Agri Northern Cape, the first outbreaks in the province had been reported in the week of 1 November in the Marydale, Groblershoop, Upington, Pofadder and Springbok areas, and more to the south in the Fraserburg area over the weekend of 6 and 7 November.
"We have not had early spring rain for many years, so have not suffered early outbreaks like this for some time now. An early outbreak like this, however, is not abnormal following early spring rain," he said.
So far, the locusts were still small, with large numbers being concentrated over small areas.
"They have to be eradicated now while small, because eradication becomes increasingly difficult once the locusts develop wings and are able to cover long distances in one day."
Damage was generally restricted to natural pastures while the locusts were small, but could be expanded to other crops, such as table grapes, maize and vegetables as they grew larger and turned into fledglings, he explained.
"We hope that the Northern Cape will get good rainfall to alleviate the impact of the locusts on the veld, and that the swarms do not [become large] enough to do damage to crops," Jansen said.
While government was well-prepared to manage outbreaks, successful management was highly dependent on early detection, reporting and the action taken.
Jansen urged farmers to contact Agri Northern Cape if they ran into any difficulties.
"Farmers know who their local district locust officers are, as these have been elected by the agricultural unions. We will nevertheless publish a list of the contact details on the Agri Northern Cape website to allow the public to also report outbreaks."
Dr Gerhard Verdoorn, operations and stewardship manager at CropLife South Africa, previously told Farmer's Weekly that conditions were conducive for the development of "gigantic" brown locust populations this summer season, due to the hundreds of adult swarms reported in the Karoo during the autumn months of both 2020 and 2021. These swarms had probably laid eggs over a wide area.
He said there was nothing farmers could do to prevent outbreaks but to report them, while trying to reduce the size of populations by destroying hatchlings and hopper bands as soon as these were spotted.
"Government is responsible for managing brown locust outbreaks in terms of the Agricultural Pests Act 36 of 1983, but farmers can send their sheep in to trample the hopper bands." Verdoorn also suggested that tree trunks be attached to bakkies and dragged across the hopper band in an attempt to destroy them.
Burning the veld should, however, be avoided because of its damaging impact on the eco-system, Verdoorn said.
To report outbreaks, phone the Department of Agriculture, Land Reform and Rural Development's locust depots in Upington on 083 326 7773, or in De Aar on 053 631 3621 or 084 760 8176.