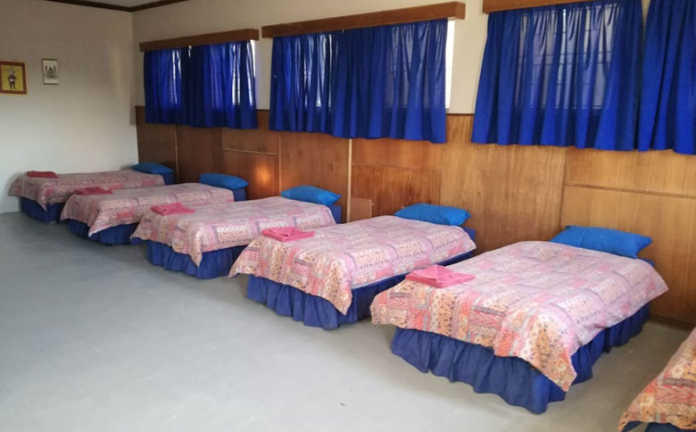 This included painting, cleaning, the supply of new linen and the revamping of the premises in general.
Ratabile accommodates 24 young people between the ages of three and 21 years.
Annemarie de Beer, event manager at Nampo, said this project was, among others, motivated by Mandela's love for children, and although money was needed to complete it, the fact that the team was prepared to take on the task voluntarily underscored their dedication to the Ratabile children.
"Nine people who are on our list of temporary workers invested in hard work and put in long hours, without compensation, with us to give the buildings a new look and to help create better circumstances for the children. The rest of the team consisted of eight full-time Nampo staff members," she said.
The team commenced by scrubbing the buildings clean, including windows, bathrooms, passages, walls and floors, and washing all the linen.
This was followed by painting walls and ceilings. The bathrooms were restored where needed and all the curtains that could still be used were washed, ironed and hung again.
New curtains were supplied by Grain SA as well as new duvet sets and pillows for the beds, and a towel for each child.
Bags of toiletries were also handed out, among others.
"We were generously supported with donations from the local business sector as well as private individuals. Donations of paint, painting equipment, cleaning products and electrical ware were received. Some of the companies also tasked staff members to lend a hand. This was of great help to us," De Beer said.
Although the anniversary of Mandela's birthday is only celebrated this week, the project was completed during the last week of June, when there were fewer children in Ratabile on account of the school holiday.
De Beer said the one thing she learned from this project was that giving one's time often makes a bigger impact than merely giving money, although finances are important to complete a task such as this.
"We are thankful that the children could move into a fresh, revamped Ratabile, although there are still some issues needing attention, such as the painting of ceilings in some of the rooms," she said