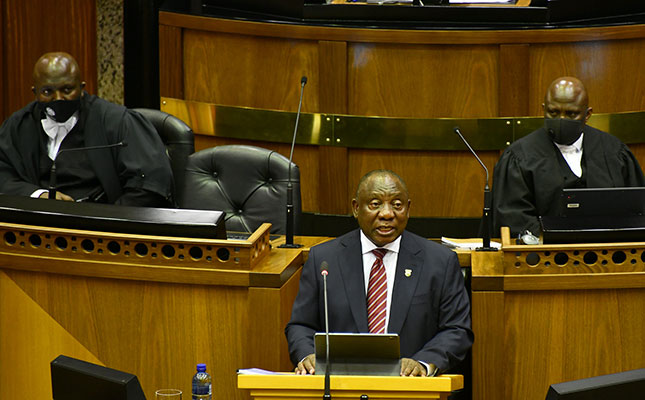 While organised agriculture bodies have welcomed many of the actions and goals set out in the economic restructure and recovery plan announced by President Cyril Ramaphosa this week, they want more details on how it will be effectively implemented.
Addressing a joint sitting of the National Assembly and National Council of Provinces, Ramaphosa said the plan was widely deliberated and developed by both government and the private sector under the auspices of the National Economic Development and Labour Council (Nedlac).
The plan was intended to expedite, in a sustainable manner, South Africa's already ailing economy that had been further severely affected by the COVID-19 pandemic.
Ramaphosa said that major job creation was at the centre of the plan's actions and targets.
Four priority interventions would be implemented: the massive rollout of infrastructure investments such as bulk water supply and national road development projects; stabilising South Africa's erratic energy supply by bringing in an additional 11 800 megawatts of electricity (more than half of which would be from renewable sources) by 2022; implementing an employment stimulus package to create over 800 000 job opportunities in coming months; and encouraging the dramatic expansion of local value-adding of local raw materials, including in the agricultural sector.
Nicol Jansen, chairperson of Agri SA's Economics and Trade Centre of Excellence, said that although there were strong policy foundations for the implementation of the plan, especially in the form of the pre-existing National Development Plan, inefficiencies and poor coordination in implementation posed serious challenges to achieving its outcomes.
"We are of the opinion that the agricultural sector will lead the way in resetting the economy. Farmer development, rural safety and market access [that are] key drivers for this objective, must therefore be prioritised. […] the plan is still very thin on key details as to how these will be addressed, and the timelines thereof. These include issues related to the availability of cheap capital, land rights, tenure security, water rights, [and] corruption, [that] must be addressed as a matter of urgency."
TAU SA's president, Henry Geldenhuys, said that although the organisation would support the plan's focus on increased local value-adding, TAU SA's leaders and members remained concerned that the country's existing policy environment continued to drive away the expertise needed to achieve these goals.
"The believability of the government's seriousness is very close to the point where we cannot trust them at all. It is critically important to lift all limitations on the flow of the economy immediately. Let everyone take responsibility for COVID-19. The state should only give firm guidelines to be applied by individuals," he said.
Leaders of the African Farmers' Association of South Africa were unable to comment in light of the funeral arrangements currently underway for the association's recently deceased president, Dr Vuyo Mahlathi.