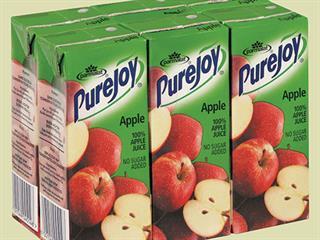 As a precautionary measure, however, the company issued a recall for the whole batch of its 200ml UHT PureJoy Apple Juice product produced between 14 and 15 December 2014.
A statement issued by Parmalat on 8 February indicated that the company had received two complaints in connection with the contaminated batch of apple juice.
The complaints were followed up and the products in question were recovered for investigation, which confirmed "the products had been contaminated with cleaning chemicals, making it [sic] unfit for consumption," said the statement.
The company said that while the affected batch of juice was most likely distributed only within the Western Cape, there was the possibility that distributors and consumers may have taken some of the contaminated juice products further afield.
The contamination "was an unusual incident that occurred because of a change of process, a technological issue and human intervention that lead to an unauthorised process," Parmalat's marketing executive André Mahoney told Farmer's Weekly.

Revealing that the contaminant was sodium hydroxide, more commonly known as caustic soda, Mahoney said that a toxicologist consulted said ingestion of the contaminated juice could cause spontaneous vomiting, chest and abdominal pain, difficulty swallowing, and excessive saliva production.
"I must stress that there is only a small amount of the chemical fluid in the product. It has a soapy taste and the usual response to the product would be to spit or vomit it out because of the bad taste," said Mahoney.
Consumers who purchased the 200ml UHT PureJoy Apple Juice bearing the expiration date of E 14.12.15 and E 15.12.15 should call 0860 66 44 22 or email [email protected] for immediate collection and refund.