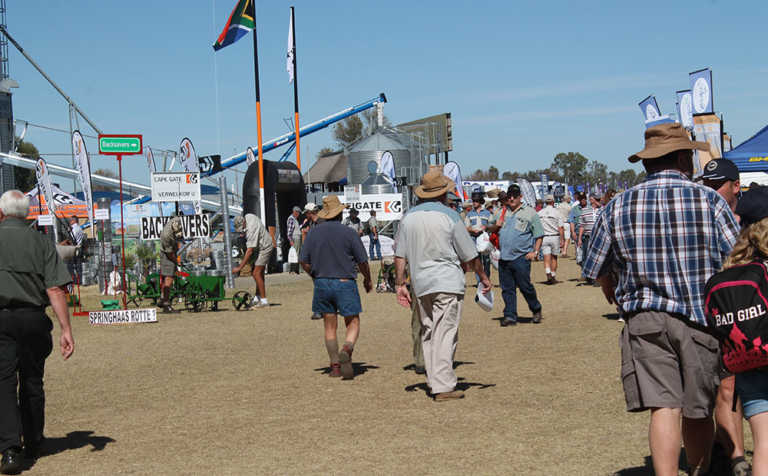 The organisers of Nampo, one of the largest agricultural exhibitions in South Africa, say the premises near Bothaville in the Free State are already a hive of activity as exhibitors begin setting up for the annual show, which runs from May 15 to 18.
The theme this year is 'Efficiency with Technology' and there will be roughly 740 exhibitors at the show, which is hosted by Grain SA.
Nampo organising committee chairperson Cobus van Coller said much of the heavy equipment and machinery that will be on display was already at Nampo Park.
READ Nampo survival guide
He said though many people would be visiting Nampo to shop or browse, others would be there to network and bounce ideas off fellow farmers. He added there were still challenges for grain producers, especially maize and wheat, and many visitors would be looking for ideas on how to optimise or diversify their farming operations.
Grain SA CEO Jannie de Villiers said in a statement their aim was not necessarily to grow the event, but to improve it. "Grain SA's focus on a better rather than a bigger Nampo Harvest Day will also be pursued continuously to uphold and promote this agricultural family experience," he said.
Van Coller said numerous exhibitors had planned special events or would host product launches, with both Mercedes and Isuzu planning new vehicle launches. Machinery giants John Deere and  Case would also be bringing their latest planters and harvesters to Nampo.
READ Nampo 2017 breaks attendance record with 78 000 visitors
He was excited about the international presence this year, saying exhibitors included countries such as Israel, Poland, the UK, the US, Argentina, India, France, Italy, Denmark, China, Turkey and Russia. The British Department of International Trade would also be there.
Van Coller said they had expanded their women's programme and the farmer patent competition, presented each year by Omnia, would receive greater prominence this year.
Challenges and opportunities in the agriculture sector would be addressed during the Nation in Conversation discussion sessions, he said.
The event has become a prominent feature at Nampo and the programme this year would include issues ranging from politics and policies to the importance of economy of scale, and how technology will change the face of agriculture by 2035.
Van Coller said all other logistical arrangements were on track, including coordination with provincial roads officials.
He warned that the route between Bothaville and Viljoenskroon, which was in the process of being revamped, was not at a standard they would have wanted. However, they had engaged with officials, who were busy with interim patching of the roads.
Van Coller urged those heading to Nampo to travel carefully. He advised especially those coming for a short visit to plan what they wanted to see. "Do your homework before the time, it is impossible to see everything in one day."
Visitors can also see livestock displays, crop demonstration plots and vehicle demonstrations at the show site, which extends across about 38ha.
Nearly 80 000 people visited Nampo last year. It was first held in 1967 and has been presented at Nampo Park since 1974. There is more than 1.7ha of indoor exhibition space and the outdoor area covers well over 38ha. According to Grain SA, an economic impact study done in 2009 showed exhibitor turnover at about R1 billion, with more than R10 million spent in the town of Bothaville by visitors and exhibitors.

Further information is available at www.nampo.co.za.