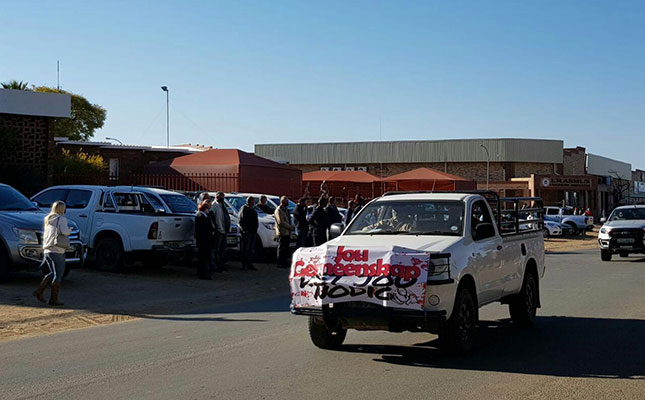 Members of the Northern Cape agriculture sector and the wider community took part in a second protest this week in Hartswater, coordinated by Agri Northern Cape following the murder of three people on a farm in the district in July 2020.
The initial protest action took place on 30 July during the first court appearance of five suspects for the murder of Danie, Breggie and Elzabie Brand on their farm in July, while the second occurred on 13 August, upon the suspects' second appearance in the local Magistrates' Court.
READ Tackling crime along the South Africa-Lesotho border
The case was remanded until 27 August, when one of the suspects, namely Kgomotso Mpumlwana, indicated that she would apply for bail.
The suspects, which also included Donald Seolesang, Tshepo Visagie, Realeboga Manyedi and Tshepaone Melato, faced eight charges, with three counts of murder, robbery and kidnapping. Members of the Northern Cape agriculture sector congregated on the town during both court appearances according to Stefan Smith, chairperson of the Vaalharts District Agricultural Union.
He said the objective of the protest was to create and increase awareness about rural crime and the effect thereof on local communities. Petitions were handed to the state prosecutor.
"The support we received from the broader Hartswater community was tremendously heartening. Members of the community joined us to make their discontent about crime known, [while] members of the Northern Cape agriculture sector gathered together in hundreds of slow moving vehicles in the town as part of the awareness campaign," Smith added.
READ Teamwork: farmers' strongest weapon against crime
Agri SA fully supported actions by its affiliates to highlight the farming community of South Africa's efforts to make their voices heard against rural crime and criminality, according to Tommie Esterhuyse, chairperson of Agri SA's Centre of Excellence: Rural Safety.
Esterhuyse told Farmers' Weekly that this protest would soon be followed by similar actions in the Free State, Limpopo and KwaZulu-Natal.
In support of these initiatives, Agri SA would also continue to engage with the police to introduce appropriate measures to improve rural safety, such as the effective implementation of the Revised Rural Safety Strategy, Esterhuyse said.